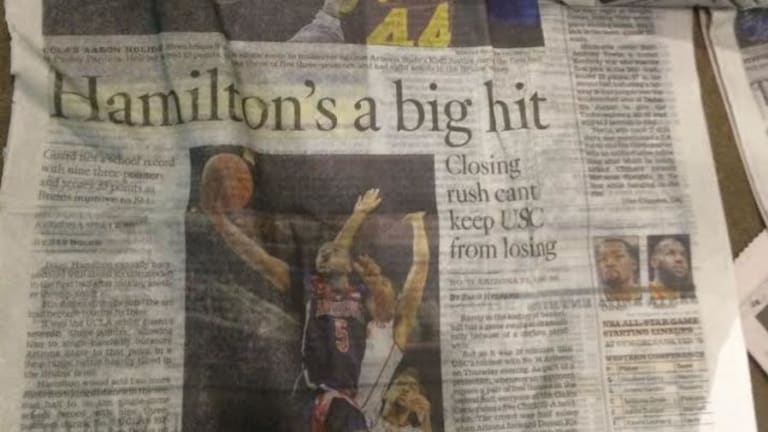 Read all about it (if you can): For some of us, UCLA basketball remains Pac 12's best-kept secret
Jan. 20, 2017 Chino Hills, Ca. (Monsoon Season) Dear Diary: The guy who said it never rains in Southern California…
Jan. 20, 2017
Chino Hills, Ca. (Monsoon Season)
Dear Diary: The guy who said it never rains in Southern California delivered my L.A. Times this morning because it was dripping wet as I fetched it from the driveway--next time I'll bring a pasta strainer--for almost the sole purpose of reading about UCLA's big Thursday-night win over Arizona State at Pauley Pavilion.
This would have NEVER happened when I was a paper boy!
Quick side trip: This reminds of the time, when I was covering the Los Angeles Rams in the 1980s, when legendary assistant coach Marv Goux screamed at me from across Rams Park before practice one day. I figured he was peeved about something I had written about the defensive line he coached for John Robinson.
"Chris," he said quite sternly, "I got a problem."
Me: "Uh-oh."
Him (me paraphrasing now): "I'm not getting my paper delivered on time in the morning. I leave at 6 a.m. and I need it before I leave."
Marv thought, as the Times' beat writer for the Rams, I should call circulation and get it straightened out.
Marv was a chain-of-command guy.
Anyway, back to UCLA, we still don't get much news about "the conference of champions" out here because the Pac 12 doesn't televise games to many of its fans who subscribe to DirecTV, which is A Lot Of Us.
The commissioner and DirecTV are locked in a protracted fight over pricing and the big loser is any of us who stupidly had DTV installed literally days before the Pac Network was formed. The commissioner, if you can believe it, now wants ME to switch carriers because he can't work out of deal.
Well, what pride I have left has drawn a big line in my satellite dish, but it's frankly killing me now that UCLA basketball is back.
Every now and then a game sneaks on another network, like CBS or FS1, so I can catch a glimpse of the league the commissioner can't understand why more people aren't watching.
Thursday was one of those night!
Truth be told, as a child of John Wooden's dynasty, this is the most excited I've been about UCLA basketball since the height of the craze in 1973.[membership level="0"] The rest of this article is available to subscribers only - to become a subscriber click here.[/membership] [membership]
It takes me back to a time when UCLA games were also hard to find on TV. In fact, we used to have to wait for tape-delay replays, broadcast brilliantly by Dick Enberg.
In a way, though, the under-saturation of TV only added to the mystery and aura.
That's sort of the way I feel with this year's team.
I liked a lot of John Wooden's squads, but 1973 was special for a special reason. David Meyers, a local hero from my town and future high school, Sonora, was a sophomore on that team. This was as big a deal as it gets for a sport-devouring kid from La Habra.
Meyers was a contributor on UCLA's NCAA title team in 1973, then a junior starter on the "disappointing" 1974 squad that lost to NC State, in double OT, in the national semifinals.
What a gut punch, only to be rectified a year later, when Dave Meyers, first team All-America, helped lead UCLA to Wooden's final title.
Sports are more fun when you have a personal link so this year's UCLA team is infinitely more interesting as it is being forwarded to greatness by Lonzo Ball, a freshman from, ta da, Chino Hills.
We have followed the Ball Brothers for years in our bustling little dairy community and I had a chance to catch their high-flying act in high school.
So this, seeing what Lonzo is doing for UCLA, is exciting.
Thursday, I set my watch to see UCLA play Arizona State on FS1, which is included in my cable package.
The final score was 102-80, I think, because my paper was wet and the ink was sort of runny. The game story appeared to be penned by staff writer Ben BLOTCH? But a college team scoring 100 points, these days, is huge.
Former Coach Steve Lavin, doing the color analysis alongside the lovable Gus Johnson, stated this was UCLA's best team since 1995—the Tyus Edney\O'Bannons led squad that defeated Arkansas in Seattle for the school's 11th NCAA title.
Lavin would say that, because he was an assistant on Jim Harrick's 1995 team. But Lavin is also right. Well, at least, this is the most exciting team since 1995. Ben Howland, in a much different, defensive way, led three straight teams to the Final Four and is the last guy to keep Russell Westbrook from scoring very much.
And while it appeared the FS1 broadcast may have been hacked by Russia for all the times Lavin called teammates "comrades," this could certainly be UCLA's best team in two or three decades. Nothing, short of the Bruins' head coach, may be able to stop them.
Ball is a selfless, generational player who makes everyone around him better. He possesses the ego-less gift of not needing to score baskets. (Warning: his two UCLA-committed brothers at Chino Hills High do NOT appear to share this trait).
T.J. Leaf, another one-and-done freshman star, even reminds me a little of my boyhood hero, David Meyers.
This year's team is tall, and deep, and could make a deep run into the NCAA Tournament.
This is so nostalgic in many ways, given the non-deal between Pac Net and DirecTV.
So, in a weird way, thank you Mr. Commissioner?
Thank you for keeping these public appearances rare, as it only heightens my anticipation. When I was a kid, they only televised "The Wizard of Oz" once a year and "The Wizard of Westwood" about five times.
If we could get Dick Enberg back for one more, taped-delay replay broadcast, well, that would be perfect.[/membership]