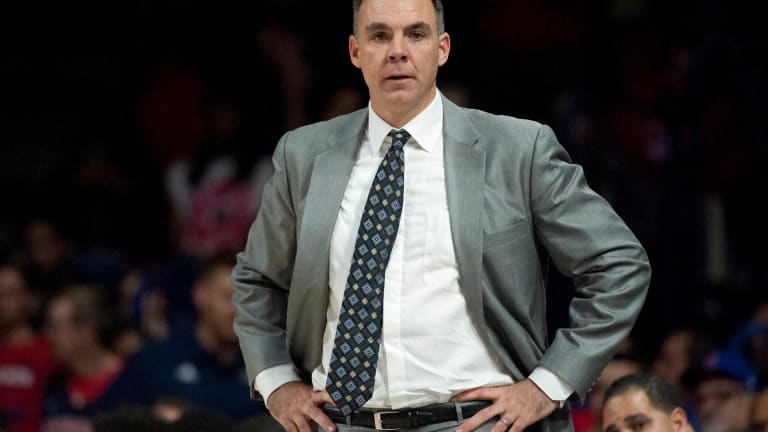 SoCal Weather\Sports: Cloudy With A Chance of Anteaters
Irvine basketball is biggest winner in a soggy winter for Los Angeles-area revenue sports
They used to hire comedians to do the weather in Los Angeles because, the joke was, there was no weather.
Pat Sajak was plucked by KNBC from a chuckle hut in Nashville to riff on cumulus nimbus for us nattering nimrods. To his credit he did, later, make it rain money as host of "Wheel of Fortune."
This year, though, the comedians are earning their green screens as everything has turned to sop. Even our major sports teams are under water, or at least collectively under .500.
Maybe the Lakers should hire a comedian to coach and move Luke Walton to the five-day forecast desk at Channel 7.
Not even the fledgling AAF would give Los Angeles a spring football team to root for, gifting a franchise to San Diego as recompense for losing the Chargers to a soccer stadium in Carson.
Santa Anita Race Track is under siege, too, following the death of 19 horses since December. That's not funny, at all, but a track safety expert has been flown in from the University of Kentucky to examine the situation.
Kentucky, of course, is the cradle of that industry and it seems to follow that UK Coach John Calipari should tag along to examine the state of UCLA basketball?
Here's the mediocrity-al forecast round-up as SoCal speed dials Uber to take it directly to March.
The cumulative record for our revenue-producing sports stands, through Wednesday, at 232-256. That includes the Lakers, Clippers, Kings, Ducks and a cacophony of major collegiate men's basketball programs: UCLA, USC, Cal State Fullerton, Long Beach, Northridge, Riverside, Cal Baptist, and the WCC brothers: Pepperdine and Loyola Marymount.
This does NOT include the "non-revenue" UCLA women's gymnastics team, which has incredibly turned Bruin basketball into the second most popular sport played in Pauley Pavilion.
There has been one ray of sunshine pulsating among our mostly dull bulbs. The Most Valuable Program in the greater Los Angeles area, this season, without doubt, has been UC Irvine basketball.
The Anteaters stand at 23-5 heading into Thursday night's game at UC Davis and, per usual, are getting dutifully ignored.
Irvine is a forgotten gem among small gyms, located somewhere between South Coast Plaza, Laguna Beach and a strawberry stand.
Irvine has never wanted to be taken seriously in sports and proved it by adopting its nickname, Anteaters, and the cult-like chant "Zot! Zot! Zot!"
Anteaters won out over unicorns, sea hawks, bison and centaurs. The name has grown comfortably on the school over the years, even if the university has never really stuck its nose out about anything.
Yet, UC Irvine basketball is the best story we've got going right now. The Anteaters are riding a nine-game winning streak, the school's longest since it won 13 straight in 2000-01.
Irvine is 11-1 in Big West play and doing it mostly in witness protection, with a well-balanced lineup of unselfish helpers.
Irvine has eight players averaging between six and 12 points. Junior guard Max Hazzard "leads" the way at 12.1 points per game. His name scores way more points in Scrabble.
Coach Russell Turner, in his ninth year, has quietly compiled a record of 180-127 at a school where winning is clearly not in the DNA studied in the school's world-famous research labs.
His winning percentage of .586 trumps all other coaches who have led UCI through the rigors of Division 1-A: Pat Douglass (.508), Bill Mulligan (.511), Tim Tift (.333) and Rod Baker (.310).
Turner has turned down several job offers, leaving some to question why he would remain rooted in a low-hanging major where only the tournament champion gets an auto-bid to the NCAA Tournament.
That's right, one of the fundamental flaws of the NCAA Tournament is that Irvine's terrific regular season will have been wasted if it doesn't win the Big West Tournament.
Tell me if this is fair: In 2013-14, Irvine won the Big West with a 13-3 record but ceded the automatic NCAA bid to Cal Poly, which finished 6-10 but won the conference tournament.
A year later, with 7-6 center Mamadou Ndiaye, Irvine made its only NCAA appearance and led No. 4 Louisville with a minute remaining before losing by two.
Irvine's overall numbers, this year, don't add up to an at-large chance. The Big West ranks only No. 21 (out of 33) conferences in the latest Sagarin index.
The Anteaters have defeated two "Quad 1" opponents on the road (Texas A&M and Saint Mary's), but still rank only No. 93 this week in the NCAA's new-fangled NET rankings system.
Irvine is ranked higher than UCLA (109), Stanford (103) and Notre Dame (104).
USC, at No. 87 despite a 15-13 record, is the Southland's highest ranked NET school.
What's it all mean? Irvine likely needs to win the Big West Tournament to earn its second-ever NCAA bid.
With everyone else struggling, Zot may be all we've Got.