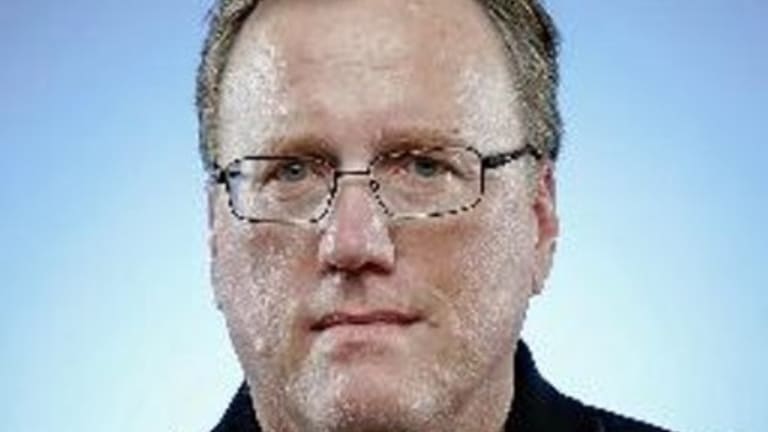 What I missed about missing the NFL draft: very little
I had a good reason for missing Thursday night's NFL draft: I was inducted. This is different from missing an induction…
I had a good reason for missing Thursday night's NFL draft: I was inducted. This is different from missing an induction…
I had a good reason for missing Thursday night's NFL draft:
I was inducted.
This is different from missing an induction for reasons of being drafted.
My induction was into the Cal State Fullerton Communication Department's "Wall" of fame. Not "Hall," but "Wall," which is still a big deal for someone who left Fullerton in 1981 with a bench warrant for 23-unpaid parking tickets.
No, thank you, please, really, sit down.
Parking at Cal State Fullerton was a nightmare, even then, and for some 19-year old reason I had a bad habit of crumpling my tickets and throwing them into the back seat of my Mazda.
This only became an issue when I was determined to fight a bogus speeding ticket and was told by the judge I could plead my case right after serving a jail term for crimes committed at CS Fullerton. The option was paying my $500 in fines or taking a cell seat next to Charlie Manson. I opted with the former.
Lest you think the NFL and the Titan "Wall of Fame" night had no tethers in common, I can tell you that I was incoming sports editor of the Daily Titan during the winter-break January (1980) when the Rams and Pittsburgh Steelers faced off in Super Bowl XIV at the Rose Bowl.
The Steelers actually trained for the game on our campus, and I can still remember being in awe of Mean Joe Greene walking by our Coke machine in the adjacent Titan gym (but never throwing me his jersey).
Cal State Fullerton also, once, boasted a football team that produced corner back Mark Collins, a second-round pick of the New York Giants in 1986 who played on two Super Bowl championship teams.
Also, when I was a student, our football team had a young assistant coach who would go on to big things. His name was Steve Mariucci.
Ok, anyway, back to the induction\draft.
I was being feted with chicken skewers on the Fullerton campus while the NFL was conducting its draft in Philadelphia.
I covered enough NFL drafts to think I wasn't missing much.
These things can be so predictable.
I knew, for instance, that NFL commissioner Roger Goodell would get heartily booed in Philly as he walked out on stage. These are the same fans who once booed Santa Claus.
I figured Texas A&M defensive end Myles Garrett would be the first overall pick, and he was.
I knew the Chicago Bears, who just got rid of the over-inflated Jay Culter, would do something crazy and they did by trading up to the No. 2 position to snag...North Carolina quarterback Mitchell Trubisky.
T-R-U-B-I-S-K-Y.
Those nutty Bears. Upper management just spent $45 million for a quarterback on Mike Glennon, yet thought it needed to trade three draft picks in order to jump up to take a quarterback from the ACC not named Deshaun Watson?
The Rams' upper brass, to the contrary, played the first round brilliantly—they didn't have a pick.
I also knew LSU running back Leonard Fournette and Stanford running back Christian McCaffrey made the right choice by sitting out their (relatively) meaningless bowl games to protect their draft statuses.
Fournette and McCaffrey got ripped by many in the media for bailing out on their schools for so-called selfish reasons. Damn right they should have since, last I checked, the schools in college football were pocketing all the money.
What smart, calculated decisions these fine men made for their futures. Fournette, who battled injuries all season last fall in Baton Rouge, was picked No. 4 overall by Jacksonville. Bully for him. He and is family are financially set for life.
Any pom-pom pusher who rips him for that should be sentenced to hard labor at Guantanamo and\or become Nick Saban's offensive coordinator at Alabama.
Same for McCaffrey. He was unjustifiably criticized for skipping out on the Sun Bowl—the Sun Bowl!—to protect himself for what happened to him Thursday night.
And that was getting picked No. 8 overall by the Carolina Panthers. McCaffrey also battled injuries last year as Stanford's multi-tasking superman. I have only one thing to say about McCaffrey's decision: ka-ching.
Fournette and McCaffrey served their universities proudly and I predict both will be NFL stars.
The thought of McCaffrey in the same huddle with Cam Newton should frighten anyone who played against those two in college.
And while I understand the L.A. Chargers (funny to type that) needed help at receiver, McCaffrey sure would have looked good in a Lightning Bolt.
I knew one year ending in "7" that Stanford would have two players picked in the top 10, and Alabama would have none, but I thought it would be 3017.
I also figured a USC player would go higher in the first round than a UCLA player, breaking a three-year aberration.
Bingo: Trojan cornerback Adoree Jackson went No. 18 to Tennessee while UCLA's first pick was DE Tahkarist McKinley (No. 28\Atlanta).
Finally, I also knew Leigh Steinberg, the inspiration for Jerry Maguire, would get his groove back.
The one-time super agent, whom I've known since he took Steve Young as a client in 1984, fell on hard times after a vicious battle with alcohol. Look at him now.
Steinberg, who once seemed to rep every top QB in the NFL, got back in the saddle this year with Texas Tech quarterback Patrick Mahomes, who went No. 10 to Kansas City.
Good for you Leigh.
Life can be so sweet…on the sunny side of the street.