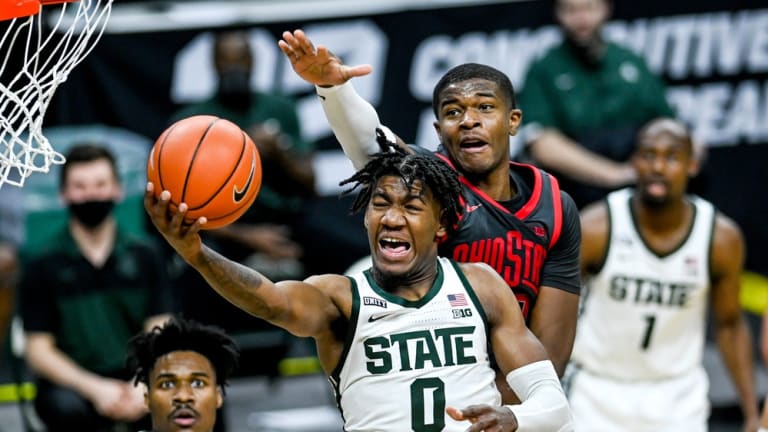 Big Ten Staging One Fierce Battle After Another
Michigan State scrapping to keep its NCAA tournament streak alive in clenched and talented Big Ten
Michigan State scrapping to keep its NCAA tournament streak alive in clenched and talented Big Ten
One recent Michigan State opponent, a candidate for national player of the year, has a broken nose. Another recent opponent, a coach who has his team tracking for a No. 2 seed, was screaming bloody murder during a game that can only be described as trench warfare.
Things are heating up in the Big Ten—especially in East Lansing, where Tom Izzo's Spartans are making a late push to keep their string of 22 NCAA appearances intact.
It was a streak that seemed destined to end until last week, when Michigan State upset two top-five teams, No. 5 Illinois and No. 4 Ohio State, in three days.
Illini guard Ayo Dosunmu, who's on the short list for player of the year, received a broken nose in that game, courtesy of flailing Spartan forward Mady Sissoko.
The video of Izzo and his Spartans, who are walking an NCAA tournament tightrope, celebrating the Illinois win in their locker room is not to be missed. That says a lot about the prelude to March Madness. The team that cuts down the nets might not be as exuberant as Izzo's lads were when they scored an important resume-building win..
Two nights later, Buckeyes coach Chris Holtmann, who's not generally an excitable guy, received a technical foul after one of many fierce battles in the paint.
"Honestly,'' Holtmann said, "I just thought that plays that normally are called fouls in Big Ten games were not being called fouls.''
That's putting it mildly.
Izzo, a Hall of Famer, terrific person and advocate of football-style toughness, sympathized.
"It was an absolute war in there,'' Izzo said. "I feel for Chris. I thought we were both complaining about a lot of things, it was so physical in the post.''
The physical part has long been a tradition in the Big Ten. Add in the quality of the league, and it's understandable why teams are having to battle for wins.
Four of the nation's top seven teams in this week's AP poll reside in the Big Ten: No. 2 Michigan, No. 4 Illinois, No. 5 Iowa and No. 7 Ohio State.
Covid problems sidelined Izzo's Spartans from Jan. 8 to Jan. 28. A disappointing 2-4 league start turned into a 2-7 hole when they lost first three post-Covid games. MSU dipped to 4-9, then beat Indiana, Illinois and Ohio State to put itself in that Last Four In/First Four out purgatory.
Sunday's loss at Maryland ended Michigan State's winning streak, but not its quest to make the NCAA tournament. A Tuesday meeting with Indiana, followed by a home-and-home with Michigan on Thursday and Saturday, offer more opportunity for the Spartans. But also plenty of peril.
The Wolverines are in the driver's seat to win the nation's toughest league and are a lock for their No. 1 NCAA tournament seed.
It's a shame fans can't be in the stands. Coronavirus or not, the Big Ten is enjoying a banner year on the court.
Michigan and Illinois, who meet in Ann Arbor on Tuesday, are No. 1 seeds in CBS analyst Jerry Palm's latest bracket. Ohio State are Iowa are No. 2s. Purdue (No. 5), Wisconsin (No. 7) Rutgers (No. 8), Maryland (No. 8) and Michigan State (No. 11) also are in. Indiana and Minnesota have faded.
That's nine tournament teams, although the Spartans remain in question, given their rugged final schedule.
While Michigan has pretty much locked up the regular-season title, it still has three very interesting games remaining: The Illini on Tuesday night followed by the back-to-back rivalry matchups with Izzo's Spartans, who will be playing for their NCAA tournament health.
People who wait until the Big Dance to watch college basketball miss a lot.