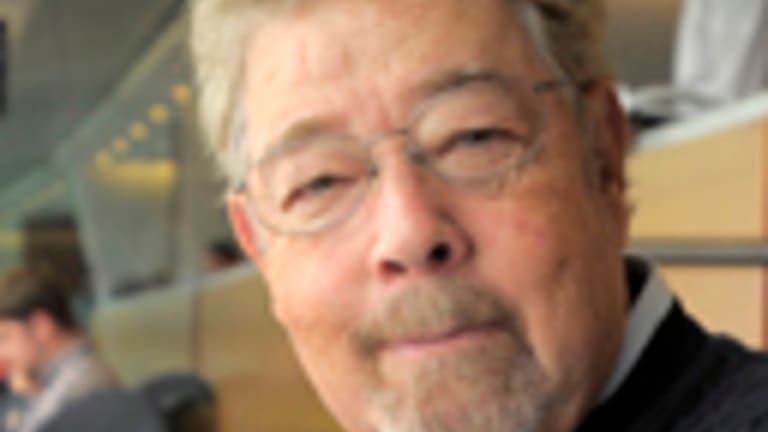 Big Ten Power Rankings: Northwestern on verge of ending NCAA drought.
Do not adjust your sets. That is Northwestern, tied for third place with a 5-2 record after winning at Ohio State for…
Do not adjust your sets. That is Northwestern, tied for third place with a 5-2 record after winning at Ohio State for the first time since 1977.
This is not a fluke. NU is riding high despite playing five of its first seven conference games on the road, where it is 4-1. Which means that it plays seven of its final 11 at home.
Chances are, a 10-8 conference record will give NU its first NCAA berth since the tournament began in 1939—at Northwestern's very own Patten Gymnasium.[membership level="0"] The rest of this article is available to subscribers only - to become a subscriber click here.[/membership] [membership]
But the way the Wildcats are playing, no limits should be set. Chris Collins has put together are a really nice team.
Scottie Lindsey, a 6-5 junior, and Vic Law, a 6-7 sophomore, are solid home-grown scorers. Bryant McIntosh, from Greensburg, Ind., is a classic heartland point guard. Dererk Pardon, a 6-8 sophomore, is an effective undersized center. Sanjay Lumpkin is a versatile senior.
Off the bench, Gavin Skelly is a well-coiffed energizer. And 6-2 freshman guard Isiah Brown already is a talented spark plug who has a big upside.
The pressure will mount. The storyline will be that NU is trying to follow in the footsteps of the Cubs, who are just a quick Purple Line L ride away, and end an historic drought.
After that, the next question will follow quickly: Does Collins stay at Northwestern? Or is he unable to resist taking one of the many enticing offers that come his way?
BIG TEN POWER POWER RANKINGS
HEAVYWEIGHT CONTENDER
1, WISCONSIN (No. 1 in last ranking), 16-3, 5-1: Two grinding wins last week (vs. Michigan, at Minnesota) won't excite anyone outside Cheesehead Land about the Badgers' long-range prospects. But the ability to keep winning deserves respect.
GOLDEN GLOVES
2, MARYLAND (No. 4), 17-2, 5-1: A lot to like here. Junior standout Melo Trimble leads a cast of freshman winners. Expect Terps to have staying power.
3, NORTHWESTERN (No. 5), 16-4, 5-2:.Good tough win at Ohio State, NU's first there since 1977. This is about to become a national story, if it hasn't already: The Wildcats' quest for their first-ever NCAA tournament bid.
BOBBING AND WEAVING
4, PURDUE (No. 3), 16-4, 5-2: That's 16 double-doubles for Caleb Swanigan, who also can dish to 7-2 Isaac Haas..A little perimeter help will go a long way.
5, INDIANA (No. 9), 14-6, 4-3: They're back. IU has won three in a row, following gritty win at Penn State with strong performance vs. Michigan State. Still plenty of issues with consistency and in the paint. Trips to Michigan and Northwestern will be good tests.
6, MICHIGAN STATE (No. 2), 12-8, 4-3: With Purdue on Tuesday, Sparty will need to buckle up after tough trip to Indiana. Won't be easy. Four of top five scorers are freshmen. But they are a very talented group that's learning on the job.
SPARRING PARTNERS
7, MINNESOTA (No. 6), 15-5, 3-4: It's still a process for Gophers, who have lost three in a row, but played well in Saturday's overtime loss to Wisconsin. They need to get junior guard Nate Mason, who had 31 at Purdue six games ago, going.
8, IOWA (No. 10), 11-9, 3-4: Fran McCaffery, maestro of Peter Jok & the Four Freshmen, was singing the blues after some tough calls at end of Maryland loss. But future looks bright.
9, PENN STATE (No. 7), 11-9, 3-4: Gave it a shot, but couldn't get it done vs. desperate Indiana. Efforts like that will pay off on other nights.
SHADOW BOXING
10, NEBRASKA (No. 8), 9-10, 3-4: Somebody was bound to stumble at Rutgers. After heady 3-0 league start, Huskers have lost four straight. With their schedule, (at Northwestern, vs. Purdue and Michigan State), they'll need to dig in to stop the skid.
11, MICHIGAN (No. 11), 13-7, 3-4: Wolverines are fouling too much, but at least they're trying harder on defense. Which is a good thing. Tough week coming up, vs. surging Indiana and at Michigan State.
12, OHIO STATE (No. 12), 12-8. 2-5: First home loss vs. Northwestern since 1977? Yup. It's that kind of year for the Buckeyes. Thad Matta's streak of 11 consecutive seasons with at least 10 Big Ten wins is in serious jeopardy.
PUNCHING BAGS
13, ILLINOIS (No. 13), 12-8, 2-5: When Yogi Berra said, ``It's not over till it's over,'' he was not thinking about Illini oops—I mean, hoops. Don't be surprised if they take out some frustrations vs. Iowa on Wednesday. But this seems destined to get really messy.
14, RUTGERS (No. 14), 12-8, 1-6: Corey Sanders scores 25 in Scarlet Knights' 65-64 feel-good win over Nebraska. Nice. A much-needed bright spot.[/membership]