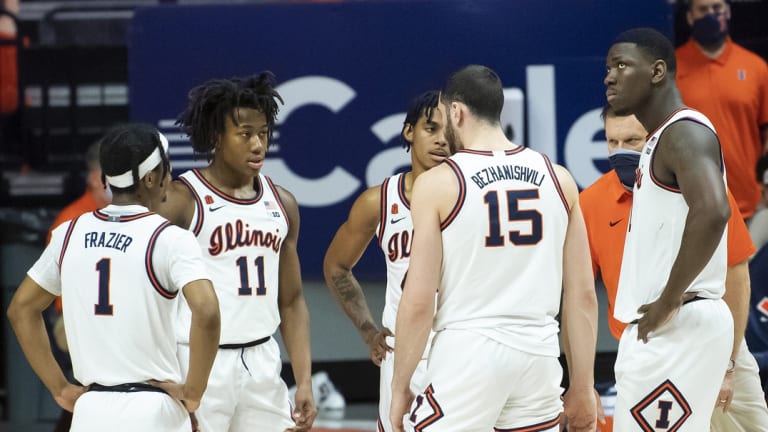 Time for Enigmatic Illini to Solve the Puzzle
Illinois has the pieces. Put them together and it could have quite a finish.
 Here we are again.
It is a very encouraging measure of progress that Illinois basketball is relevant again. On their best days, the Illini have a roster that looks like it could reach the Final Four.
On their befuddling days, the Illini look like a team that is on the brink of squandering the opportunity that comes with their talent.
First, let me say that I encourage Illini Nation to remain positive. Brad Underwood expressed everyone's frustration very clearly after Illinois' latest under-achieving performance, against Ohio State on Saturday.
The problem is, there already have been enough of these we'll-learn-from-this moments. The losses to Missouri and Maryland also were sloppy, lackadaisical—choose your adjective. And while that second half to beat Northwestern was inspiring, that first half was troubling.
This all reminds me of a phrase I often used during my two decades of driving up and down Interstate 57 to cover Illini sports.
While wondering why Bill Self wouldn't stay. . . why Bruce Weber was close-but-no-cigar in recruiting. . . why the two football Rons, Turner and Look, couldn't sustain recruiting. . . heck, why Florida State could have a Native-American chasing around on a horse as if he wanted to sink his spear into John Wayne while Chief Illiniwek, as respectful as a Chief Justice, had to go. . . I tended to reach this conclusion:
It's always complicated at Illinois.
My first thought is to say: Welcome to ``It's always complicated at Illinois, Chapter 2021.''
Except that in this case, it isn't all that complicated.
Underwood knows that.
"We have to quit riding the emotional roller coaster that is this team right now,'' he said after the Illini trailed 37-19 in the first half and lost to Ohio State 87-81 after clawing their way back to 83-81 with 17 seconds left. ``It's frustrating and I wish I had the answer. We are going to have some tough meetings this week. We have to get this figured out. We're one of the best teams in the country and we need to start showing it.''
I would have preferred that he say, ``I am going to find the answer.'' But that doesn't matter. As long as his Illini find the answer. Actually, the right answer.
The answer is that Illinois needs to toughen up. Recognize what an opportunity it has, start trusting each other and play together with a purpose.
Because this team has a bunch of ingredients.
They start with Ayo Dosunmu, who's a strong first-team All-America candidate. There's a delicate balance for him. You want your best player to take shots. But if he would involve his teammates a little more, that would go a long way.
And then there's Kofi Cockburn, an old-school center—what Al McGuire used to call an ``aircraft carrier.'' The thing is, old-school centers aren't as important as they were before the three-point line and destroyers who play away from the basket changed the game. That said, if Cockburn had a little more court awareness, that would be huge. Just know when to hold 'em and know when to fold 'em.
And there are so many nice complementary players. Adam Miller and Andre Curbelo are exciting freshmen who don't play like freshmen. Trent Frazier, Da'Monte Williams and Giorgi Bezhanishvili are experienced upperclassmen who can step into big roles at times.
So what this all means is. . . Underwood has dealt himself a very nice hand. And now it's time to get the most out of it.
The Big Ten is a monster league this season. The over/under on NCAA teams is 10. Missteps don't cut it. And Illinois already has taken its quota of missteps.
It's great that after the angst of Weber's demise and the doldrums of John Groce, that Underwood has put Illinois basketball on the main stage again.
But now it's time to coach 'em up.
There are a few Xs and Os involved, but they're not as important as attitude and chemistry.
Those are not easy deals in a normal year. In a pandemic, they're even more complicated.
But this is why Underwood came to Illinois. Why Illinois gave him the big bucks. Why coaches are given the big bucks. And why these kids came to Illinois.
Time to push the right buttons. Everything else seems to be in place, tough league or not. It would be a shame to not finish with a flourish.