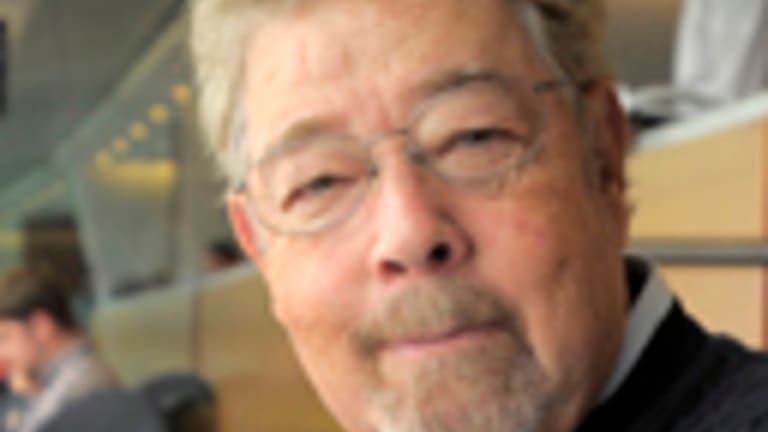 Despite regular-season yawns, don't sleep on Big Ten in March
Big Ten football got beat up for being over-rated when it flopped in the bowls. And now Big Ten basketball is getting…
Big Ten football got beat up for being over-rated when it flopped in the bowls. And now Big Ten basketball is getting beat up (by anybody who bothers to care) for under-achieving in the regular season.
With good reason.
The league has four teams ranked in this week's AP media poll: No. 10 Wisconsin, No. 17 Maryland, No. 23 Purdue and No. 25 Northwestern. This is the Wildcats' first appearance in the Top 25 since 2009-10.
This quartet still doesn't compare with the league's five pre-season ranked teams, including four in the top 15: No. 9 Wisconsin, No. 11 Indiana, No. 12 Michigan State, No. 15 Purdue, No. 25 Maryland. And Ohio State and Michigan received votes.
Just know this. . . That, and $19.95, will get you a subscription to TMGcollegesports.com.
I don't mean to diminish Top 25 rankings. They are a nice acknowledgement of good work. And it's a big deal that Northwestern(!) has cracked the rankings. Just ask Chris Collins' agent.
But Bruce Weber once told me—and most other coaches likely would tell you the same thing—that the most tangible appeal of the Top 25 is that it gets your highlights shown on ESPN. And that is a nice thing for recruiting. And alumni.
No question, the Big Ten is plodding through an undistinguished regular season. It was fourth, behind the Big 12, the ACC and the Big East, in an ESPN conference ranking.
If you want to go harsher than ``undistinguished''—like mediocre, boring or [insert your gloomy word here]—I won't argue.
If you want to make a joke like, ``The Big Ten is so bad this year that Northwestern is kicking butt,'' have your fun.
But the real point I'd like to make is this: I won't be surprised if the Big Ten atones in the NCAA tournament.[membership level="0"] The rest of this article is available to subscribers only - to become a subscriber click here.[/membership] [membership]
While its football teams were over-seeded in their bowl games, resulting in some tough matchups, Big Ten basketball is tracking to be under-seeded in the NCAA tournament.
My friend Jerry Palm, the CBSsports.com bracketologist, had eight Big Ten teams in the field as of Monday, Jan. 30: No. 4 Wisconsin, No. 5 Maryland, No. 5 Purdue, No. 7 Northwestern, No. 7 Minnesota, No. 10 Michigan State, No. 11 Indiana and No. 11 Michigan, sneaking in with a First Four play-in game.
And Jerry, who grew up worshipping in the temple of Gene Keady and Boiler Pete, tends to be kind to the Big Ten. Which is fine. The ESPN crowd tends toward an ACC/East Coast bias.
What I'm here to suggest is. . . Don't be surprised if the Big Ten, which had a glass jaw in the bowl season, stays in the ring long enough to have a surprisingly good NCAA tournament.
Some of this—well, a lot of this—is based on expectations. Football was supposed to be good. Basketball is supposed to be down.
I think Wisconsin can be a really solid No. 4—a team that could give a No. 1 a really hard time, especially because the Badgers won't be laboring under the dreaded burden of expectations. Wisconsin isn't as athletic as most top teams, but its three core guys (Ethan Happ, Bronson Koenig and Nigel Hayes) are excellent when they're playing well, and the Badgers have excellent depth.
Maryland and Northwestern also are very talented—and they're likely to be so wide-eyed, in a good way, in March that they'll be less susceptible to pressure. The Terps are young, and the Cats have never been here before, so both will be playing on house money.
When Purdue has its act together, it is, like Wisconsin, a team that can match up with the best in the land. Its perimeter is inconsistent, and that helps opponents mess with likely first-team All-America Caleb Swanigan and his 7-2 buddy, Isaac Haas. But if the Boilermakers are right, they're capable of playing on.
Cases also can be made for Indiana, Minnesota and Michigan State. They are talented enough; they've shown that at times. They just have problems that they may or may not overcome.
I won't try to over-sell Michigan, which lacks depth and defense.
I'm not saying the Big Ten is going to have a good NCAA tournament. . . I am saying I won't be surprised if it has a good NCAA tournament.
BIG TEN POWER POWER RANKINGS
HEAVYWEIGHT CONTENDER
1, WISCONSIN (No. 1 in last ranking), 18-3, 7-1: A 61-54 overtime win vs. Rutgers in Madison Square Garden won't excite outsiders. But a career-high 32 from Ethan Happ was a good thing. And a win is a win.
GOLDEN GLOVES
2, MARYLAND (No. 2), 19-2, 7-1: We know the Terps are pretty good. But they haven't played a team with a winning record in the Big Ten yet. Their meeting Saturday will be the first of only four games against teams above .500 in coference play. That's what you call the Lucky Schedule Club.
FLOAT LIKE A BUTTERFLY, STING LIKE A BEE
3, NORTHWESTERN (No. 3), 18-4, 7-2: Wildcats will put their six-game winning streak—their longest in Big Ten play since 1933!—on the line with a tough game at Purdue on Wednesday. A win there would elevate an already soaring program—tracking for its first NCAA bid in tournament's 78-year history! The Wildcats, who are 4-1 in Big Ten road games, won't be intimidated.
BOBBING AND WEAVING
4, PURDUE (No. 4), 17-5, 6-3: Were the Boilermakers looking ahead in their 83-80 loss at Nebraska? Or were they exposed? Tough three-game stretch (vs. Northwestern, at Maryland, at Indiana) will tell what Purdue is made of.
5, MICHIGAN STATE (No. 6), 13-9, 5-4: Got a must-win win vs. Michigan to end three-game losing streak. Question is, can talented but young Spartans keep it going on road at Nebraska and Michigan? If so, they could make something of this season. But that's a big `if' at this point for this team.
6, MICHIGAN (No. 11), 14-8, 4-5: Showed big upside in rout of Indiana, and lack of depth in loss at Michigan State. With a week to work on things before Ohio State comes to Ann Arbor on Saturday, a good time to keep ironing out problems.
7, INDIANA (No. 5), 14-8, 4-5: Drilled at Michigan and outplayed at Northwestern, Indiana needs to figure out some things. And figure them out fast.
SPARRING PARTNERS
8, MINNESOTA (No. 7), 15-7, 3-6: Since their fast Big Ten start, enigmatic Gophers have lost five in a row—three on the road, plus home games vs. Wisconsin and Maryland. Stuff happens. But with trip to Illinois, a home date vs. wobbly Iowa and a trip to Rutgers, in their next three, they have a chance to get back to 6-6—if they are who we thought they were.
9, NEBRASKA (No. 10), 10-11, 4-5: Led by some unlikely heroes, Huskers put together a really nice win vs. Purdue to end their five-game winning streak. No reason to think unpredictable Nebraska will keep it going. But the Huskers are unpredictable.
10, PENN STATE (No. 9), 12-10, 4-5: Built 20-point lead on Illinois, then held on for tight win. "We have to learn how to play 40 minutes in the Big Ten. Right now, we're a good 20, 25 maybe," coach Patrick Chambers said. Look for improving Nittany Lions to notch more wins in their weight class.
11, IOWA (No. 8), 12-10, 4-5: Tough deal with Peter Jok sidelined by back injury. But resilient Hawkeyes snapped three-game skid with feel-good win vs. Ohio State, led by 17 points from sophomore guard Brady Ellingson. ``What we saw was just a lot more aggressiveness from other people,'' coach Fran McCaffery said, ``and that's what I want them to be."
SHADOW BOXING
12, OHIO STATE (No. 12), 13-9. 3-6: Just when it looked like Buckeyes, who had won three of four, were getting their act together, they get outplayed at struggling Iowa, which was without main man Peter Jok. And now the Buckeyes' schedule gets tougher, with a home-and-home vs. Maryland, plus trips to Michigan and Michigan State in their next five games.
PUNCHING BAGS
13, ILLINOIS (No. 13), 13-9, 3-6: Win over Jok-less Iowa was uplifting, but probably not an indicator of future results. Illini, who are 0-5 in Big Ten road games, will have their hands full at home this week, vs. league-leading Wisconsin and struggling but dangerous (for Illinois) Minnesota. Will State Farm Center provide enough insurance?
14, RUTGERS (No. 14), 12-10, 1-8: Can the Scarlet Knights, who took Wisconsin to overtime in Madison Square Garden, build on that and handle Iowa at home on Tuesday if back problems continue to dog Hawkeyes star Peter Jok? We'll find out.[/membership]