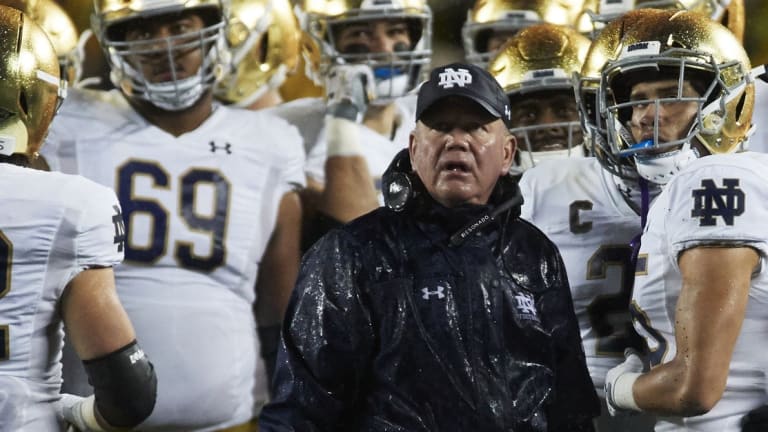 From Bad to Worse: Notre Dame's Effort. And the Timing of Its Michigan Trip.
Irish a victim of inflated expectations and improving Wolverines. No playoff. Will a New Year's Six motivate them?
Trick or Treat?
Notre Dame went to Ann Arbor looking for some candy to sweeten its College Football Playoff resume.
Instead of knocking on that door, ND left the Big House looking frightful rather than playoff-worthy.
It isn't just that the Fighting Irish lost. It's the way they lost: A 45-14 rout. On a soggy chilly night against a team that doesn't excel at passing, the ND defense couldn't stop the run—no matter how expected it was. The Irish, who were supposed to have a capable ground game, couldn't do that, either, on a night not suited to passing.
The final rushing totals: Michigan 303, Notre Dame 47.
And the only touchdown the Irish scored when the game was still in doubt was aided by a very dubious pass-interference call on third down. That gave ND the illusion of life, down 17-7, with 5:27 left in the third quarter.
But all that did was fire up the Wolverines, who scored touchdowns on four of their next five possessions for a 45-7 lead.
It was a much-needed win for embattled Jim Harbaugh and his Wolverines, who still have meetings with put-aside-the-records instate rival Michigan State and that despised galactic rival from Ohio.
Everywhere you looked, the experts were picking Notre Dame to roll—and for understandable reasons.
Ian Book was a smart and talented quarterback who knew how to find his stud receiver, Chase Claypool. Tony Jones Jr. had emerged as a very effective runner, and relief runners were as healthy as they'd been all season.
The defense had given up more than 20 points only twice all season. And Michigan possessed an enigmatic offense that had barely sputtered past Army and Iowa, and had been a no-show at Wisconsin.
In the Big House, though, it was the Irish who ``didn't show up,'' ABC/ESPN lead analyst Kirk Herbstreit told a national audience.
``For Notre Dame, they're going to be favored for the rest of their games, but this is a devastating loss and embarrassing loss that they'll have to bounce back from," Herbstreit said. "… I know we had weather and tough conditions with the wind and the rain, but Michigan had to play in those too… This is one that Notre Dame, collectively, will look back [on] and be very, very frustrated at—coaching and the way they played.''
I guess that's the real point: ND, which insists on remaining independent, now has been exposed. And it has no conference opportunities as a fallback.
What's left? A 10-2 season that remains very attainable. The best-case scenario is a bowl game that might sound like a door prize to some disappointed Irish fans—say, a Cotton Bowl with SMU. But if that New Year's Six scenario develops, the Irish had better get motivated. Because even if a bowl win won't get the Irish where they want to go, a bowl loss would further diminish the season of a school that talks about national championships and very little else.
That said, I believe the letdown problem will be limited to Notre Dame's many followers, not the team.
The Irish have a get-back-on-the-horse meeting with Virginia Tech in South Bend on Saturday. The rest of their modest remaining schedule: at Duke, Navy, Boston College and at Stanford.
Aside from the obvious, that ND wasn't good enough on many fronts to win on Saturday night, there was another problem: Its timing was terrible.
Michigan, which had looked so vulnerable earlier, had gained some confidence with a strong finish in its 28-21 loss at Penn State last week. The Wolverines also had gained the resolve to take a stand for Jim Harbaugh, who was angrily denying NFL rumors that threatened recruiting.
If this game had been a season opener, as it often has been in this series, does Michigan win? We'll never know, but the Michigan that was scuffling in September was not the same as this late October Michigan.
But that's always true in college football. Timing is huge.
And by the way, Michigan doesn't need any extra motivators when golden-dome helmets are on the opposite side of the line of scrimmage.
Dedicated readers of TMGcollegesports know that I predicted a Michigan victory in our Pick Six package last Friday. Because I expected the timing was right for the Wolverines to play their best game—and for the Irish to be unable to match that.
I still expect Notre Dame to finish strong. The flaws it showed against Michigan aren't as bad as they looked. Not to the point that the remaining opponents will have an edge, anyway.
Book is still a talented and clever competitor at quarterback. He still has an excellent receiving corps led by Claypool and tight end Kyle Kmet. ND still has a strong runner in Jones, who is expected to play this week against the Hokies despite being knocked out of the Michigan with a cartilage/ribs injury.
And the defense is more than capable of locking down again despite losing the key at Michigan.
The big question is, without conference goals, will ND muster the necessary motivation?
In a way, this is reminiscent of 2017, when the Irish took an 8-1 record to Miami looking to build their playoff credentials and went home saddled with a devastating 41-8 blowout loss.
They followed with a 24-17 win over Navy and a 38-20 loss at Stanford before beating LSU 21-17 in the Citrus Bowl.
Is this team mature and talented enough to win out? I believe the answer is yes. Not only does it appear to have the right leadership to shake off the Ann Arbor disappointment. Stanford doesn't look as a formidable as it did two years ago.
But we'll see. A week ago, it would have been hard to imagine Notre Dame being crushed by Michigan.