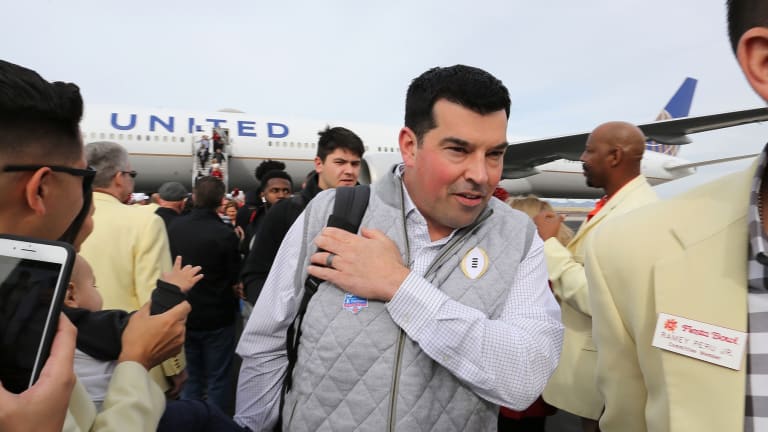 From Sparty to Buckeyes, Here's Your Big Ten Bowl Guide
Can Michigan State finish above .500? Can Ohio State break the South's championship stranglehold?
Here's something that should go well with Christmas dinner leftovers: A full plate of Big Ten bowl games.
And so, your viewing guide to the games, which begins with Michigan State's Friday (Dec. 27) foray into Yankee Stadium against Wake Forest.
And even though Notre Dame likes to remain independent, we'll include the Irish in their most natural geographical (and historical) habitat.
The good news for the Big Ten? With three teams in New Year's Six bowls, it has some really interesting matchups. The bad news? With virtually everyone moving up in the pecking order, the Big Ten is favored in only four of its nine games.
The over/under for bowl wins is 4.5, according to oddsmakers.
Contrast this with the SEC, which also has three New Year's Six teams among its nine bowl participants, but checks in with an over/under of seven wins. The SEC is favored in eight of its nine bowls.
In other words, it looks like an uphill battle for the Big Ten. But it is one that features plenty of opportunity if it wants to challenge the SEC for bragging rights as the nation's best conference.
We'll see if conference champions Ohio State and LSU can survive their national semi-finals to meet in the national championship game.
We know we'll see Alabama-Michigan, Auburn-Minnesota and Tennessee-Indiana in head-to-head matchups.
Surgeon general's warning: Bowl games are difficult to pick. Between questions about interest level, who decides to play, regaining timing, momentum after a month off and myriad other distractions, they are actually a crapshoot.
Special appearance note: The inclusion of Notre Dame's bowl, even if it is the Camping World, gives us a big 10 of bowls, so to speak.
BIG TEN/NOTRE DAME BOWL LINEUP
(CFP rankings. All times Central Flyover)
New Era Pinstripe Bowl
Michigan State (6-6) vs. Wake Forest (8-4)
Yankee Stadium, New York
2:20 p.m., Friday, Dec. 27, ESPN
Michigan State favored by 3½
THE GAME: Mark Dantonio andMichigan Statewill be in salvage mode after a disappointing season. But Dantonio apparently will be back in 2020 despite MSU's downward spiral. Wake, which had a dismal 1-3 finish, looks vulnerable.
THE PICK: Michigan State, 24-17
San Diego County Credit Union Holiday Bowl
No. 22 USC (8-4) vs. No. 16 Iowa (9-3)
SDCCU Stadium, San Diego
7 p.m. Friday, Dec. 27, FS1
Iowa favored by 2
THE GAME: Iowatends to plod on offense, but its tough defense should come up with turnovers against inconsistent USC.
THE PICK: Iowa, 23-20
Goodyear Cotton Bowl Classic
Penn State (10-2) vs. Memphis (12-1)
AT&T Stadium, Arlington
11 a.m., Saturday, Dec. 28, ESPN
Penn State favored by 7
THE GAME: November took a toll onPenn State.But the Nittany Lions should be rested and ready to go against very explosive Group of Five frontrunner Memphis.
THE PICK: Penn State, 38-30
Camping World Bowl
No. 15 Notre Dame (10-2) vs. Iowa State (7-5)
Camping World Stadium, Orlando
Saturday, Dec. 28, 11 a.m., ABC
Notre Dame favored by 3½
THE GAME: Not sure how interested Notre Dame, which would have warranted a New Year's bowl if not for today's conference-oriented bowl structure, will be. Unlike the Irish,Iowa Statehas played a lot of tight games against capable opponents. And ND will be a big deal to the Cyclones.
THE PICK: Iowa State, 31-28
College Football Playoff Semifinal at the PlayStation Fiesta Bowl
No. 2 Ohio State (13-0) vs. No. 3 Clemson (13-0)
State Farm Stadium, Glendale
7 p.m., Saturday, Dec. 28, ESPN
Clemson favored by 2
THE GAME: Two juggernauts with all the ingredients. Either one is capable of winning the national championship. The world seems to think Clemson, which has cruised through its lightweight schedule, cannot be denied from a third title in four years.Just a hunch, but. . . Why NotOhio State?
THE PICK: Ohio State, 42-39
Redbox Bowl
California (7-5) vs. Illinois (6-6)
Levi's Stadium, Santa Clara
Monday, Dec. 30, 3 p.m., Fox
Cal favored by 6½
THE GAME: Illinois took the edge off an encouraging season when it got whipped by Northwestern in the finale. Not sure the Illini can get their act together againstCal,which is playing in its own backyard.
THE PICK: Cal, 31-21
Vrbo Citrus Bowl
No. 14 Michigan (9-3) vs. No. 13 Alabama (10-2)
Camping World Stadium, Orlando
Noon, Wednesday, Jan. 1, ABC
Alabama favored by 7
THE GAME: Welcome to the Fallen Heros Bowl. Jim Harbaugh still hasn't beaten Ohio State in five tries. AndAlabamais out of the College Football Playoff for the first time. Have a feeling the Criimson Tide will be more determined here. And more talented.
THE PICK: Alabama, 35-24
Outback Bowl
No. 18 Minnesota (10-2) vs. No. 12 Auburn (9-3)
Raymond James Stadium, Tampa
Noon, Wednesday, Jan. 1, ESPN
Auburn favored by 7
THE GAME: Minnesota, which has won 10 games for the first time since 1905, has had a remarkable season. ButAuburn,which has beaten Alabama and played LSU close, is remarkably good. This is a tough boat for the Gophers to row.
THE PICK: Auburn, 31-20
Rose Bowl Game presented by Northwestern Mutual
No. 6 Oregon (11-2) vs. No. 8 Wisconsin (10-3)
Rose Bowl, Pasadena
4 p.m., Wednesday, Jan. 1, ESPN
Wisconsin favored by 2½
THE GAME: Wisconsin,which played its way into its first Pasadena trip since the 2010-12 three-peat by giving Ohio State a scare, will try to end its three-game Rose Bowl losing streak against Oregon, which made a good run at the playoff before coming up short. Thinking the Badgers defense will rein in the potent Ducks. And Jonathan Taylor will run tough.
THE PICK: Wisconsin, 35-31
TaxSlayer Gator Bowl
Indiana (8-4) vs. Tennessee (7-5)
TIAA Bank Field, Jacksonville,
6 p.m., Thursday, Jan. 2, ESPN
Tennessee favored by 2
THE GAME: Eight wins at Indiana is a nice accomplishment. even if the victims were either undistinguished or having down years. ButTennessee,after a rocky start, finished strong against some tough opponents.
THE PICK: Tennessee, 28-24