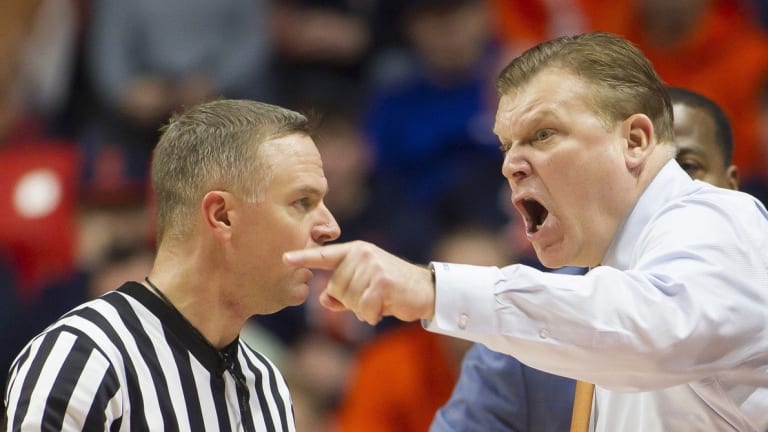 Ups and downs? Yes. But Underwood has Illinois headed in right direction
Despite disappointing Penn State loss, Illini are improving. Just ask Michigan State, Maryland and Ohio State.
In late January, I started making notes for a column on What's Wrong with the Illini.
They were 5-14, including 1-7 in the Big Ten, and headed for their sixth straight NCAA tournament miss.
That, combined with a football program that is 9-27 in three years, including a meager four Big Ten wins (4-23), under Lovie Smith, left me wondering if Illinois has the weakest one-two punch in Power Five athletics. Except for maybe that school in New Jersey.
Then Illinois basketball put together a nifty win over Maryland at Madison Square Garden to start a 5-1 stretch that included a really impressive win over Michigan State and a nice upset at Ohio State.
So I started making notes for a column on What's Right with the Illini.
Since then, Illinois has lost a pair. There was nothing wrong with the 64-58 defeat at Wisconsin. It was a two-point game with 30 seconds to go against a Badger team that is very sound.
There was no rationalizing the 83-76 home loss to Penn State, though, on a day when Illinois was honoring its beloved 1989 Flyin' Illini Final Four team. Low energy? Really?
So let's just stop trying to market-time this.
Here's the point: Things are looking up in Illini hoops.
Giorgi Bezhanishvili, the 6-9 freshman from the former Soviet Georgia, is the real deal. He studied classical dance as a youngster and it shows in his footwork and his enthusiasm. What a heart-warming story.
Freshman guard Ayu Dusunmu also is a stud. The team's best NBA prospect, he's a good candidate to live up to his one-and-done buildup. But whether he stays or goes, second-year coach Brad Underwood has Illinois tracking in the right direction.
Sophomore guard Trent Frazier can play. And many others on the roster are embracing Underwood's bees-buzzing-your-face defense, which speeds up opponents and forces mistakes.
Underwood first attracted notice when he went 89-14 in three seasons at Stephen F. Austin, including a pair of NCAA tournament wins (VCU and West Virginia).
And while he received a lot of publicity for the players who left Illinois, he is quietly doing a promising job of building a roster with players who can be successful in his system.
There were a lot of growing pains this year, which was the wrong year to go to Maui (losses to Gonzaga, Iowa State and Xavier).
Trivia question: Can you name the only Illini coach who has won the Maui Invitational? (Answer at bottom).
Many members of Illini Nation crave McDonald's All-Americans. But that's what got Bruce Weber into trouble, reaching for the recruiting stars and then either coming up empty or ending up with players who didn't suit his system.
On the flip side, Lon Kruger got beat up at Illinois because he couldn't recruit Chicago's Public League. But he wound up with a nice group of under-the-radar players who won for him and his successor, Bill Self.
``You won't hear me say,'' Self once told me when I asked him about people who grumbled about Kruger's recruiting.
Self, of course, was the only Illini coach who could recruit at the elite level demanding fans expected. The trouble is, he got recruited away to Kansas.
Where is this all leading? I'm not ready to sign on to that Internet piece, headlined: ``Why Illinois Will Make the Final Four in 2020.'' I wouldn't even bet the mortgage money yet on making the NCAA tournament in 2020.
But that wouldn't surprise me, either.
Underwood, who spent a decade as a Western Illinois assistant before working for Bob Huggins and Frank Martin at Kansas State, is looking like a very good fit in Champaign.
But the Big Ten is a deep and talented league that has a bunch of strong programs who slap each other around. This is a much tougher league than it was when Kruger, Self and Weber were stacking up victories.
What I would like is a dollar for every time I've heard a television analyst say, ``Nobody in the Big Ten wants to play Illinois.''
Trivia answer: John Groce. When he guided the Illini to the 2012 Maui championship in his first season, how good did that hire look?