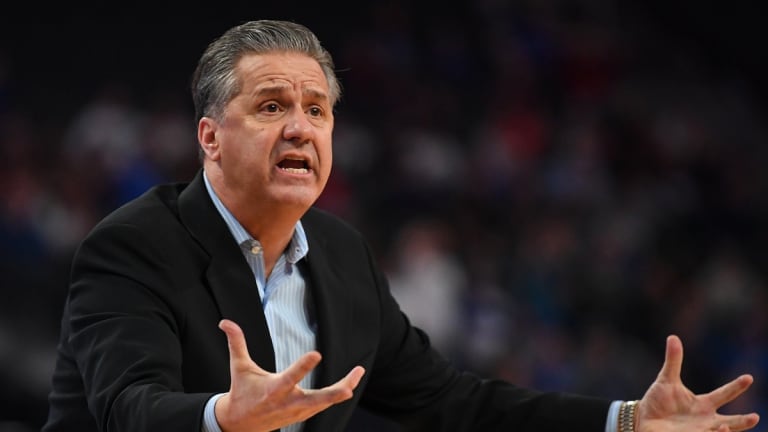 A JERSEY GUY: CBB Regular Season More Meaningful, But Still Not Close To CFB
College basketball has attempted to pump up its regular season with meaningful early games.
(As we approach CFB Final Four Weekend, just a few idle thoughts)
Let me start by stating that I think March Madness is the greatest sustained event in sports.
That being said, I want to go on official record: I HATE November college basketball. A college season which ends in the first week in April should not start in the first week in November.
I'm sure you would agree if the college football regular season began in the first week in August and stretched to the first week in December would be too long.
It's also too early.
In my world of running college athletics, Dec. 1 would be the official start for college basketball games, with a few exceptions for Thanksgiving weekend tournaments.
One of the negative aspects of the growth in popularity of the NCAA basketball tournament is that the regular season seems to diminish in importance each year, especially with non-conference games played in November.
The NCAA is well aware of that.
It has beefed up the early part of the schedule to provide more sizzle, giving us November games such as Duke vs. Kansas, Kentucky vs. Michigan State, Villanova vs. Ohio State, Louisville vs. Texas Tech and Syracuse vs. Virginia (in an ACC game).
Has it worked?
Hard to say.
But it still doesn't match the weekly drama you find in college football from Labor Day through Thanksgiving weekend where losses in September do have consequences in December.
We have had lots of parity--seven different teams have been No. 1. We have had some stunning upsets, including Evansville over Kentucky, SF Austin over Duke and Wofford over North Carolina.
Not that any of that is bad. It just gives blue chip coaches such as Kentucky's John Calipari to bring his talent-laden team down to normal breathing atmosphere if it gets too full of itself too early.
It has also given some punch to the argument that the mid-major's best teams deserve more than a casual look come selection Sunday in March.
That's when the annual debate begins over whether the No. 7 team in the Big East or ACC is better than a regular season champion of the Southern Conference which gets upset in its own conference tournament.
The answer to THAT question is easily available if the NCAA powers went back in the TMG archives and looked at the plan in which my partner Chris Dufresne and I came up with an adjustment to make things more equitable AND give the regular season much more meaning.
The solution: The 32 automatic bids for conference champions are given to the REGULAR season No. 1 team in each conference.
A team from a mid major conference which won its post season tournament would be guaranteed consideration for one of 36 at large slots and would definitely be guaranteed a spot in the NIT if it weren't chosen for the NCAA tournament field.
And put in this rule for all conferences: If you don't win at least half of your conference regular season games, the ONLY way to get into the NCAA tournament would be to win the post season tournament--and even that might not be a sure thing.
The selection committee's biggest task beside seeding would be to decide which mid major conference TOURNAMENT winners would be tournament worthy if the regular season conference champion were upset.
There would be lots of other details to work out to make it work, but the bottom line would be simple: if you won your regular season conference championship, you had an invitation to the dance.
And if you are a team from a Power 5 conference just below the .500 mark in the regular season, you had some work to do.
This argument can be picked up again in March,so let's go back to CFB.
Here's some guesses about what will happen on Saturday between No. 1 LSU and No. 4 Oklahoma and No. 2 Ohio State and No. 3 Clemson.
LSU will win a scoring battle against Oklahoma in Atlanta, and Clemson will have too much speed for Ohio State in the other semifinal game in Glendale, Arizona.
That will set up another Southern Exposure championship game of Clemson vs. LSU in New Orleans.
***
If there is going to be one more shaking of the CFB coaching tree it will come early next week after the National Football League regular season ends. There could be as many as 6 openings and while the trend will be towards NFL co-ordinators, such college coaches as Urban Meyer, Lincoln Riley, Matt Rhule and Ryan Day have been mentioned as possible candidates.
Meyer, who has national championships at Florida and Ohio State on his resume is the only one not currently coaching and has been mentioned in Dallas (expected) Washington (open) and Cleveland (expected).
***
Look for new Boston College football coach Jeff Hafley to fill out his coaching staff before the first of the year. Hafley might still be committed to Ohio State football until the middle of January if the Buckeyes beat Clemson on Saturday, but he can build his staff just as easily in Columbus as Chestnut Hill.