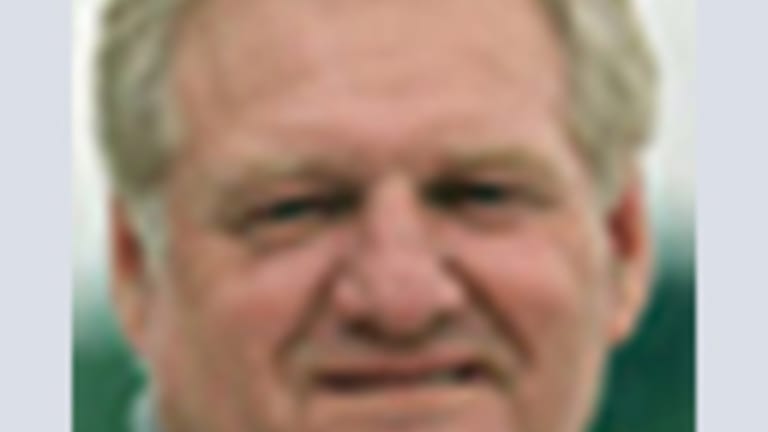 BC beats FSU and it's NOT an upset
(An outsiders musings about happenings at Boston College, AKA The Heights)CHESTNUT HILL, Ma.--The better team won the…
(An outsiders musings about happenings at Boston College, AKA The Heights)
CHESTNUT HILL, Ma.--The better team won the game at Alumni Stadium on Friday night. It did it with style and enthusiasm.
So what's the big deal, you say?
Well, this was a Friday Night Lights show in the Atlantic Coast Conference between Boston College and Florida State, a series which has gone FSU's way since BC joined the ACC in 2005, which had translated into a 10-3 edge for the Seminoles.
But these aren't the Bobby Bowden coached Seminoles who were one of the more dominant teams in the ACC. Nor are they were even the Jimbo Fisher coached team which has been an ACC elite force for the last six seasons and started this season ranked No. 2---in THE COUNTRY
Who knows what they were on Friday night when they crept into town with a 2-4 record, a three game losing streak in Tallahassee and staggered out of town with a 2-5 record following a a 35-3 pounding by a Boston College team that played better, was coached better and now must be considered one of the hotter teams in the ACC with a three game winning streak which has put the Eagles a game above .500 with a 5-4 record (3-3) in the ACC.
It was BC's first win over the Seminoles since 2009.
The last time any FSU football team was three games under .500 was 41 years ago.
The last time that a BC team scored 35 points on an FSU team? Well, never.[membership level="0"] The rest of this article is available to subscribers only - to become a subscriber click here.[/membership] [membership]
This one was over early as BC took a 21-3 first half lead that was as one-sided as the score suggested. By the end of the third quarter BC had a ridiculous 32 point lead, which is the kind of edge the Eagles pile up against outmanned nonconference opponents such as Buffalo.
How bad was it for FSU? Well, it could be argued that the Seminoles never showed up at all mentally for this game, which if it had been played at home Doak Campbell Stadium, where they are off to their worst start in more than 40 years, it would have probably prompted a cascade of boos for FSU.
It is hard to describe how bad the Seminoles were in almost every phase of the game, from dumb penalties to broken coverages on pass defense to general ineptness from a team that has never recovered from an opening loss to Alabama.
Aside from a game remaining against Delaware State, FSU could post a woeful 3-8 regular season record. That series of events could prompt Fisher to consider employment on another campus in 2018.
On Friday night, the Seminoles heard only cheers which were deservedly given to BC which has now posted impressive road wins at Louisville and Virginia and a solid win over FSU, which came into the game as a 3.5 point favorite (even the Vegas boys sometimes stumble).
And a bowl bid which looked highly improbable following a 23-10 loss to Virginia Tech on Oct. 7 leaving the Eagles with a 2-4 record (and 0-3 in the ACC) now is definitely within the Eagles grasp.
With five victories and three games remaining following a bye week--North Carolina State, UConn (at Fenway Park), at Syracuse,--BC is one win short of becoming bowl eligible. Depending on what happens in November, BC could wind up from going nowhere (lose all three) to going to the Sun Bowl in El Paso, Texas (win all three) or being invited to the Quick Lane Bowl (Detroit), Pin Stripe Bowl (NYC) or Military Bowl (Annapolis).
What is even more encouraging for Coach Steve Addazio's team is that the Eagles appear to be peaking in all areas--offense, defense, special teams, despite a steady series of injuries which on Friday night sidelined what was arguably their best player in defensive tackle Harold Landry (ankle).
Pick an area and you can find a young star ready to blossom--redshirt QB Anthony Brown who has now guided the Eagles nearly flawlessly through the last few victories, freshman running back AJ Dillon, who posted the third 100-yard plus game (149 yards, 1 TD) of his young career against FSU or junior linebacker Ty Schwab.
All of this success should prove vindication as the Eagles staggered to what appeared to be another season short of the expectations for a program with a coach in his fifth season of reconstruction.
Not any more. Now there is bowl chatter at The Heights. There are three games which all look winnable for an Eagle team which is on their best roll in the ACC since 2010 when they knocked off 4 consecutive ACC opponents.
When the final gun sounded, the BC students in the stands at the end--a rare event at BC games--stormed the field, which was not unexpected considering that it was the first home ACC win in football the BC students had witnessed WHEN SCHOOL WAS IN SESSION since 2013.
All of this left Addazio and the Eagles with a sense of satisfaction, if not accomplishment and, of course, vindication to the doubters going into their bye week.
""That was a beautiful win,'' said Addazio. "This game meant a lot to our program for a whole lot of reasons. I think right from the start we came out firing. We went after them in all three phases with everything that we had. This was a great win for us.''
Addazio has maintained faith in his players and his program from the start.
""We felt from the start we had something special,' 'said Addazio. ""We got stung by some injuries. But there is a special chemistry among these guys.''
The Eagle players were just as pumped after posting what was arguably their biggest ACC home win in the past five seasons.
""Its definitely awesome seeing the students get involved and really be excited for us,'' said Schwab, who had a career-night at LB with a game-high 12 tackles, one sack and one interception and was part of a defense which forced 3 FSU turnovers and held the Seminoles to 213 total yards. ""It was definitely exciting and I'll probably remember this game the rest of my life..'''
"Addazio tried to wrap up the package at the end. ""We' re just trying to find a way to win each week'' he said. ""And that hasn't changed.''
What has changed is that BC is now finding a way to do it.[/membership]