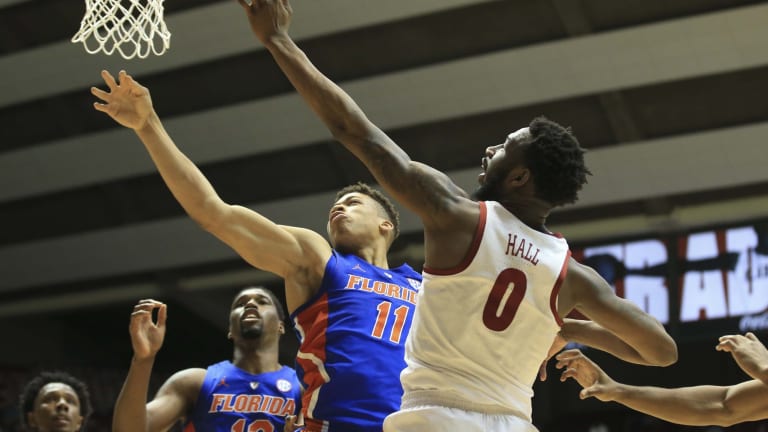 Bracketology 101: 8th Lesson
It's March, which means its time to take a serious look at the potential NCAA men's basketball tournament field
Are you ready for March Madness?
We at TMG are.
So here's our first list at what we think the 68 team tournament field will be when it is announced on March 17th. We will not break it down by regions or seeds until the Ides of March.
But for now, here is our guess at each of the 32 conference champions and 36 at-large teams.
We will break it down, conference by conference in alphabetical order, with the number of teams from each conference and the countdown to 68 teams.
America East (1) (1)
Vermont
American Athletic Conference (4) (5)
Houston, Cincinnati, UCF, Temple
Atlantic 10 (1) (6)
VCU
Atlantic Coast Conference (9) (15)
Virginia, Duke, North Carolina, Virginia Tech, Florida State, Syracuse, Louisville, North Carolina State, Clemson
Atlantic Sun (1) (16)
Lipscomb
Big 12 (7) (23)
Texas Tech, Kansas State, Kansas, Baylor, Iowa State, Texas, TCU
Big East(4) (27)
​Marquette, Villanova, St. John's, Seton Hall
Big Sky (1) (28)
Montana
Big South (1) (29)
Radford
Big Ten (7) (36)
Michigan State, Michigan, Purdue, Wisconsin, Maryland, Iowa, Ohio State
Big West (1) (37)
UC-Irvine
Colonial Athletic Conference (1) (38)
Northeastern
Conference USA (1) (39)
Old Dominion
Horizon League (1) (40)
Wright State
Ivy League (1) (41)
Harvard
Metro Atlantic Athletic Association (1) (42)
Iona
Mid-American Conference (1) (43)
Buffalo,
Mid-Eastern Athletic Conference (1) (44)
Norfolk State
Missouri Valley Conference (1) (45)
Drake
Mountain West Conference (2) (47)
Nevada, Utah State
Northeast Conference (1) (48)
St. Francis (Pa.)
Ohio Valley Conference (1) (49 )
​Belmont
Pac-12 Conference (2) (51)
Washington, Arizona State
Patriot League (1) (52)
Colgate
Southeastern Conference (8) (60)
Tennessee, Kentucky, LSU, Ole Miss, Florida, Miss State, Auburn, Alabama
Southern (1) (61)
Wofford
Southland (1) (62)
​Sam Houston
Southwestern Athletic Conference (1) (63)
Prairie View
Summit League (1) (64)
South Dakota State
Sun Belt Conference (1) (65)
Texas State
West Coast Conference (2) (67)
Gonzaga. Saint Mary's
Western Athletic Conference (1) (68)
New Mexico State