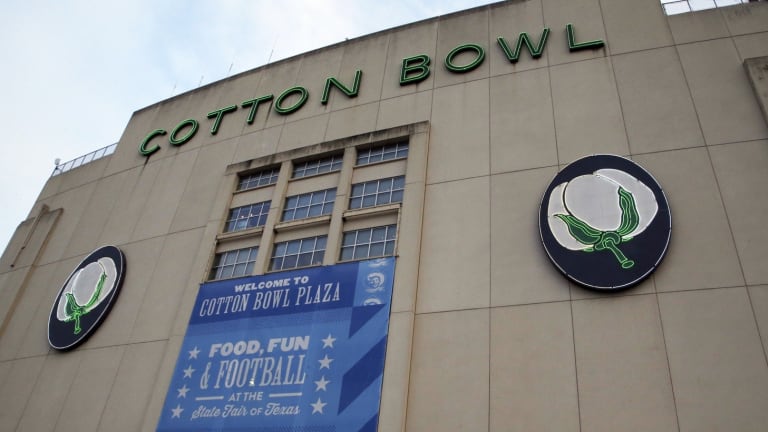 Even Mother Nature Works Against BC's 8-Win Quest
BC went looking for its 8th win of the season against Boise State and came up empty again--for a very different reason.
BC went looking for its 8th win of the season against Boise State and came up empty again--for a very different reason.
To paraphrase a mantra in Tom Cruise's iconic movie Risky Business, "Sometimes you just gotta say. ""What the bleep.''
So it is this morning for Boston College Coach Steve Addazio and his football team as they look back on their latest challenge to break into relevancy as an 8-victory team.
In seven seasons, no Addazio coached team had reached that plateau.
The Eagles began their day after Christmas challenge against Boise State in the First Responder Bowl in Dallas with a 7-5 record and high hopes.
Five minutes into the game, played at the historic Cotton Bowl, it looked even better for the Eagles, who had carved a 7-0 lead.
Nine minutes into the game, Boise State had still shown no signs of offensive life.
And then it happened
A higher force delivered a message from the heavens in the form of rain, wind and lightning. The players and the small group of loyal fans who made the trip to Dallas could tolerate the first two challenges.
Lightning?
Not so much.
Especially when the bolts that flashed across the sky were Texas-like in their size.
Clearly, it was a message? No football on the first day after Christmas in this particular venue.
Protocol was followed and a mandatory 30-minute delay was imposed.
But here was the hitch. The storm had arrived two hours earlier than expected. And it had more punch, much more.
Horizontal rain mixed with near lightning bolts of near perpendicular consistency.
They could have waited several hours.
Rejected. Not fair to the fans or the players.
They could have postponed the game for a day.
Rejected, hotel rooms, airline fares, other issues had to be dealt with.
So they created history of sorts.
They Cancelled the bowl game, something that had never happened in an FBS post-season game.
""This is a first,'' said Addazio. ""I've never seen it before.''
"Can't make this up,'' said BC athletic director Martin Jarmond, who had to deal with nature once this season when the Eagles and Wake Forest moved the start of a Thursday night game a few hours to avoid the approach of hurricane Florence.
So there it is.
BC is the first (along with Boise of course) team to ever receive a bowl bid, show up for the start of the game, start it and then have it cancelled before an outcome was decided.
The people at the game, fans, officials, media agreed that it was the only call that could have been made, considering the conditions.
And now the BC 2018 football season is officially in the books as 7-5, but I will give the Eagles a break on this one if they attach an * to the season, explaining what happened to game No. 13--and their chance to achieve an 8-victory season.
​