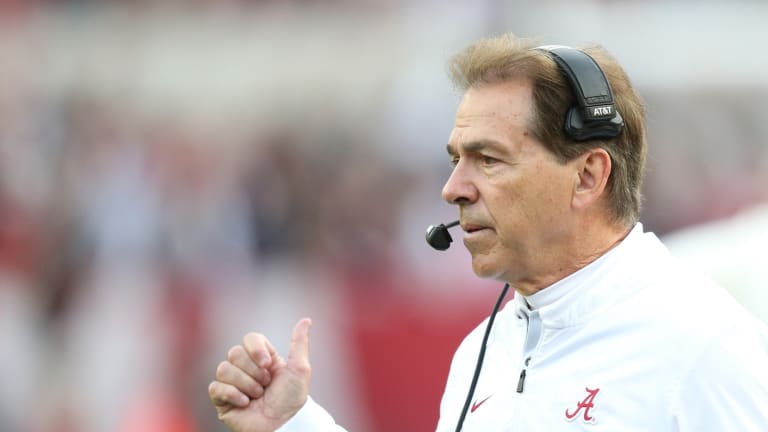 GRUDGE REPORT/College Football World Looks Back At Future
With Mack Brown and Les Miles being hired, CFB suddenly has an older look
When did we miss the technological advance that made time travel a reality?
How else to explain two Power 5 conference hires of new football coaches at Kansas and North Carolina?
We give you 65-year old Les Miles, who dusted off a resume which had a national championship at LSU 11 years ago.
We give you 67 year old Mack Brown, who had even more dust on his coaching resume--Brown's Texas team won the 2005 national championship--who is now the new (and also old) coach at the University of North Carolina.
Add that pair to 67 year old Nick Saban, who has won 5 national championships at Alabama in the past 9 seasons, and his friend, 66-year old Bill Belichick, who has won 5 Super Bowls as a head coach (in eight appearances) with the New England Patriots.
Expand your horizon, and we see a 72 year old President of the United States, a 78-year old about to be new Speaker of the House (Nancy Pelosi__ and a 78-year old former Vice President (Joe Biden) as the current front runner among Democrats to make a run for the Presidency in two years.
More?
How about one of the leading (in our mind still the front runner) rock and roll stars?
That would be 69-year old Bruce Springsteen.
In these days of warp speed (an old Star Trek reference for you Baby Boomers) changes, where the old becomes old within days or sometimes hours, where are the next brand of stars from the Millennials?
Not that we're advocating more changes like that.
Let's not stray too far and stick with college football and coaches. Oh, we have 35-year old Lincoln Riley at the University of Oklahoma, who is the hottest young coach in CFB. We have 32-year old Sean McVay as a rising star as the youngest coach in the National Football League with the Los Angeles Rams.
But as we begin the crazy silly season known as the Coaching Carousel, Miles and Brown are the two most prominent names. Oddly enough, both make sense. Interestingly enough, both NC and Kansas have had more high profile programs in basketball than football.
Miles was steadily fading from view after he was fired at LSU two years ago. Old coaches, like old generals as Douglas MacArthur said in his famous farewell speech at West Point don't die, they simply fade away.
At 63, Miles made it clear he still had some gas in remaining in his coaching tank.
Kansas, which had gone from an Orange Bowl quality BCS team a decade ago to arguably one of the worst teams in the FBS, finally replaced and embattled David Beaty as head coach with Miles. The move was made by 58-year old athletic director Jeff Long.
The change at North Carolina was also anticipated.
Tar Heel football had fallen on tough times with losing seasons and an extended stretch of academic and other violations which tarnished the image of both the football program, but the school as well.
When the Tar Heels concluded their 2-9 season on Saturday with a loss to NC State, NC athletic director Bubba Cunningham fired Coach Larry Fedora. Twenty four hours later, he made another decision, choosing Mack Brown, who had guided the Tar Heels to their highest football ranking (No. 2 in the country) more than 30 years ago, was back in Chapel Hill.
Brown (correctly) felt he had reached a peak at NC and moved to Texas in 1998, where seven years later, he won a national championship. Three years after that, Brown was eased into "retirement'' and has spent the past decade as an ESPN college football analyst.
Like Miles, Brown's reputation faded (not diminished) slightly with each year he remained out of coaching. Although he had seen his name mentioned with several job openings, none produced any serious negotiations, until North Carolina called and asked him to do what he done once before--build or rebuild a football program.
There will be more openings, more rumors and the typical musical chair game of coaching hires and fires, contract buyouts and settlements. There will be press conferences held with new names and grandiose plans of future success with eager young coordinators ready for their chance to succeed.
But for just an instance on Monday, the world of college football felt more like a comfortable old pair of shoes as Les Miles and Mack Brown return to the main stage.
In this era, where people of a certain age are perceived as "Grumpy Old men'', who need to be passed by, ignored and sometimes ridiculed, it is nice to see Brown and Miles back.
We wish them well.