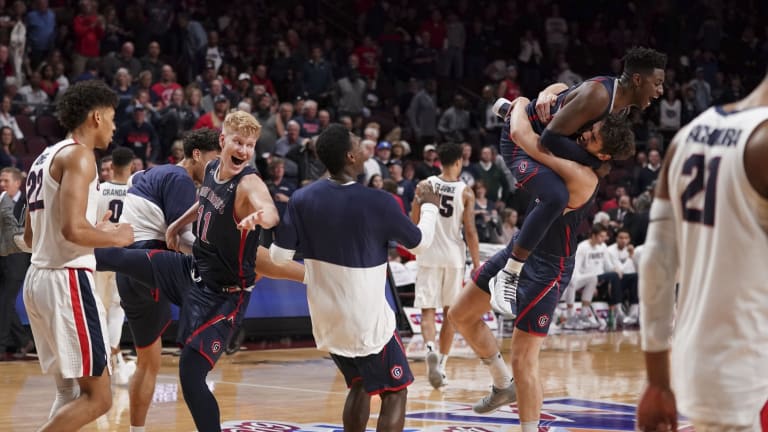 March Madness Countdown: Game By Game, Sweet 16
We are in the Sweet 16 Round in the NCAA tournament and the chalk should hold up
OK. Let's cut to the chase. The NCAA tournament is now down to the Sweet 16 round, with four teams advancing to the Final Four next weekend in Minneapolis.
Our marks in picking each game of the tournament thus far aren't great, but not horrible either: 38-14.
Now we are down to the Nitty-Gritty.
Thursday
WEST REGIONAL
No. 4 Florida State vs. No. 1 Gonzaga--FSU is talented enough to win this game, but this is a rematch of last season's West Regional semifinal, won by the Seminoles. Not this time.
Gonzaga 73, FSU 69
No. 2 Michigan vs. No. 3 Texas Tech--Another repeat appearance by Michigan, which made it to the Final Four last year by coming out of the West Regional. The Wolverines beat Texas A&M in last season's Regional semifinal. This year they beat another solid Texas team--Texas Tech.
Michigan 66, Texas Tech 62
SOUTH REGIONAL
No. 1 Virginia vs. No.12 Oregon--No one outside of the Atlantic Coast Conference has been able to beat Virginia this season. Oregon won't break that streak, despite their "Cinderella'' status.
Virginia 64, Oregon 56
No. 2. Tennessee vs. No. 3 Purdue--Tennessee had its scare against Iowa, while Purdue knocked off the defending national champion Villlanova. Tennessee will be much much tougher.
Tennessee 79, Purdue 68
MIDWEST REGIONAL
No. 1 North Carolina vs. No. 5 Auburn--Carolina is an ACC-SEC challenge and good enough to handle Auburn.
North Carolina 83, Auburn 73
No. 2 Kentucky vs. No. 3 Houston--Danger for Wildcats in this one. Houston knows how to play defense better than anyone Kentucky has seen this season.
Kentucky 66, Houston 64 (OT)
EAST REGIONAL
No. 1 Duke vs. No. 5 Virginia Tech--Tech beat Dukies once this season, it won't happen again.
Duke 67, Virginia Tech 61
No. 2 Michigan State vs. No. 3 LSU--Michigan State has too much discipline for the wild roaming Tigers.
Michigan State 66, LSU 61
Record last week: 11-5
Record for tournament: 38-14
​
​
​