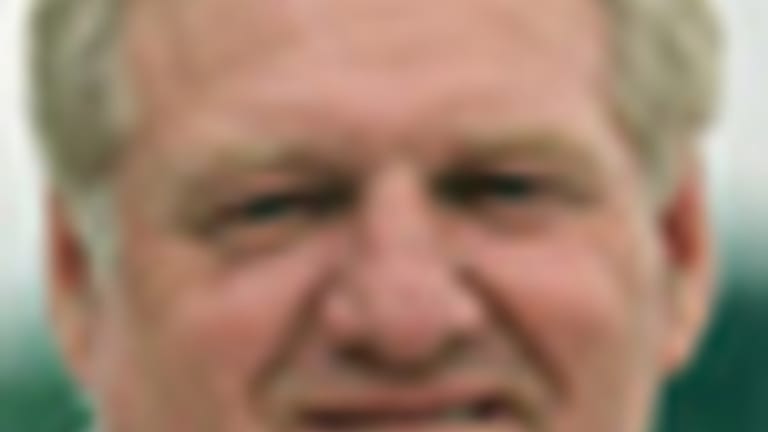 NCAA needs to put Louisville down
Shut it down. That's what the NCAA can, and should do, to Louisville basketball. Use it as a poster child to show what…
Shut it down. That's what the NCAA can, and should do, to Louisville basketball. Use it as a poster child to show what happens to a program that has been out of control for too long.
I've seen this story before. I carried a press pass. I covered Southern Methodist.
Back in another century, I stepped over sewage into the world of big time college athletics as a reporter covering the Southwest Conference and then, national college football for the Dallas Morning News.
It was big time athletics at a big time newspaper. It was fun. It was also an eye-opening experience in terms of the way college football programs operated, specifically the infamous Southern Methodist teams of the early-to-mid 1980's. SMU went from the Pony Express, a national contending team, to the Midnight Express in 1987 when the NCAA decided that enough rules had been broken enough times to shut down the program, aka the infamous ""Death Penalty'' option.
It worked. Now, 30 years later, SMU is a second tier program, with almost no impact nationally.
That was the NCAA showing all of its muscles in an attempt to govern a sport that largely depends on its members playing by the rules they created. During the ongoing investigations into violations in the SWC, the NCAA lacked one key weapon. It had to depend on voluntary testimony. It didn't have subpoena power.
I remember sitting outside of a meeting room in a Kansas City hotel during an NCAA Committee on Infractions meeting involving SMU. I had gotten to know the NCAA investigators and when the meeting took a mid-morning break, I asked one of the NCAA investigators how it was going.
He looked around to make sure no one was near enough to hear, and said, ""These guys argue about everything.''
From that moment, I knew that SMU was in deep trouble. But as bad as SMU was, it was still basically a self contained moment. Much of the rest of college football looked at what was going on in Dallas, in the SWC with a shake of their heads. But there were few ripples.
Which brings us to the latest news of the week involving a massive scandal in college basketball, which is so widespread that almost every major college basketball coach should be asking their staff a question that was popular back in the Watergate Days of the early '70:, "What do you know, and when did you know it?"
Only this time the investigation is being conducted by the FBI, not the NCAA. Not only do they have subpoena power, they have the ability to send people to jail.
""That,''said one long time assistant basketball coach, who has worked the recruiting trails in college basketball for more than 30 years, ""is a different ball game. No one was really afraid of the NCAA. But this? If it were me, I'd sing like a bird if I got offered a deal to give someone up to avoid jail time. You are going to see the effects of this for a LONG time.''
Sitting in the middle of this tsunami is Louisville--again and basketball coach Rick Pitino. The Cardinals are staring at probation for being involved in an alleged sex scandal case which involved using hookers to entice recruits in a building on the Louisville campus owned by the university. And oh, the building is named after Pitino's late brother Billy Minardi, who was killed in the 9-11 World Trade Tower attack.[membership level="0"] The rest of this article is available to subscribers only - to become a subscriber click here.[/membership] [membership]
The NCAA called the incident ""repugnant,'' stripped the Cardinals of their 2013 national championship and suspended Pitino for five ACC games.
This was after Pitino was involved in his own sexual episode, which again brought into focus a character issue. Now we have new charges that representatives of the Louisville basketball program were involved in recruits receiving cash bonuses as a recruiting tool.
"Repeat'' of major violations was a key item in bringing SMU down. It is now evident in living color, in Louisville, with Pitino and athletic director Tom Jurich as the men in charge. On Wednesday both men were, effectively, fired or the for time being placed on ""administrative leave.''.
Not even Louisville, which threw football coach Bobby Petrino a post-mistress life line, could tolerate the stench coming from the basketball program with the "Sgt. Schultz" defense-"I know NOTHING!" (Ok, I'm dating myself here with that Hogan's Heroes reference).
Louisville may not be the worst offender in all of this. But some bodies, and some schools, must be sacrificed up for the greater good. The FBI, unlike the NCAA, can help fast-track this scandal toward some sort of resolution. We don't need the kind of feet-dragging we've seen with the NCAA and North Carolina.
This sport has been dirty for long enough.
It's time to come clean.
[/membership]