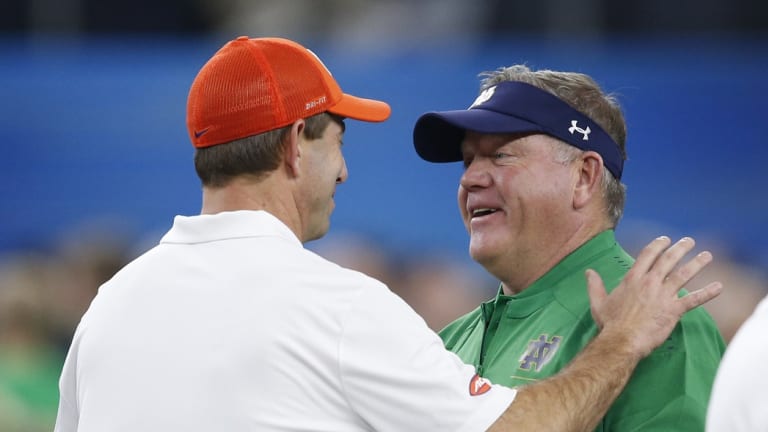 A Jersey Guy: With NCAA, Sometimes Idiocy Rules
The Notre Dame football program is on NCAA probation for one year because of a rules violation which is indeed mind boggling.
Headline news in college football Friday morning: Notre Dame on probation for recruiting violations.
Big stuff right? 
The holier than thou Irish, quick to remind everyone of the "Catholics vs. Convicts'' t-shirt which appeared before a long ago Miami vs. Notre Dame football game, finally being caught.
Well, yes, but this violation was "according to NCAA rules'' which dramatically changes the nature of the discussion.
This was one of the violations committed by the Irish, specifically head football coach  Brian Kelly.
In the fall of 2019, Kelly was visiting a high school, walking through the cafeteria, when a football player recognized him and asked to take a selfie with the ND football coach.
Kelly, well acquainted with the minutiae of NCAA rules at first declined, much to the surprise of the less informed high school students around him. 
But then his human instincts took over and he took the picture.
Oops.
 NCAA violation.
ND was hit with what is a very minor penalty—loss of one recruiting visit-but still a penalty.
Keep that thought in your head and then consider what happened a few years ago when the NCAA concluded an eight year investigation into serious academic fraud issues at the University of North Carolina—athletes were receiving credit for taking classes which they didn't have to attend.
 The penalty?
A public scolding.
The NCAA said it could not make a case because Carolina officials said the course was open to ALL North Carolina students.
It was academic fraud, but it was NOT an NCAA violation.
Student athletes were not given any EXTRA benefits, which is the main focus of almost all NCAA rules.
The loop hole was just another example in what NCAA critics—there are many of them—maintain is a major problem with the organization: an inconsistency in enforcing a rule book filled with too many inane rules.
I have covered NCAA related events and the business for almost 40 years and the NCAA rule book remains a quagmire of obscure restrictions.
Take for example NCAA rule 2011-78 which reads as follows:
"Permits an institute to provide spreads (butter, peanut butter, jelly and cream cheese) on a bagel.
Obviously a bagel with caviar is probably a violation.
I remember dealing with the Southwest Conference, which elevated rules violations to new levels, and running into this misdeed.
A Texas A&M football coach was cited for giving one of his players a ride during a rain storm because it was "an extra benefit'' which was not available to the general student body.
Another issue involved Oklahoma in which the NCAA actually levied penalties when a few members of the football team ate too much pasta at a buffet restaurant, a  violation which the NCAA said  required a payment to charity of $3.13 cents.
"It's insane,'' said one FBS  football coach. "There are so manty ticky-tack rules, I can't keep up with them.
I'll give you an example. We're in a quiet period right now, and my office overlooks our (indoor) practice field which I can see from my window.
If some of my players were out there now, I would have to pull shades over the window.
The biggest problem you have is that you have a multi-billion dollar business being run by part-time employees, who have other jobs, as well.''
Some of the rules are indeed mind-boggling, such as:.
A women's soccer coach in the SEC was cited for answering an email from a recruit earlier than the contact period allowed.
Another SEC school was cited for a violation when a student helping a recruit go through the registration process, walked the recruit to his next stop and spent five minutes sitting with the prospect, which was not allowed by NCAA rules.
In fairness to the NCAA, which must deal with major recruiting  violations among its more than 400 Division 1 schools competing in basketball and football, many of the rules are part of a handbook which is being constantly  revamped.
Still, they do exist and, as they did with Notre Dame, they are exposed in contrast to some of the major rules which were violated at North Carolina.
Rules are created because they are necessary. 
But sometimes common sense is ignored.
The NCAA is approaching a period of potential chaos in college athletics with free agency for Division 1 athletes looming, along with a rule which will compensate athletes if schools make a profit from using their likeness.
Whether the NCAA is capable of dealing with such changes is questionable.
But it is right on top of the issue of whether Brian Kelly can take a selfie with a high school football player.