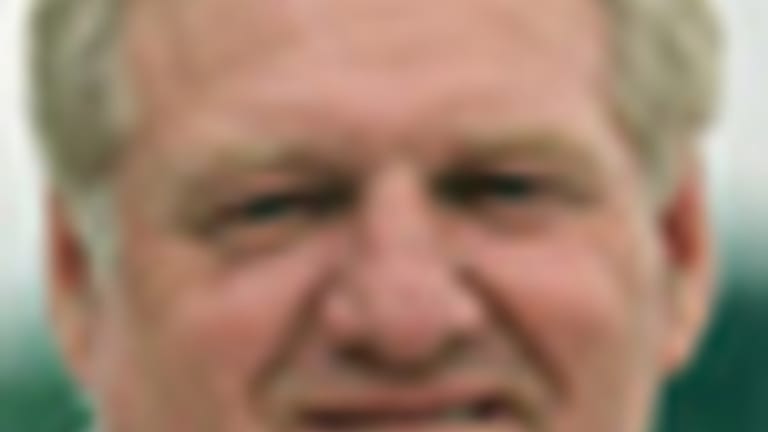 Notre Dame could play key role in BC's bowl destination
(An outsiders look at what's going on at Boston College, aka The Heights) Back in 2012, many Atlantic Coast Conference…
(An outsiders look at what's going on at Boston College, aka The Heights) Back in 2012, many Atlantic Coast Conference…
(An outsiders look at what's going on at Boston College, aka The Heights)
Back in 2012, many Atlantic Coast Conference coaches felt the league made a deal with the devil when it contracted to put five ACC schools on Notre Dame's schedule each season.
In exchange, Notre Dame received a guarantee from the ACC that, in seasons it did not make playoff-bowl set up, the Irish would be treated as an "ACC'' team in the conference's bowl arrangement.
The schools most affected fell in the six-or-seven victory range, who almost certainly get bumped if Notre Dame was "available.'' Many ACC coaches felt the league gave up too much to ND which, as an independent, was looking for a parachute bowl game in the seasons the Irish weren't top-10 caliber. With the majority of the bowls locking up their spots to conference teams, ND officials wanted a guaranteed bowl slot for the Irish, both good and bad.
Which brings us to this season.
Boston College finished its regular season on Saturday with a solid 42-14 victory over Syracuse, which elevated the Eagles' record to 7-5. For the fourth time in five seasons, BC is bowl eligible, although the Eagles have never won more than seven games in Coach Steve Addazio's five seasons at The Heights.
Notre Dame finished with a 38-20 loss to Stanford, which dropped the Irish to 9-3 and put them on the fringes for a spot in one of the six college football playoff bowls.
How does this affect BC? Let's take a look:
The ACC will have 10 bowl slots open for 10 potential bowl eligible teams--not including Notre Dame.
With the completion of this weekend's games, this is my guess at the playoff bowls AND the ACC bowls.
College Football Playoff Semifinals
Sugar: Clemson-Miami winner vs. Wisconsin
Rose: Auburn vs. Oklahoma
Selection CommitteeBowl Games
Fiesta: USC-Stanford winner vs. Wisconsin-Ohio State loser
Cotton: Penn State vs. Notre Dame
Peach: Auburn-Georgia loser vs. UCF-Memphis State winner
Orange: Clemson-Miami loser vs. Alabama
ACC Bowl Games
Orange: Clemson-Miami loser vs. Alabama
Camping World Bowl, Orlando: Virginia Tech
Citrus Bowl, Orlando: Spot only available if Big 10 team is in the Orange Bowl, which wouldn't happen if Alabama is in the Orange Bowl.
Tax Slayer Bowl, Jacksonville: Florida State
Belk Bowl, Charlotte: North Carolina State
Sun Bowl, El Paso: Louisville
Pinstripe Bowl, NYC: Boston College
Military Bowl, Annapolis: Virginia
Independence Bowl, Shreveport: Wake Forest
Quick Lane Bowl, Detroit: Duke[membership level="0"] The rest of this article is available to subscribers only - to become a subscriber click here.[/membership] [membership]
There it is, nice and tidy. The assumption is that Florida State will beat Louisiana Monroe next week to become bowl eligible and the Tax Slayer Bowl, a bowl which normally wouldn't have access to FSU will grab the Seminoles. Virginia Tech, with nine wins, would slide into the bowl game in Orlando.
BC would then be grouped with Wake, NC State, Louisville, Virginia, and Duke.
The Belk Bowl wants to sell tickets, so NC State is a logical choice. The Pinstripe and Sun bowls will choose between Boston College, Louisville, Wake Forest and Duke.
BC has a horrible reputation--deservedly so--as a bad bowl traveling team. But the Sun Bowl has shown a mild interest in the past and the Eagles played the Pinstripe a few years ago and generated some enthusiasm.
Louisville has the attraction of reigning Heisman winner Lamar Jackson, but might be a better fit for the Sun. That leaves BC, Wake and Duke as the remaining teams. Wake beat BC during the regular season, but BC might be more attractive to New York.
The Military Bowl seems set on a Virginia-Navy match up. Wake then gets put in the Independence Bowl and Duke would grab the last slot in the Quick Lane Bowl.
Now that "what if'' involving Notre Dame. If Notre Dame does not make it into the Cotton Bowl, the Irish are in the ACC bowl pool. They would quickly be grabbed by Orlando or Jacksonville and FSU would probably fill the other Florida slot.
Virginia Tech at 9-3 would be a popular choice for the Belk, which leaves the other bowls with NC State and Louisville available and more popular bowl choices than BC.
If the Military Bowl sticks with Virginia--yes BC crushed Virginia during the regular season--but Annapolis is an easy trip for Virginia fans. That would leave the Independence and Quick Lane bowls picking from BC, Wake Forest, and Duke.
Who gets left out and where do they go? There is also some more wiggle room if Alabama makes it into the Final Four, which could open a second bowl in Orlando for the ACC.
Stay tuned. The key for BC is where Notre Dame winds up.[/membership]