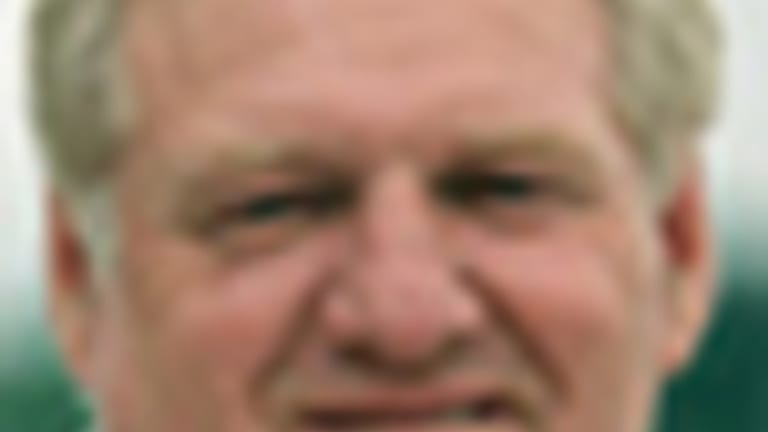 Recess over for Boston College
(An outsider's musings about the goings on at Boston College, aka The Heights)CHESTNUT HILL, Ma.--They won. Leave it at…
(An outsider's musings about the goings on at Boston College, aka The Heights)
CHESTNUT HILL, Ma.--They won.
Leave it at that.
Boston College needs to tuck Saturday's 28-8 win over Central Michigan into its archives and forget about it.
Other than the final score, there were only sporadic moments of brightness at Alumni Stadium on a rainy, chilly Saturday afternoon for Coach Steve Addazio's Eagles.
In fact, if you wanted to follow the party line that Addazio used in the Eagles 49-20 loss to Notre Dame, other than a handful of plays, this was a dead even game.
If you looked at the numbers you might give Central Michigan, which has now has lost three straight games (2-3) an overall edge.
For example: Time of Possession: Central Michigan 31:34, Boston College 28.26
Total yards: Central Michigan 296, Boston College 309
First downs: Central Michigan 18, Boston College 17
If you looked at the first few minutes--of which most of the late arriving announced crowd of 27,036 missed--there were some frightening signs for the Eagles, who went into the game with a 1-3 record.
A win over Central Michigan was essential
But BC began the game by coming up short on a fourth and 1 situation from its own 44.
On the Eagles' second series, they found themselves starting on their own one yard line.
A few seconds later, the Eagles trailed 2-0 after running back Jon Hilliman was stuffed in the end zone for a safety.
Four minutes into a game it had to win, BC was trailing 2-0.
Hmm.[membership level="0"] The rest of this article is available to subscribers only - to become a subscriber click here.[/membership] [membership]
Luckily for the Eagles, Central Michigan was totally outclassed in all phases of the game, from the sidelines, to quarterback, running back, and especially on punt returns.
More about that later.
What looked bad at the start for BC, became a little brighter when BC's Michael Walker returned a line drive punt by the Chippewa's Jack Sheldon 61 yards, setting up a first and goal for the Eagles on the Chippewa's 6. When Hilliman bulled his way into Central Michigan''s end zone, BC had a 7-2 lead it would not give up the rest of the day.
The second biggest play working for the Eagles was a roughing the passer call on Central Michigan following an incomplete fourth down pass by BC QB Anthony Brown on the Central Michigan 35. That penalty allowed the Eagles to continue their drive which ended with a 15-yard TD run by freshman running back A.J. Dillion.
That made it 14-2 and that was all BC needed as the Chippewa's ineptness in all important phases of the game offset any sloppiness or inefficiency by BC.
Take this stat as an example.
Sheldon punted 7 times for an average of 40.6 yards per kick. But Walker returned four of those kicks for 128 yards, an average of 32 yards, which meant a total of plus 8 for Central Michigan on kicks which inexplicably Sheldon kept hitting in line drive fashion to Walker, who kept on sprinting into Central Michigan territory.
All of this led to a feeling of satisfaction following a game for the Eagles for the first time since their opening night victory against Northern Illinois a month ago.
""We're doing this the long hard way right now,'' said Addazio, ""which is front-ending some really tough teams, although we've still got many tough teams to go. That's the nature of where we are in this conference and the division and the side we've play on. I've been doing this a long time, it's (ACC) powerful. I was in the SEC when it was powerful. This is powerful.''
There were highlights such as Dillion's career high 120 rushing yards, Hilliman had a career high 3 TDs and had a combined yardage total of 92 yards and, of course, the kick returns of Walker.
But the Eagles will not deal with a team as ill equipped to handle things as Central Michigan for awhile.
BC was almost a 10-point favorite against Central Michigan. The Eagles next five opponents are: Virginia Tech, at Louisville, at Virginia, Florida State and North Carolina State. The Eagles are likely to be underdogs in ALL of those games.
The Eagles' need to elevate their game in almost every phase--Brown who has been spotty throwing the ball was 14 of 21 against Central Michigan. But Brown was recovering from a shoulder injury suffered in last week's 34-7 loss to Clemson and deserves a pass on any inefficiency.
"Considering our quarterback didn't practice (most of ) this week, I felt that you're asking a lot with a freshman throwing the ball when he didn't have any practice throws,''said Addazio..
The Eagles have two wins. They need four more to become eligible for a bowl game, which many observers think is the bottom line for Addazio returning to The Heights for a sixth season.
After NC state, BC finishes with games against UConn and Syracuse, two games, BC CAN win. But that will still leave them two short of 6, which means they have to post a 2-2 record in their next four games.
Technically that is possible, but it will take a much better effort than BC produced against Central Michigan.
BC won easily on Saturday.
Brown put a good perspective on the whole matter. "It's always important to win your games,'' said Brown.""We only have 12 shots. That was five. Sixth one is coming up against a really good team and it really just helps our confidence and keeps us building and we've just got to get ready to go.''
Yes, they do.
But recess is now over./membership]