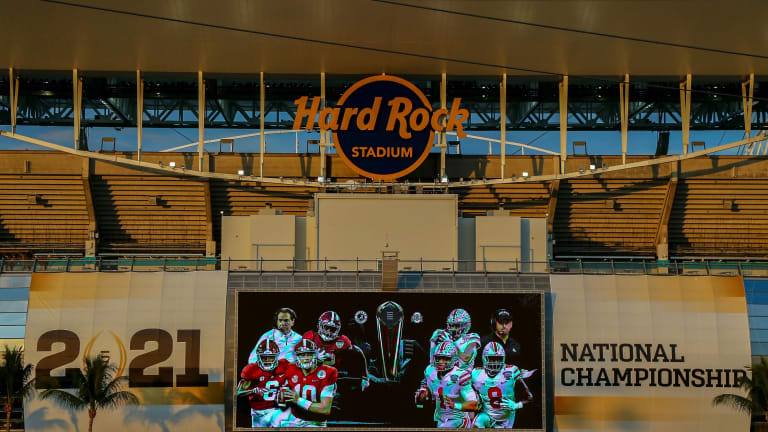 Luicci's Live Look-In Of The National Championship Game
Alabama vs. Ohio State Brimming With Marquee Appeal
A warning before we get started here: These live-game observations will probably not age well. But that's fine. It will put me in good company with some of the college football media "experts" whose knee jerk Twitter observations have the shelf life of 30-second media timeout.
Having been to my share of national championship games while covering national college football for The Star Ledger of Newark, N.J., for 35 years what I will be doing is offering my observations in real time while watching as both a neutral observer and college football fan.
4th quarter
Alabama: Best team in the country from the first day of the season to the last one.
BREAKING: Alabama makes Ohio State look like the No. 11-ranked team and wins another national championship with a 52-24 rout.  
Nick Saban's seventh national championship. Let's see someone match that in the years to come.
Greatness personified. Alabama football.
DeVonta Smith returns to sidelines in sweats with his right hand wrapped. Can he be named MVP playing just a half? (Hint: Yes.)
Fields must really be hurting. His passing has been inconsistent all night.
Seeing how Alabama is dominating Ohio State after the Buckeyes dominated Clemson you have to wonder: How overrated was Clemson this year? ACC was terrible, as evidenced by its winless bowl season and lopsided playoff losses by its two best teams.
Official is standing two feet from the Ohio State receiver bobbling the ball at the goal line, staring right at him, and makes no call. Big 12 officials would be the worst in Power 5 if not for the Pac-12. Overturned by replay of course.
I think it's okay for Ohio State to stop trying to run the ball now. Ten minutes left, down four TDs. Yes, it's time.
Another Alabama touchdown. Now we know why Dabo voted Ohio State No. 11. 52-24 Tide.   
3rd Quarter
Fourth and short and Master Teague gets the ball in a last-gasp gamble by Ryan Day? No issue with going for it there but how about keeping the ball in Justin Fields' hands and letting your best player make a play? Good Bye Columbus. 45-28 heading to the fourth quarter.
No Najee Harris, no DeVonta Smith and it doesn't matter. Alabama marches the field against Ohio State for another score. 45-24 Alabama. How many possessions do the Buckeyes have left? 
Looks like DeVonta Smith is headed to the locker room with that right hand injury. We'll see how this offense adjusts to this loss. ESPN reports he is questionable to return. 
Huge answer by Ohio State. Shredded Alabama's defense that drive. Justin Fields was impressive. 38-24 Bama
Have I mentioned enough this season how mediocre Ohio State's defense is? Simply not championship caliber. 38-17 Alabama. Number of possessions starting to shrink for the Buckeyes.
DeVonta Smith with some sort of right hand issue. Heading into medical tent.
2nd Quarter
Halftime. DeVonta Smith unstoppable. Justin Fields inconsistent. Ohio State's defense on its heels. Alabama making the over/under of 75 looking like it is headed over with a 35-17 lead at the break. 
Best all-time college offense: LSU last year or Alabama this year? 
Raise your hand if you did not vote for DeVonta Smith for the Heisman and actually thought someone like Trevor Lawrence deserved it over the best player in college football. 35-17 Bama in the DeVonta Smith Show.
Bama getting cocky. Now they think they can stop Ohio State with just 10 on defense.
I feel pretty good about voting DeVonta Smith as the Heisman winner right now.
Chris Fowler: It's just too eaaaasssssy for DeVonta Smith. Spot on. 28-17 Alabama.
Seriously: How does Ohio State's defense continue to lose DeVonta Smith?
Easy first FG for frosh replacement PK Jake Seibert. Good for him. 21-17 Alabama. Seems like that was a big stop for the Tide's defense.
Does it make sense for the referee to take down his mask when he goes over to talk to Nick Saban, who keeps his mask on? Never mind. Big 12 crew. That explains a lot.
I hate the targeting rule. Hate it. Not saying that was a bad call but this is football. Hate it.
Ohio State must have watched a lot of Florida game film. Exposing Alabama's defense.
Things you see every time Alabama plays: Najee Harris leaping over some helpless defender. His second TD of the game makes it 21-14 Alabama. Not looking like Ohio State can stop Alabama's offense. Only Alabama's offense can to this point.
Mac Jones has some atoning to do. Big change in the tenor of this game because of his fumble. Buckeyes cash in to make it 14-14. Alabama was rolling before Jones' fumble.
Mac Jones with the first mistake of the game. Careless ball handling on his part.
Maybe someone on Ohio State's defense should try to start to locate where No. 6 is for Alabama. It's like the Buckeyes are social distancing from DeVonta Smith. 14-7 Bama.
Trey Sermon headed to hospital according to ESPN. Collarbone issue. Out for the game.
Love that Allstate issued the disclaimer saying "do not try" with the TV commercial showing the lunar vehicles jumping craters on the moon.
Can't question Justin Fields' toughness. But he is going to get hit a lot -- especially after the cheap stunt by an Ohio State defender to twist Najee Harris' ankle after his TD run.
OSU's warp speed offense is a lot like the operation warp speed Covid-19 vaccine rollout.
1st Quarter
How COVID-19 has changed things: The crowd for the national championship game will be approximately 14,000. The spring football game at both schools dwarfs that number.
Did I mention that DeVonta Smith is pretty good?
RB Trey Sermon heads to locker room. Looks like some sort of upper body injury. Huge loss for the Buckeyes.
Wow. Waddle and DeVonta in the same lineup.
Mac Jones has to make that throw. It's a TD if he does.
I'm good if I never see another Dr. Pepper commercial.
It's going to be a tough night for the Buckeyes if Alabama has more long, sustained scoring drives like the first one. Everyone wondered about Justin Fields' health. What about the ability of this Ohio State defense to get stops?
Buckeyes TEs have been great the past two games. Another example.
In fairness to Ohio State's defense, 'Bama's D didn't look all that formidable on Buckeyes' second drive. 7-7. Still hope if you bet the over. 
Just wondering: Did Rutgers football have any TV ads during last year's national championship game when Chris Ash was the head coach? Never mind.
Going to be quite a reality check for Steve Sarkisian when he doesn't have all of these toys to play with at Texas. Starting over at QB with the Longhorns too.
One quarter down. 7-7. Key 3rd down for Alabama to start the second quarter. Feels like the early stages of a heavyweight title fight.