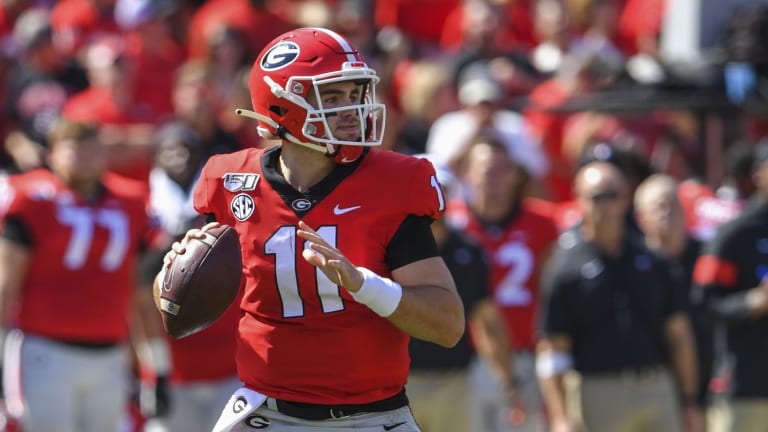 Georgia-Florida game looks a lot different than it did last summer
Georgia only a slight favorite over improving Florida Gators in Jacksonville
Back in the summer the Georgia fans I talked to felt pretty good about their Nov. 2 game with Florida in Jacksonville.
After all, the Bulldogs had been to a national championship game, two SEC championship games had beaten the Gators two straight games by a combined score of 78-24. They were picked in everybody's preseason Top Five with a veteran quarterback (Jake Fromm), an All-America running back (D'Andre Swift) and what many considered the best offensive line in college football.
For those fans, winning the SEC East was a given. The only question was whether or not Georgia could get over the Alabama hump once they got to Atlanta. For the Bulldog Nation it was national championship or bust.
Things have changed.
On Saturday No. 8 Georgia (7-1) and No. 6 Florida (7-1) will again meet for the second straight year as Top 10 teams. The winner stays alive for a berth in the SEC championship game, which will very likely be for a spot in the College Football Playoffs.
Georgia is a slight favorite (4 ½ points) but its fans are worried because the past two games have not instilled a lot of confidence in the Bulldogs' offense:
**--On Oct. 12 No. 3 Georgia was stunned 20-17 in double overtime by South Carolina. Georgia had four turnovers in the game and quarterback Jake Fromm, who had three interceptions, threw the ball 51 times.
That's 51 times.
"I think that game shook them a little bit," said Gary Danielson of CBS, who will call Saturday's game with Brad Nessler.
**--In a driving rainstorm on Oct. 19, Georgia and Kentucky played to a 0-0 tie at halftime. Because of the elements, Georgia stayed conservative on offense and waited for Kentucky, who was struggling offensively with wide receiver Lynn Bowden at quarterback, to make the first mistake. The Wildcats did with a shanked punt and a turnover that Georgia turned into 14 points. Georgia won 21-0.
The truth is that going into Saturday' game Georgia's numbers on offense are quite respectable. The Bulldogs are third in the SEC in total offense (471.6 ypg) behind LSU (535.9) and Alabama (506.6), which are both in the Top 10.
Still, as the Bulldogs head to Jacksonville there is a sense that the Georgia offense is not clicking on all cylinders against the better defenses in the SEC and is not taking full advantage of the talent at hand. Fans have been open about their unhappiness with new offensive coordinator James Foley, who took over when Jim Chaney left for Tennessee.
And it's not just the fans. The Monday after the South Carolina loss Swift said that Georgia's offense should "try to take more shots down the field and try to get the ball to our play makers in space."
Here are some elements to consider:
**--The wide receiver factor: It was well-documented that Georgia was losing its top four receivers from the year before and that the replacements would be talented, but very young.
"Georgia had to replace so much talent at wide receiver," said Danielson. "And it doesn't show up right away."
The youth at wide receiver finally showed up in the South Carolina game when quarterback Jake Fromm rarely found guys open.
"They also miss (tight end) Issac Nauta a lot. He was a security blanket," Danielson said.
Georgia hopes this area will improve Saturday with the return of Miami transfer Lawrence Cager from injury.
"It's about winning one-on-one battles in space," said Smart said of his wide receivers. "People in this league are going to play you a certain kind of way."
**--The Chaney factor: Chaney was hired away from Georgia by Tennessee for a salary of $4.8 million over three years. That made him the highest-paid offensive coordinator in college football. The narrative coming out of Athens this summer, however, was that the offense would actually open up even more under Coley.
Chaney has a reputation for being very creative in the running game.
"You can't underestimate what Jim Chaney, experience wise, brought to the running game at Georgia," said Danielson. "He is a veteran NFL coach who knows how to outflank you."
**--The Jake Fromm factor: In fairness to Georgia's junior quarterback, two of the interceptions against South Carolina were not his fault. One bounced off the hands of a Georgia receiver and to a South Carolina defensive back. Another interception occurred when the Georgia receiver ran the wrong route.
"They (the young receivers) are not running as sharp of routes that he's (Fromm) used to," said Danielson. "I'm not granting him a complete pass. But he doesn't seem as comfortable with everything."
And it doesn't help Georgia's cause that Florida will get its best two pass rushers—Jabari Zuniga and Jonathan Greenard—back for this game.
Having said all that, Danielson handed out this reminder.
"The game before the Florida game last year they were brutal against LSU (a 36-16 loss in Baton Rouge)," he said. "They didn't play their best football until the second half of the season. I think you're going to see the better part of Georgia in the second half."
A former Georgia quarterback agrees.
"I don't think we are far off," said Eric Zeier (1991-94), Georgia's No. 3 all-time passer who serves as color analyst for the team's radio broadcasts. "We just have to find ways to get to the edge and get outside and then play to Jake Fromm's strengths with the quick passing game."
Smart said that during off weeks Georgia studies what other teams are doing offensively and defensively to get the ball to their best play makers in space.
"We look at everybody in the country and say 'what are they doing? What's been successful? How are you utilizing your play makers to try and get them the ball?"