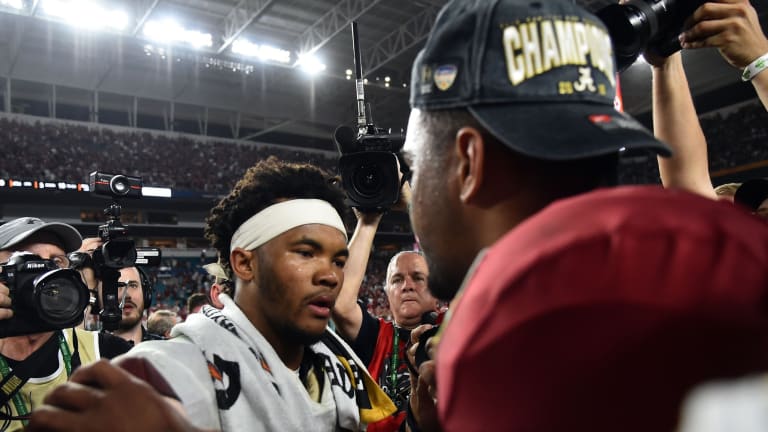 I'll say this one more time: When Tua is healthy Alabama can't be beaten
Alabama's Tua Tagovailoa completed 24 of 27 passes for 318 yards, 4 touchdowns and no interceptions in beating OU 45-34.
Miami Gardens, Fla.—We said it and wrote on numerous occasions during the course of the 2018 college football season. And we'll say it again now. Because after watching No. 1 Alabama beat No. 4 Oklahoma 45-34 in the semifinals of the College Football Playoffs in the Orange Bowl, it rings true more than ever.
When Tua Tagovailoa is healthy, Alabama is nothing less than an unbeatable team.
After taking a month to recover from a high-ankle sprain suffered in the SEC Championship game with Georgia on Dec. 1, Tagovailoa showed no after effects of the injury, completing 24 of 27 passes for 318 and four touchdowns.
Now think about that.
The Alabama quarterback, who finished second in the Heisman Trophy voting to Oklahoma's Kyler Murray (19 of 37, 308 yards, 2 TD, 1 INT vs. Alabama), had more TOUCHDOWN PASSES than INCOMPLETIONS in this game at Hard Rock Stadium.
Earlier in the week he shook up the Alabama fan base when he said his ankle was "80 to 85 percent." Trust me, that is not what the Crimson Tide faithful wanted to hear.
But if the sophomore, who won the CFP national championship game over Georgia would a touchdown dagger last January in overtime, was feeling any lingering effects on the ankle, he surely did not show it.
Tagovailoa came out on fire and directed touchdown drives of 75, 55, 61, and 48 yards on Alabama's first four possessions. The Alabama defense, sufficiently challenged to prove that their quarterback--and not Oklahoma's--should have won the Heisman Trophy, held the nation's highest-scoring team (49.7 ppg) without a point on its first three possessions. No defense had shut down Oklahoma like that all season. But then again, Oklahoma had not seen a defense like Alabama's while playing a Big 12 schedule.
"We got some pressure early on the quarterback. We had a couple of sacks early," said Saban of Alabama's early dominance. "We had some positive down and distance for ourselves and we got off the field on third down."
Earlier in the week Alabama coach Nick Saban said this Oklahoma offense was one of the best one of his teams had ever faced. With a spot in the national championship game on the line the Crimson Tide held the Sooners to almost 16 points below their average.
And truth be told, Oklahoma was a bit shell-shocked with the way Alabama dominated the start of the game. Sooner Coach Lincoln Riley had to rally the troops and snap them out of their funk. To their credit, Oklahoma fought back and cut the margin to 11 points a couple of times. But by then Alabama had control of the game.
"I kept telling our players on the sideline that we had to keep playing," said Saban. "It was no surprise to me when they got back into the game."
Tagovailoa said he had a chance to visit with Oklahoma's Murray after the game.
"He had a great season," said Tagovailoa. "He told me I had a great game and go win it all."
That opportunity will soon be forthcoming as Alabama, Saban, and Tagovailoa get a chance to make some history when they take on No. 2 Clemson on Jan. 7 at Levi's Stadium in Santa Clara, Calif. Clemson dominated No. 3 Notre Dame 30-3 in the other CFP semifinal in the Cotton Bowl.
It will mark the fourth consecutive year that these two teams have met in the CFP. In 2015 Alabama beat Clemson 45-40 in Glendale, Ariz. for the national championship. In 2016 in Tampa Deshaun Watson led a touchdown drive and Clemson scored with one second left to beat Alabama 35-31 for the national title. Last season's semifinal in the Sugar Bowl was not nearly as compelling as Alabama controlled the game and won 24-6.
But now they meet again with a lot of history on the line:
**--A victory would give Alabama its sixth national championship in 10 years, an unprecedented run in this or any other era of college football.
**-- A win would give Saban his seventh national championship (6 at Alabama, 1 at LSU), breaking his tie with Bear Bryant and forever ending the debate about who is college football's best all-time coach.
**--A win could give Dabo Swinney and the Clemson Tigers their second national championship in three years, an incredible accomplishment for the school. Under Swinney Clemson has posted eight straight seasons of 10 wins or more. With the win over Notre Dame, Swinney has won 14 games in three of the past four seasons.
This much we learned Saturday night. These are, without question, the best two teams in college football and a week from Monday they will decide the national championship.
See you in Santa Clara.
​