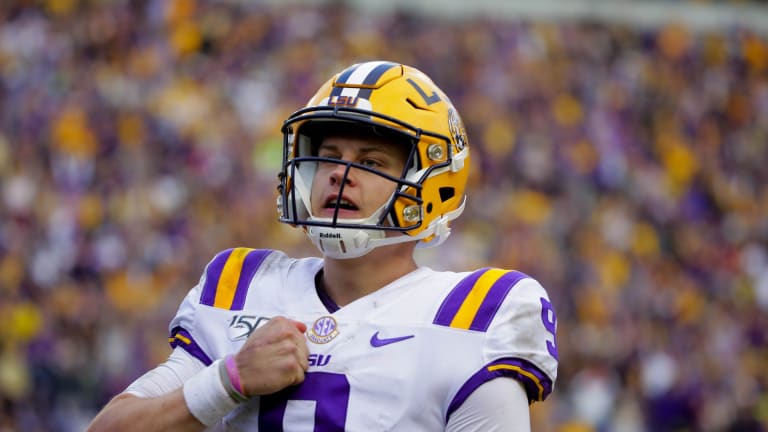 Oklahoma loss opens the door for the SEC to get two teams in the playoffs
If the loser of the Alabama-LSU game on Nov. 9 finishes 11-1, it will have a strong case to be in the CFP.
What We Learned about SEC football as we close out a wild, wild month of October:
1—Oklahoma's unexpected loss to Kansas State increases the possibility of the SEC getting two teams into the college football playoff:
Follow me here. Oklahoma and Texas both lost on Saturday, which was a hit for the Big 12's playoff hopes.
That opens the door for the loser of the Nov. 9 game between No. 1 LSU (8-0) and No. 2 Alabama (8-0) to at least remain in the discussion for spot in the playoffs. Both are off this week.
Consider: If the winner of the Alabama-LSU game goes on to win the SEC championship and finishes 13-0, that team will be a lock. If the loser of Alabama-LSU finishes 11-1, it will have a strong case. LSU will have an especially strong case because of a resume that includes a win at Texas and Top 11 wins over Florida and Auburn.
Here's the argument: Who would you take as the No. 4 seed—a 12-1 Oregon team that lost to Auburn, or an 11-1 LSU or Alabama that beat Auburn?
​
2—What about Georgia (7-1) and Florida (7-1)?
Glad you asked. Those teams meet Saturday in Jacksonville in what is nothing less than an elimination game for the SEC championship and the national championship. Unlike Alabama and LSU, the only path to the playoffs for Georgia and Florida is to win the SEC championship.
Georgia is 3-1 in SEC play with Florida, Missouri, Auburn, and Texas A&M left. Beat Florida and the Bulldogs would have to lose two of their final three games not to win the division. Missouri and Texas A&M are at home.
Florida is 4-1 in the league. Beat Georgia and it would have to lose to both Vanderbilt at home and Missouri on the road to not win the division. Not likely.
Florida is No. 6 and Georgia is No. 8 in the new AP Poll that was released on Sunday. It's going to be a wild time by the St. John's River on Saturday.
3—The first College Football Playoff rankings will be released a week from Tuesday. LSU will/should be No. 1.
I know a lot of folks are infatuated with Ohio State and the Buckeyes are really, really good.
But the selection committee always talks a hard look at the resume and here is LSU's to date:
**--The Tigers scheduled a road game at Texas, which was a top 10 team at the time, winning 45-38. That win is not as good now that Texas has lost three games, but LSU should be given credit by the committee for scheduling that game.
**--LSU also has wins over No. 6 Florida and No. 11 Auburn. Ohio State's best two wins have come against No. 17 Cincinnati and No. 18 Wisconsin, which got beat by Illinois two weeks ago.
**--Those arguing for Alabama to be No. 1 should consider this: Alabama may be at No. 2 or No. 3 in the first set of rankings because it has played only two teams with a winning record: Southern Miss (5-3) and Texas A&M (5-3). But it won't matter because on Nov. 9 Alabama hosts LSU. Win that one and the Crimson Tide goes to No. 1. Ohio State is playing Maryland that day.
​
4—Auburn held LSU, a team averaging 50.1 points per game, to only 23 points. If I'm Georgia or Alabama that concerns me—a lot.
With the way LSU was running the ball on Saturday it was clear that LSU was trying to wear down the Auburn defense. Auburn's defense was on the field for 88 plays and they gave up 501 total yards. But LSU only scored 23 points.
Auburn (6-2, 3-2) has three conference games remaining with Ole Miss, Georgia, and Alabama—all at home. The Tigers are not going to win the SEC championship but with Georgia and Alabama both at Jordan-Hare, as they were in 2017, Auburn could have a say in who does win the conference title.
​
5—Tennessee's performance against South Carolina (41-21) was one of the most impressive things I saw on Saturday.
We're talking about a team that lost four of its first five games, including an inexplicable home loss to Georgia State.
After losing to Alabama on Oct. 19 to go 2-5, it would have been easy for the Vols to mail in the rest of the season.
But Jeremy Pruitt just kept coaching his team. And his players kept playing for him. The Volunteers' fans (87,930) who have endured so much frustration this season, showed up and they were LOUD.
Tennessee beat South Carolina, which had beaten Georgia two weeks before, 41-21. Quarterback Jarrett Guarantano, who could have walked away or given up when he got a public dressing down by Pruitt after a horrendous mistake in the Alabama game, completed 11 of 19 passes for 229 yards a two touchdowns. Wide receiver Juaun Jennnings (7 catches, 174 yards) was spectacular.
Now Tennessee (3-5, 2-3) has a chance to get to a bowl with remaining games against UAB, at Kentucky, at Missouri, and Vanderbilt.
That didn't seem possible just two short weeks ago.