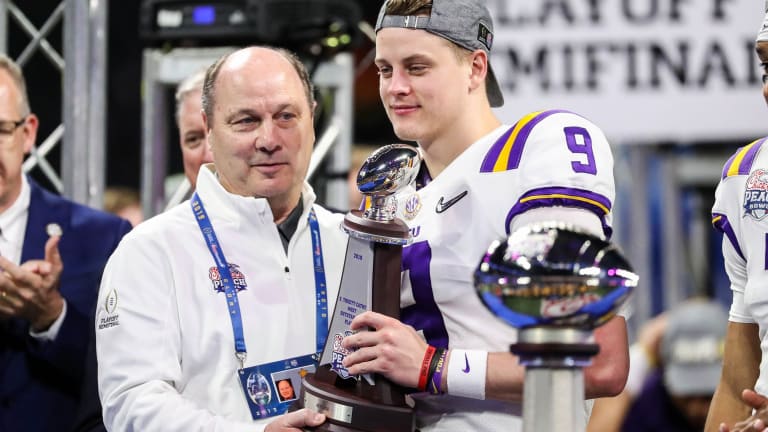 What LSU, Joe Burrow have done is the new normal. Others better get on board
What LSU has done this season gives hope for other teams who want to join the playoff party.
Atlanta—We won't take too much of our time together talking about Saturday's College Football Playoff semi-final between No. 1 LSU and No. 4 Oklahoma in the Chick-fil-A Peach Bowl at Mercedes-Benz Stadium.
That's because it wasn't really a game. It was men playing with boys. It was the Heisman Trophy winner—LSU's Joe Burrow—slicing and dicing the Big 12 champion at will and Oklahoma being powerless to do anything about it. Here's what we saw:
**--It was Burrow breaking the Peach Bowl record of four touchdown passes (set by Jeff Blake of East Carolina and then tied by Texas A&M's Johnny Manziel) with seven touchdown passes IN THE FIRST HALF. He finished this clinic by completing 29 of 39 passes for a career-high 493 yards, and touchdown passes of 19, 8, 35, 42, 30, 62, and 2 yards. And some of the throws were spectacular beyond words. So much for the Heisman jinx.
**--It was Burrow becoming only the fifth quarterback in FBS history—and the first quarterback in SEC history—to pass for over 5,000 yards in a season. Only five quarterbacks in the history of the FBS have thrown for 5,000 yards in a season.
**--It was Burrow throwing his 11th touchdown pass at Mercedes-Benz Stadium in the month of December. Burrow had four touchdown passes in this building on Dec. 7 when LSU beat Georgia 37-10 for the SEC championship. My friend Evan Grant tweeted out a gentle reminder that Matt Ryan, the Atlanta Falcons starting quarterback, has thrown only eight TD passes all season at MBS.
**--Burrow now has 55 touchdown passes this season. The NCAA record is 58 set by Hawaii's Colt Brennan in 2006. His seven touchdown passes is the most in bowl history.
**--It was Oklahoma, the Big 12 champion, losing for the fourth straight time in the semifinals of the CFP. And in those four games Oklahoma has given up 37, 54, 45, and 63 points.
So all you need to know about the game is what you just read above and the fact that LSU will advance to the CFP national championship game on Jan. 13 against Clemson or Ohio State.
The game will be played in New Orleans, just an hour down Interstate 10 from the LSU campus in Baton Rouge. LSU won 2003 the national championship and the 2007 national championship in New Orleans. The Tigers also played Alabama for the BCS national championship in New Orleans after the 2011 season. Alabama won that game 21-0 and LSU fans still haven't gotten over it.
So…..no drama here.
But what you did see Saturday is the torch being passed—or at least being passed around—to the rest of college football.
For the past decade it has been Alabama—and then it was Clemson—setting the gold standard in college football.
But what LSU has done this season is give the rest of the SEC—and the rest of college football for that matter—some hope that they can join the party. In short: If you can find the right quarterback—which LSU did in Burrow, the transfer from Ohio State—and if you can find the right offensive system—which LSU did by bringing in Joe Brady from the Saints--then you, too, can play with the best of college football.
LSU's dominance this season has put everybody on notice: What Burrow and LSU have done this season is the new standard. And the train is leaving the station with or without you.
Some examples of teams who were probably paying attention as LSU dismantled Oklahoma:
Georgia: The Bulldogs have tons of talent recruited by Kirby Smart and his staff but the offense never found its identity in 2018. The Bulldog Nation is getting antsy after watching Alabama and LSU put together high tech offenses. If quarterback Jake Fromm comes back for his senior season, the coaching staff has to come up with something to give him a better chance at success.
Auburn: Gus Malzahn has a chance to win his 10th game this season with freshman quarterback Bo Nix. But the Tigers are in the same division with Alabama and LSU and, with a bunch of defensive talent leaving, they will have to juice up the offense to keep pace.
**--Texas A&M: The Aggies were 8-5 against a brutal schedule but have quarterback Kellen Mond returning. But Jimbo Fisher's gang also plays in the same division with LSU and Alabama.
**--Florida: The Gators have a chance to win their 11th game in the Orange Bowl against Virginia. They hung with Georgia in in Jackasonville before losing 24-17. Florida can win the Eastern Division doing what the Gators are doing on offense. But can they win the SEC unless they change?
**--Alabama: The Crimson Tide started all this with Tua Tagovailoa and all those great receivers. Now that Nick Saban has seen what LSU can do, he can't back off the gas.
Stay tuned folks. The future is going to be a lot fun.