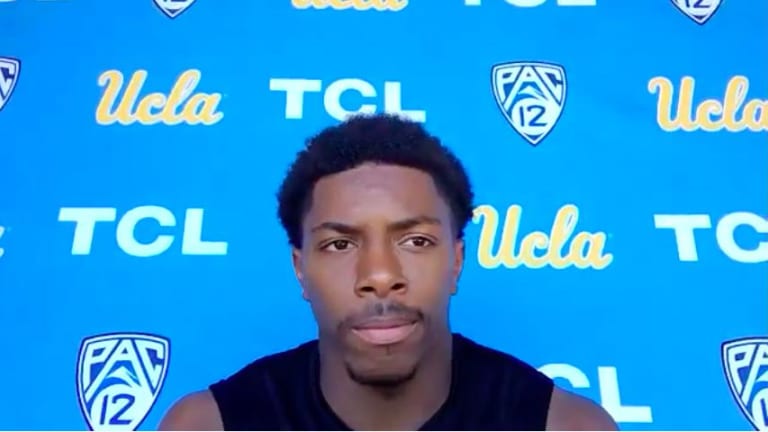 WATCH: Stephan Blaylock, Obi Eboh on Fresno State Mishaps, History with Stanford
One of the UCLA defensive backs has played the Cardinal three times, while the other graduated from Stanford in 2020.
The Bruins secondary had allowed a lot of yards through their first two games, but it didn't cost them a win until Saturday.
Safety Stephan Blaylock and cornerback Obi Eboh talked to the media following UCLA football's Tuesday morning practice, detailing what went wrong against Fresno State and how the final drive unfolded the way it did. Heading into a game with the Cardinal, Blaylock talked about how the Bruins would turn things around and Eboh, who is a recent Stanford graduate transfer, answered questions on his alma mater.
STEPHAN BLAYLOCK
See anything from Tanner McKee?
Going into Saturday, I just want to say, gotta be physical, heavy run team, a lot of physical guys over there, smart, smart team also. So yeah, being physical, playing our game, and then just being confident in ourselves.
Letting up so many yards give you extra motivation, buck the trend?
Oh yes, always. Just this week in practice, yesterday and today, just like I said, confidence plays a big role in a defensive group or just yeah, a defensive group or the DB group, so confidence just to limit them yards and then just to have a better look for ourselves.
Why did you give up so many yards vs. Fresno? What happened on the last drive?
Well for the whole game and then the last drive, I just wanna say we was just playing too loose, that was really it. We watched the film on the last drive, started off well on the first down then after that, just they was finding holes, not running to the ball, not keeping them in bounds when they only had one timeout left. And then, like I said, during the beginning of the game, just playing too loose. And then not finishing through the ball, it was a few plays that we had, 1-on-1 battles, we was losing those. So playing tighter and then winning our 1-on-1 battles will help limit them yards in future games.
Game plan to play loose or players' choice/execution?
It was just on us, that's not really something our coaches tell us to do or something we really do, it was just what we gave them and that's how we ended up playing it.
Coaches tell you to tighten up during the game?
Yes. Yes, they did.
Think you did?
Seeing some of the film, I wanna say some plays yeah, but even looking through the rest of the game, not that much.
Big blow to lose Quentin Lake? Role he plays that was missing?
He's a leader, everybody looks up to him, having him out there, everybody loves it, but guys step up. Like Kenny, he came in, made a play. So whoever goes does down, somebody's ready to step up and come in and do their part. So yeah, even with him being out, he's always on the sideline, going over calls with us, lifting us up and still being a leader while he can.
Hard to rebound emotionally from big loss like Saturday?
Not hard at all, it just motivates us to go harder in practice, to go harder the next game we step out there because we know how it feels to lose again now. And then this is a new start for us. That was preseason, nonconference games, now we feel like we get to start over just going into the Pac-12 and now we're 0-0 in the conference looking to go 1-0.
OBI EBOH
Coverage was soft, how did that happen?
Yeah, I think, really regardless of the technique and the things that we were playing, whether we're pressing, playing off, I think that at the end of the day, we just gotta make plays and find a way to win in certain situations. So I feel like it's not really about were we too loose, were we doing this and that, it's more just you just gotta find a way to make plays at the end of the day in certain situations, third downs, end of game. Just whatever it is, we gotta find a way.
Playing off coaches' decision or something the players were doing incorrectly?
I would attribute that to just, I would say more us than the game plan. It's not like they're telling us to play however many yards off. I think certain splits and down and distance kind of dictate how we play certain things, so it wasn't something that we went into the game saying we were gonna do, it's just certain situations dictate what technique we're gonna use.
Turned to teammates after completion on last drive?
Yeah, I was just communicating with my safety, just trying to figure out what we were doing there and how we could have played it better.
Going to Stanford, expectations for your return?
Yeah, kind of what like Blay said, we're going against a physical team, a team with a good coaching staff, a team that's familiar with us and how we've been playing the last few years. So they're very well coached and disciplined and all those kind of things, so we're expecting a tough game. They know what they're doing and we just gotta execute just like they're trying to do the same with us.
Talking to any old teammates? Trash talk or friendly?
Yeah, I've got a few of my boys still up there, haven't talked to them a lot this week but over the past few weeks, they watched the LSU game, I was watching their other games. So it's friendly when it's not game week and after the game's over we'll shake hands and do all that, but right now we're pretty focused on the game.
Teammates with McKee? Expectations from him?
I was not teammates with him. When I was in school there, he was on his mission actually, so he was in the '18 class I think originally, so he's not too much younger than I am actually, but he was on his mission. He's coming on pretty strong, he obviously came into the SC game and did well and then they went over to Vandy and he had a pretty strong showing there. They're putting up points on the board, so he has the hot hand, we gotta kinda limit that passing game too. They're not just gonna run the ball, they've got a quarterback that's pretty talented.
Different emotionally for you going back to where you started?
Yeah, I'd be lying if there wasn't a little extra motivation and emotion going back up there, right? I spent the last four years there, that's my alma mater, I graduated from there, but as far as what the game plan goes with how I'm going to play, I don't think it changes things very much from how I prepare and do things from a week to week basis. I think, if anything, I'm gonna be playing pretty damn hard out there. So I'm excited to get back up there, it's like a fourth-straight home game for me, so I think it's advantage if anything.
Leadership role this week rebounding the team after the loss?
Yeah, I think the morale of the team is stronger than really before, to be honest with you. I think – obviously, you never wanna lose, it's never great, especially how we did lose. But I think at the end of the day it can be something that was actually pretty good for the team and how we practice hard and how we go about doing things. As far as my role this week and really going forward, I have a lot of information to give about Stanford, their personnel, what they do, what they're trying to do schematically, special teams, offense, defense and just continuing to lead by example. It was a hot day out there today and we just gotta finish, we had to finish out here at practice, we gotta finish out there in the game. So there's a lot of things that I feel like are my responsibility and I'm gonna continue to do that.
Dorian's development throughout the years? Biggest areas of improvement?
Yeah, I think a lot of people will talk about Dorian's decision-making, I think that's progressed since I was at Stanford and since I've seen him here. I think that he's also done a better job, too, of getting to his different reads, so he's not locking on receivers, he's going through his progressions and he's hitting one, two, three, even four to the checkdown. And I think also, when you think about Dorian, obviously he's a great athlete, he can run, but he's not just taking off an running. I think sometimes he runs to make throws and make plays and escape the pocket, not to just kind of freak out and take off out of there. And obviously too, he's turning the ball over less, he's making good decisions that way as well. And also just as a leader too, he's maturing. I watch him over there on the other side and how he has command of the huddle, how they're celebrating after plays and how they're rallying around him, so I think he's doing a great job overall in all aspects.
Threat of the big plays and big passes always been there for him?
So you're saying sometimes that accuracy is overshadowed by the big, long balls, is that what you're saying?
Total yards numbers don't stand out, but they don't accurately display his chunk plays and long scores?
Oh yeah, you know Dorian. Dorian has always had a cannon arm, so I think he does a good job. We've had explosive plays I think just about every game, he gets the ball out there. I think, like I said before with his decision making throwing, he knows where to go with the ball whether it's a deep pass, whether he's checking down, whether he's going over the middle, I think he's doing a great job of that and the receivers are making plays for him and running back obviously help in the passing game too, Brittain and Zach in there. So I think everything's going well for the offense, we've just gotta keep executing and keep preparing like we've been and I think we're on the right track. I don't think people need to be too worried about what's going on with this team.
Follow Connon on Twitter at @SamConnon
Follow All Bruins on Twitter at @SI_AllBruins
Like All Bruins on Facebook at @SI.AllBruins
Read more UCLA stories: UCLA Bruins on Sports Illustrated
Read more UCLA football stories: UCLA Football on Sports Illustrated