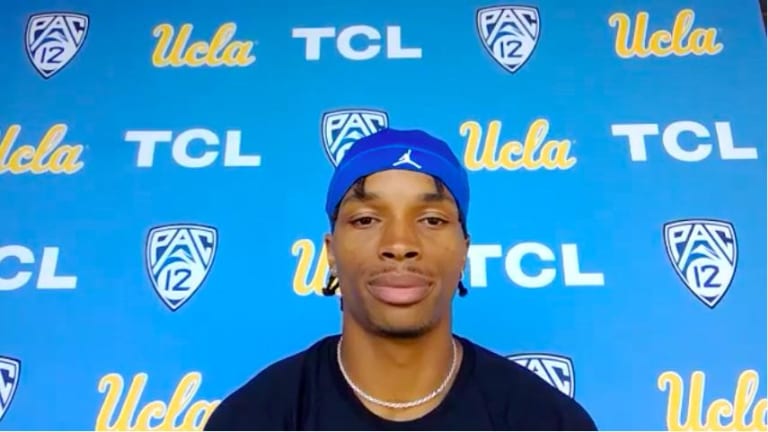 WATCH: Dorian Thompson-Robinson Talks Tuning Out Noise, Kam Brown Discusses Breakout
The UCLA football quarterback and receiver connected five times for 111 yards and a touchdown Saturday against Fresno State.
The Bruins had some success passing the ball despite their loss to the Bulldogs in Week 3.
Probably the most effective pairing all night long was between quarterback Dorian Thompson-Robinson and receiver Kam Brown, who transferred from Texas A&M in the offseason. Both players talked to the media Monday after practice, with Thompson-Robinson highlighting some of his mistakes from Saturday and Brown talking about the importance of reeling in his first few catches as a Bruin before hitting the road.
DORIAN THOMPSON-ROBINSON
School starting, first road trip change anything?
It's the same as normal. We prepare each week and every week like we have school. So we have times blocked off and we practice early enough in the morning so it won't affect us at all.
Playing first three games at home give you an advantage moving forward?
It's just great having support, having Bruin nation out there supporting us on, being able to play in front of the fans at home. So it'll be a little bit different being our first away game, but it shouldn't be too challenging since we've been there before.
Fans that are sticking with you after a loss to a good team?
All credit goes to Fresno State. Like you said, they are a very good team, a well-coached team. So hat's off to them. It ended up working their way and they got the ball last. But we still have to clean up our mistakes on our end. There's a lot to learn. Even if we had won the game, there is still a lot to learn from that game. Lot of stuff to go over and correct. We're learning and growing each day. This team is nowhere near perfect or nowhere near complete, so we're just working towards our end goal each and every day and just going from there.
Good stats, feel like team is on your shoulders?
No, not at all. Again, just doing my role, playing my part. When opportunities present themselves, it's always about maximizing those opportunities and leaving no regrets. Trying to do that as much as I can, and again, there are still a lot of mistakes to go on and correct and stuff like that. Just trying to just do my role and do my job.
Fresno State took away run, how will you attack if Stanford does the same?
I'm leaving that up to coach Kelly and coach Frye. I know they will do a great job. We average 30-something points a game, so we're doing something right. We'll continue to go from there and we'll just keep growing every day and going from there.
Ball was wet, slipped out of hands?
I don't know what was going on. The grass was pretty wet on the field, so I don't know if the ref or whoever was it was rolling the ball around a little bit before the snap, but when I got it it was pretty wet. We also had a miscommunication with the protection, I had to throw hot, had to get the ball out fast. When you have a wet ball and you don't really expect it, bad things happen.
Offensive line, struggles with new lineup?
I felt like there was no drop off. Obviously, the game wasn't perfect and Sam didn't call a perfect game, but again, us being on the same page, whether we were right or wrong, we were all on the same page. I felt like there was no drop off and I felt like Sam and Duke and whoever else was in at center did a great job.
Tune it out or use it as fuel when you see people online angry or upset with you?
Yeah, at this point, they're wasting their breath cause I don't even get on Twitter and Instagram and all that during the week so I didn't even know that they were backlashing on me cause I haven't read anything or seen anything. So yeah, that's all I have to say to that.
See or expect anything from Stanford's defense?
Yeah again, we always know from Stanford and their history that they're gonna be a well-coached football team, very disciplined, they're gonna be technically sound. They have one of my guys from Gorman over there in Kyu Blu Kelly, so I know what he's about, he's a really good cover guy. But again, they're a stout team, a very good team, so we got our work cut out for us again this week too.
Being power five QB, face of program put pressure on you to lead team in highs and lows?
Not at all, especially with the team that we have and the veteran team that we have. It's not just me, it's our guys like Q Knight, Q Lake, Sam Marrazzo and all those guys too. So I have no worries, I don't worry about what everyone else says, they're not gonna make or break our year and define us any other way. So I have no worries about it going forward, we're gonna keep pushing like we always have.
Thoughts on Bishop Gorman blowing 17-point lead in 69 seconds?
Yeah, I got to watch the very end of the game, obviously a heartbreaker as well as the rest of my teammates, my California teammates on the team, they gave me a bunch of crap for it Saturday morning. So yeah, I saw it, it was very heartbreaking.
Spirit of the team after the loss?
I'd say very humbled. We haven't been a top 15 team in a while and that's gone now. So everybody got their hopes up and now we're back to the realization of we gotta put this work in and we can't just be all talk and all that stuff. So I think it's a very humbled team, we're ready to go back to work and get back to the fundamentals and start this thing over again.
Bye week play a part?
No, not at all. Not at all. I'd say all the mistakes that were made in the game were on us. We gave them the game, they didn't really win the game. Of course they made some plays here and there but ultimately, if guys would've just done their job and done it correctly, that game would have been put away a long time ago.
KAM BROWN
Committed to UCLA originally, what brought you back?
So UCLA was like my dream school and I had always kept up with them. You know, watching the games last season, I could tell those guys played hard and I just felt like it would be the best fit for me to come back here and I just really loved all the guys were together and close with the team.
Last year's transfers help you transition?
It's been really smooth. As soon as I set foot on campus, the receivers were the first group I talked to, so all those guys welcomed me with open arms and just kind of showed me how things go around here and really helped me out a lot.
Watch the 2017 UCLA-Texas A&M game?
I did.
Really something, huh?
It was.
Huge breakout game after no previous catches?
It was pretty exciting. You never know when your number is going to be called, all you can do is just do your job and prepare every week, so once you maximize your preparation, whenever the opportunity comes you'll be ready for it and it just so happened that when it happened I was able to take advantage of it.
Something with defensive alignment that made it possible?
You know, some of the leverages they were playing, but for the most part, you do your job, you know there's only one ball on the field, so if you have four other receivers, three other receivers, only one guy can make the play, so it just so happened that the ball came to me and I just so happened to be ready.
Big performance in front of home crowd help before first road game?
For sure. It felt pretty good to get the ball, you know, get hit a little bit, be able to feel what it's like to get back into action, so I'm going to try to be able to get on the road [?]
Different to go on road or used to COVID protocols by now?
I'm used to the protocols by now, you know, it's keeping a close-knit circle with the guys on the team and focus on what you need to focus on.
Fitting in with scheme and learning from Neuheisel and other coaches?
Amazing. Those guys have a lot of knowledge of the game, so to be able to come to practice every day and not just hearing your position coach but being able to hear your position coach, the head coach, o-line coach, running back coach, everybody giving great input because they all have great knowledge is amazing.
Follow Connon on Twitter at @SamConnon
Follow All Bruins on Twitter at @SI_AllBruins
Like All Bruins on Facebook at @SI.AllBruins
Read more UCLA stories: UCLA Bruins on Sports Illustrated
Read more UCLA football stories: UCLA Football on Sports Illustrated