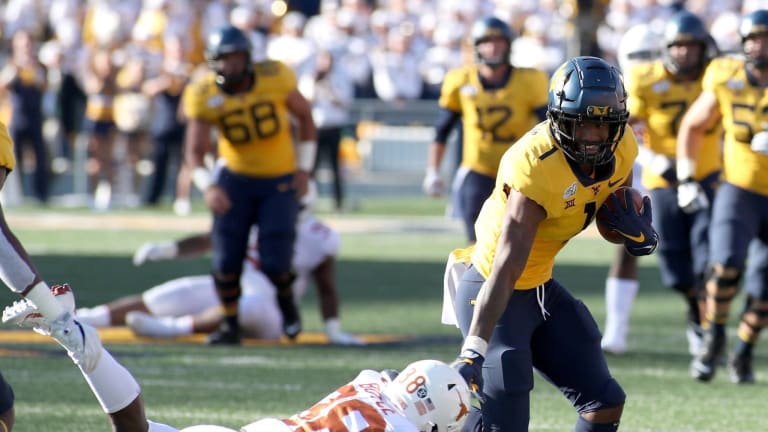 Mid-Season Offensive Helmet Stickers
Even this Offense has had Bright Spots.
There is no beating around the bush when it comes to West Virginia's offensive production through seven games in 2019. At best, it's been fairly exciting and, at worst, it's been downright dismal. A 314 ypg average along with 22.7 ppg is going to get you murdered in the Big 12, particularly when there's just as much youth and inexperience on the defensive side of the ball. Under the leadership of Austin Kendall, the Mountaineers have failed to established any consistency, and between a bloodless run game and a passing game that remains brutally unpolished, Neal Brown's year one iteration of Mountaineer football has had little juice offensively. 
That's not to say it's been all dismal, though. 
Amidst the drudgery and lack of execution, there are stars being incubated. Austin Kendall is getting his first-ever fair shake at running an offense and history says that he'll improve over time. Freshman Sam James, meanwhile, has flashed the type of big play ability that made former 'Eers like Gary Jennings and Shelton Gibson bona fide weapons. Meanwhile, TJ Simmons has seem to have found his stride and Colton McKivitz, whose shouldering the thankless task of energizing a piece-meal offensive line, is doing his best to play at a high level. 
While the accolades are few, there are legitimate glimpses of future firepower on display halfway through Neal Brown's inaugural season playing for Mountain Mama. Here are our mid-season offensive helmet stickers for the Mountaineers offense.
Sam James, WR - It's evident now that James' prowess on the field this season has less to do with any mystical residue David Sills left behind on the No. 13 jersey than it does with James' actual talent. The kid is good and it stands to reason that he'll soon be very good. Diving catches with body contortions, swerving in and out of almost-tackles: he's displayed it all. He's only a freshman and with his current mark of 41 receptions for 388 yards and two touchdowns, he's one of the better greenhorns at his position in the nation, as evidenced by his mid-season All-American nod by FWAA.  
James is fast by virtually any standard. As the Georgia native continues to mature and grow more and more at ease with route running and the nuances of playing out wide, his speed will become more and more effusive. He's not there yet; his ceiling is far too high for him to have already topped out. What we're seeing now is a dailies reel of a yet-to-be-finished product. When James' potential is fully realized- watch out. It's going to be a show. 
TJ Simmons, WR-Three or even four games into the season, I was checking milk cartons. I wanted to know where TJ Simmons, hyper-violent blocker and elder statesmen of a young receiving corps, had run off to. After a year living in the staggering shadows of David Sills and Gary Jennings, this year presented a clear path for Simmons to put on a one man show and set the standard for the rest of the Mountaineer wide outs. I'm happy to now say that Simmons, once lost, now appears to be found. 
As West Virginia's current leading receiver, the Alabama native and former Nick Saban acolyte has gassed up his numbers and currently registers with 31 receptions for 409 yards and four touchdowns. In three consecutive weeks he's been bullish, going for 6/74, 5/75 and 7/135 against Oklahoma, Iowa State and Texas, respectively. In short, he's looked like who we thought he was. With five games remaining, that's as good a piece of news Neal Brown and the rest of his staff are like to get considering Sean Ryan is still rehabbing a shoulder injury and senior RB Martell Pettaway has opted for a redshirt. Simmons can finish out 2019 with a monster individual year and set himself up for an All-American-type season in 2020. Foot on the gas, Mr. Simmons. 
Colton McKivitiz, LT - McKivitz has seen a lot in his time at West Virginia. Aside from two different head coaches, he's taken coaching points from current OL coach Matt Moore, Joe Wickline, Ron Crook and Bill Bedenbaugh. He's seen great offenses (hello, 2018) and he's seen poor ones (sorry, 2019).  He's played and starred at right tackle and is now playing and doing everything in his power to make a different at left tackle. Like I said, he's seen a lot. 
The senior from Ohio may not be setting up at his natural position on the right side but you can't help but admire the work he's done on the blind side, especially when you consider that three of the other four spots across the line are manned by freshman and a junior with little-to-no starting experience. Consider also that while West Virginia is near rock bottom nationally in line yardage (117th) they're 36th in sack rate. It means that while West Virginia's bigs are still learning how to efficiently move forward as a cohesive whole, McKivitz is keeping his quarterback's jersey clean. While his draft stock might suffer some because of his position change, there's no denying what the 6'7", 312 pound bookend is: Essential. Powerful. Invaluable. Colton McKivitz is absolutely enduring regardless of what has gone on around him this season. Aside from being an NFL talent, (which he is) there might not be a finer compliment a player can receive.