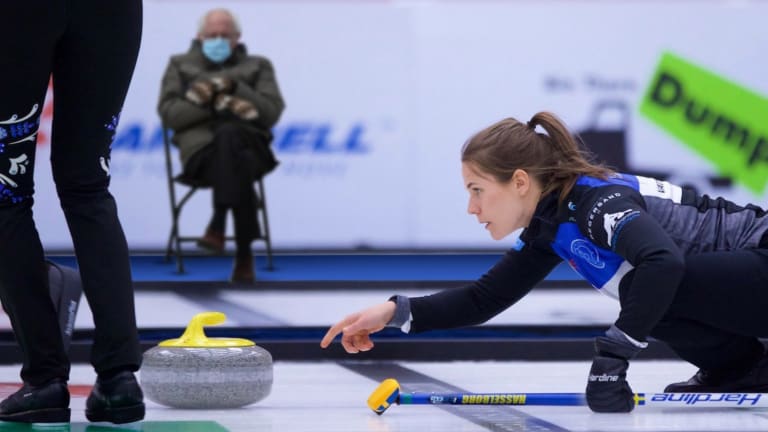 Curling Feels The Bern
All the Bernie Sanders curling memes.
Three days in and the viral frenzy over U.S. Senator Bernie Sanders' Inauguration photo continues.
In addition to thousands of photoshopped images appearing across the web, the National Bobblehead Hall of Fame and Museum had sold 5,000 units of the slouching senator by midday on Thursday.
Sanders himself is selling $45.00 sweatshirts on his website, with all proceeds going to Meals on Wheels Vermont.
The curling world was initially slow to embrace the meme, but soon produced a terrific Thursday by adapting Sanders into numerous scenarios.
It all started with Richard Brown of Massachusetts …
Then came Steven Lobel of the greater Toronto area, a former designer of The Curling News. He put Bernie in the hogline umpire pose, a controversial volunteer position made redundant since the mid-2000s adoption of sensors in the rock handles. 
The original image, featuring Swedish superstar skip Anna Hasselborg, was shot by Sportsnet's Anil Mungal, the Grand Slam event photographer who also served as The Curling News' photo editor.
Next came Twitter curling jokester @Lostitshandle, who posted three contributions, one of which gave U.S. Olympic champ Matt Hamilton a new tat.
By now, curling clubs were getting into the act, such as North Carolina's Triangle CC…
… and South Carolina's Palmetto Curling Club, which started asking for donations to buy a cardboard cutout of the senator at Canada's upcoming national championship bubble event in Calgary.
Bernie was soon spotted taking part in Duluth, Minnesota's notorious House of Hearts Charity Bonspiel, in the boardroom planning stages; on the ice with the celebrity skips; and finally waiting for the closing speeches to finish (nice work from bonspiel participant Joel Dietz).
The wheelchair curling discipline jumped in, too. The International Paralympic Committee gave us this gem …
… and the tag to the World Curling Federation seemed to rouse Canada's national federation into action, with Bernie back in his on-ice observer position.
And it was still going as midnight Thursday approached. Here's Hollywood Curling's entry, showing the natural Sanders/curling camaraderie of the mittens.
Last but not least, a different Inauguration post that had nothing to do with Sanders also made waves on the curling socials, as fans from various levels of knowledge–and different nations–attempted to decipher an actual curling joke without resorting to political firestorms.
On Twitter, success. On Facebook, the attempts failed. 
Sounds about right.