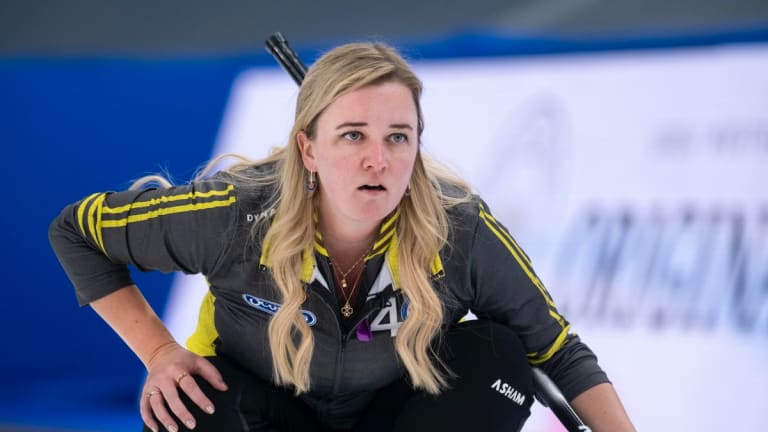 It's Finally Time To Root For Chelsea Carey
Carey on and Fleury hard.
Okay, we might as well watch this thing. And we're past our first use of the abundance of caution, and there is plenty of caution left in the tank. It's live curling and it's magnificent. So naturally it's time to start figuring out who we want to root for here.
All the teams, it should be known, are more joyous than normal. I suppose if you couldn't curl as much as you wanted, and suddenly find yourself on Canadian women's championship ice, that'd put a smile on anyone's face.
There are plenty of good stories and old standbys. But it brings me, much to my own surprise, that I've found myself riding the bandwagon of that classic Scotties Tournament of Hearts squad, Team Wild Card #1, which this year is represented by Team Tracy Fleury, hold the Fleury.
Fleury, who stayed home to take care of her young daughter, conscripted Chelsea Carey to skip her team, because Carey was officially teamless, and because Carey is almost always teamless in the offseason, and in a way we are all still in the offseason. But Carey showed up to Calgary with Selena Njegovan, Liz Fyfe and Kristin MacCuish having never played a single game together, and they took off early, winning their first three games in a row before dropping their next two. 
This team has Team Pat Simmons energy all over it, in that it's a foursome that otherwise wouldn't have existed under normal conditions, but they were the first Brier team to be handed a Team Canada berth, so they had to stick together and get John Morris, the O.G. of curling free agents. But we're in extremely abnormal conditions, so why not ride the waves as an abnormal team?
I know Carey isn't the easiest person to root for. I think it's because she moves from team to team, and skips who keep churning through teammates always have some type of stigma. Take any great skip of the last 30 years and you can usually associate one other curler to them. You can't do that with Carey. She's had 16 different teammates in the last eight seasons. But as a fellow rink rat (and not fellow accomplished curler), I thoroughly enjoy the challenge and thrill of playing with different teammates. Erika Brown comes to mind too. She won three U.S. titles in four years—with nine different teammates. Find yourselves a skip who can do that.
That's not to say the normal teams aren't doing well. Team Canada and Ontario are playing like favorites. Laura Walker and Alberta are right there. Saskatchewan ... maybe? And what about plucky Quebec; I haven't followed Canadian law but have you folks legalized rooting for young teams?
But nothing is normal here. Carey on and Fleury hard—if for no other reason, to see what happens to the team if they actually win.