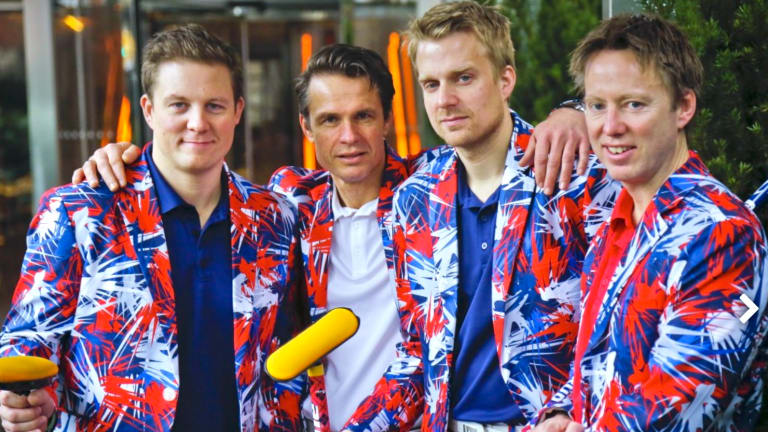 The Pants Farewell Anniversary
Will curling fans witness style like that again?
Will curling fans witness style like that again?
Two years ago Norway's Team Ulsrud announced their ride was over. After 12 years of amazing play—both on-ice and off-ice—the team known for crazy pants (and the occasional jackets) called it quits.
In typical good humor, the delightful squad signed off with this final paragraph:
"Last but not least, we would like to thank Team Niklas Edin, Team David Murdoch, Team Kevin Martin, Team Kevin Koe and Team Sven Michel for turning those nine potential golds into beautiful silver medals."
Their final celebration was a private affair, and took place three months later in Norway.
The foursome rarely scored big on the World Curling Tour but won a pile of medals when it came time to wear the blue, white and red. World gold at Beijing 2014. Olympic silver at Vancouver 2010. Two European golds, in 2010 and 2011. World silver in 2015 plus three world bronze medals. Six European silvers, and another three bronze.
While two of the guys continue to curl, they now wear plain, boring black pants like 98% of all curlers.
Sigh.
We'll always have the memories ... aided by video and pics, of course. Whatever the team got themselves into, they did it with style, the likes of which we may never see again.
So ... what are the lads up to these days?
Most curling fans recall that skip Thomas Ulsrud promptly signed on with Steffen Walstad's Norwegian team. Third Torger Nergård started out with a different foursome, but joined the Walstad squad last September. Walstad and Nergård will be at the world men's in Calgary but now, apparently, without Ulsrud. So that's a bit confusing.
Lead Håvard Vad Petersson is now a coach, and will also be in the Calgary curling bubble's men's worlds with Switzerland's Peter de Cruz.
And what of fun-loving second Christoffer "Bompi" Svae? He travelled the planet for many months—even through the first weeks of the pandemic—before finally heading home to Norway, whereupon he travelled extensively in-country. 
A post from today shows he is eagerly awaiting the return of Covid-free parties. Keep on keeping on, Bompi!
Amazingly, the team's unofficial Facebook page—The Norwegian Olympic Curling Team's Pants—still has a whopping 456,000 "likes" and 384,000 followers. The most recent post went up just last month, and celebrated young Canadian skip Tyler Tardi's past commitment to crazy pantsdom.
We await the Roaring Game's next fashion revolution.