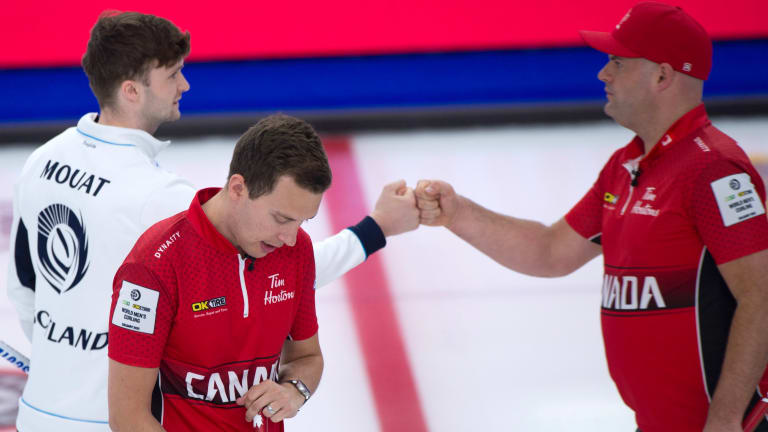 Curling Bubble Bursts with Positive Tests
It's the first COVID-19 case seven weeks into the bubble.
An unspecified number of positive tests for COVID-19 have thrown a wrench into the world men's curling championship.
"Holy s—t" tweeted U.S. third Christopher Plys. Ninety minutes later he tweeted again: "Sometimes all you can do is laugh."
Plys and his teammates, led by Olympic champion skip John Shuster, were scheduled to battle Switzerland in a Saturday morning playoff match. The game has been postponed.
"During the rigorous exit testing procedures put in place for the World Men's Curling Championship 2021, positive COVID-19 cases have been identified," said the World Curling Federation in a statement.
"The WCF, Curling Canada and Alberta Health are now following the COVID-19 response plan for the championship."
The news broke shortly after Scotland eliminated Canada from the weekend playoffs with a 5-3 victory on Friday night.
Scotland skip Bruce Mouat and his teammates scored deuces in the seventh and ninth ends and played a flawless 10th in handing Canada skip Brendan Bottcher the loss.
The positive tests have effectively paused the competition.
"All playoff teams will undergo testing on Saturday morning, and until the results are clear and it's known that the players are safe, no further games will be played," said the statement.
A statement from Curling Canada, hosts of the championship at Winsport Markin MacPhail Centre in Calgary, revealed the positive tests were asymptomatic in nature and did not involve teams that qualified for the playoffs.
The ranked playoff teams are Scotland, Canada, Switzerland, United States, RCF (Russian Curling Federation) and Sweden.
The performances of those six teams qualified their countries for the first six berths in the Beijing 2022 Olympic curling competition, which includes China as host nation.
Neither statement specifies the eight non-playoff world championship teams as the source of the positive test results. The "bubble" championship also involves event workers including on-ice officials, ice technicians, medical/physiotherapy staff and television crews.
The athletes, coaches and various event crews are siloed into different groups, with highly restricted movements tightly controlled across venue and hotel locations.
This marks the first positive tests in almost seven weeks of the Calgary curling bubble's activation. Three previous Canadian championships took place—the women's Tournament of Hearts (Feb. 19-28), men's Brier (Mar. 5-14) and mixed doubles (Mar. 18-25)—without a single positive test.
The first of two Grand Slam of Curling events is scheduled to start on Apr. 14 and requires a full ice makeover with different in-ice logos. Slam athletes have started arriving in Calgary and are quarantined and undergoing testing at a different hotel.
The rescheduled world women's championship would be the seventh and final bubble tournament, running April 30 to May 9.
"The World Curling Federation and Curling Canada are assisting impacted individuals, and those who have come in close contact," the statement continued. "These individuals are in quarantine and following all of the required protocols in place to protect themselves and the community at large.
"Contact tracing has also been initiated and those who have deemed to have been in close contact either have been, or will be, notified of their risk of exposure. These individuals have also been advised of steps that need to be taken.
"Individual health and medical information is personal and confidential. Out of respect to those involved, additional information will not be shared."
Alberta's battle against COVID-19 saw 1,521 new cases announced on Friday, with a positivity rate of 9.9%. Over 700 of the new cases are variants of concern, which now represent about 45% of the province's active cases.
The implications of a cancelled playoff round would impact some of the teams' Olympic selection aspirations.
Switzerland's Peter de Cruz needs to finish on the world championship podium—winning bronze at minimum—to earn his country's men's berth for Beijing 2022. Finishing fourth or lower would force a special Swiss challenge series against the rival Yannick Schwaller foursome.
Sweden's Niklas Edin—the defending world champion—and RCF's Sergey Glukhov both finished the round robin with 11-2 won/loss records and are through to the semifinals.
Shuster's U.S. outfit placed third at 10-3, while Scotland and Canada finished 9-4.
Switzerland grabbed the final playoff spot at 8-5.
Italy's Joël Retornaz and Norway's Steffen Walstad finished 7-6. The Norwegians won their first five matches and went to 7-1 before losing their last five games in a row.
Japan's Yuta Matsumura won four of his last five games to wind up 6-7, while Germany's Sixten Totzek lodged a 4-9 mark. Denmark's Mads Noergaard went 3-10.
Three teams tied at 2-11; Jaap Van Dorp of the Netherlands, South Korea's Yeong Seok Jeong and China's Qiang Zou.