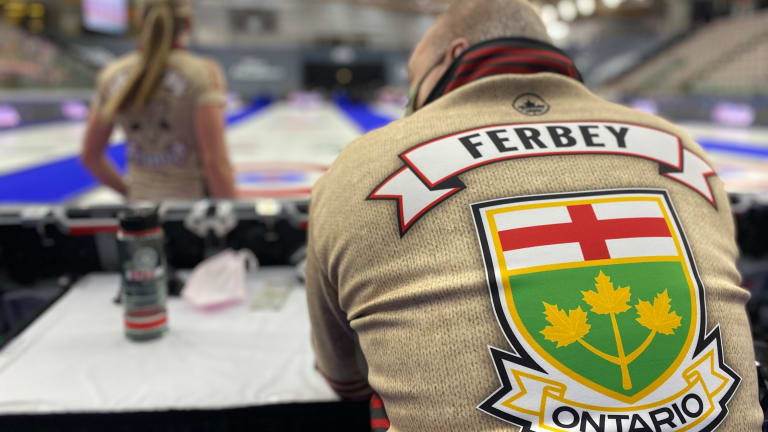 Curling Coach Ferbey, Famously Loquacious
It was a weird coaching debut for The Ferb.
It was a weird coaching debut for The Ferb.
It's too bad, really.
Rachel Homan and her team really only got a taste of the Randy Ferbey experience in that Scotties bubble.
Covid-19 restrictions and protocols—strictly adhered to over the course of the 10 days and nights the Canadian women's championship was underway—meant there was only so much Randy Ferbey one was allowed to have in their life.
A socially-distanced Ferb is what Team Homan got, with regulated exposure and restrictions on get-togethers. A few beers at a pub on an off-night? Not this time, sadly.
The six-time Brier champion and four-time world kingpin liked the experience, mostly. But our current reality kind of cramped the guy's natural style, you know?
If it weren't for the scourge of a pandemic and the strict regimens Curling Canada needed to observe in order to make the tournament fly, things would have been different. Ferbey is well-known to be a gregarious, social animal. Ghost Town Scotties wasn't exactly everything a guy like that needs.
"It wasn't totally enjoyable, I'll be honest with you," said Ferbey, looking back at his time in curling lockdown. "I mean, I'm glad I got to experience it. We've been stuck at home for the last year, so I kinda jumped at the opportunity."
The opportunity came when Team Homan's usual coach—and former Ferbey teammate—Marcel Rocque, had to bow out this Scotties. Ferbey, who'd never spent a week at an elite level event as a team's dedicated coach before, agreed to take it on.
What he got, then, was a little taste of the coaching life, and a big taste of the strange, strange existence of being at a Scotties with a crowd of cardboard cut-outs, a minimum amount of personnel and a minimum amount of interaction.
"I talked to a couple of TSN guys in the bubble," said Ferbey. "They said they got to do a lot more during the hockey playoffs than they do (in the curling bubble). This one is even more locked down than the NHL playoffs, believe it or not."
Ferbey gives some examples of just how strict things were at WinSport Arena, in Calgary; No meals in the arena, but you could grab some donuts if you wanted to (he did). Teammates, when off the ice, would be required to put masks on if they were in the same room. "You'd have to check in, you'd have to check out," said Ferbey. "The coaches had to have their mask on all the time."
The oversight was strict, and not always to Ferbey's liking. "I'm sitting in the stands, by myself, there's no one around me for a hundred feet," he explained, giving an example of that oversight. "I just pulled my mask down to take a sip of tea, and there's an official running up to me to tell me that I didn't pull my mask back up quick enough. I'm not kiddin' ya. And there wasn't a person around me anywhere."
"It was a kind of overkill, a little bit, but I totally understand why we did it."
And if you could actually hear a shrug from a guy at the other end of a phone call, I think I heard one there.
"You just have to deal with it," he said.
But it certainly was a little tough to take for Ferbey, who delights in the social aspect of the game, and the energy created by the people who are there. He's a mingler, famously loquacious.
"Oh my God, yes," he blurted out, when asked if he felt robbed of the customary trappings of a big-event ride. "I miss all that stuff. And talking to people, absolutely."
He mentions the autograph sessions, the chats with fans, inside and outside the arena. Even the extra demands on a competitor's time.
"That is part of the event," Ferbey said. "After you've done it five, 10 times, it does get a little tiresome, I guess. But at the end of the day, trust me curlers, things come to an end pretty quick. You kinda wish those people would line up to get your autograph."
The adrenaline rush of it all is real, and Ferbey felt bad for the 27 Scotties rookies who were denied the full shock and awe of their first nationals.
"Twenty-seven players never got to experience that," said Ferbey. "That's who I feel for a little bit."
Danielle Inglis, who served as Team Homan's alternate for the week, and who remains in the bubble as a social media and content co-ordinator for Curling Canada, gets the sense that she did not get all that Randy Ferbey could offer, had she been sitting at the bench with him during normal times. She sounded a little bit wistful about that, but, still, described the experience of getting to know the six-time Brier champion as "Amazing."
Things were quiet, at these Scotties. Saskatchewan skip Sherry Anderson even said she heard a toilet flushing somewhere in the bowels of the arena during an especially peaceful moment. Because things were so muted, conversations between coach and alternate were kept to a minimum, and in low-volume tones.
Still, Inglis at least got a taste of what it's like to hang around Ferbey. "He's got so much knowledge that I just, I was really enjoying absolutely everything he had to say."
"And," she added, "he's hilarious."
Also hilarious was the sight of Ferbey presenting the runner-up plaques to his own squad. That's right—due to protocols, the coaches were assigned podium presentation duties. Team Einarson coach Heather Nehohin did the honours after Ferbey; check out the time-stamped Curling Canada video below.
The weirdness of a crowd-less Scotties wasn't the only thing that was odd for Ferbey. Since retiring from the game back in 2012, he hasn't done more than dabble in giving tips to curlers here and there, maybe casually helping out with a bit of advice when asked.
Being a full-time, dedicated coach at an elite level event? That's never happened before. More than likely, Ferbey would have liked the experience a heck of a lot more had the usual trappings that he so adores been present during the week.
He downplayed his role with Team Homan.
"When you're on the ice as a player, you kind of have a vision of what you want to do," said Ferbey. "I was just there to point out 'oh by the way, did you look at that?' Most top-rate curlers know what they wanna do."
"The coach is just going out there for a hundred-yard walk and coming back, even though they might have some input," he added.
To have a lasting effect on a curling team, Ferbey believes, a coach would need to spend much more than just a few weeks with them. An accumulation of benefit might occur over years, he implied. For him, it would take the right kind of team in order for the chemistry to be right, and he's not thinking that an established, championship squad is the right fit.
"Would I do it again? Yes, with the right opportunity," he said. "I think coaching established teams is very, very difficult. Rachel and Emma (Miskew) have been playing together for a long time. And they're kinda set in their ways a little bit. And deservedly so. I mean they've won everything."
"My coaching expertise, I think, would be how to get to that level instead of how to, get to the next level from where they're at, because it's hard to break those little habits that these established teams have."
Inglis, who is a coach as well as being an active player, is sold. "Sitting there and hearing his thoughts on the strategy was incredible," she said. "That is a definite strength that I think any team working with him should take advantage of."
They'd get that and who knows? Perhaps a journey to the big show during normal times. And with it, the full Randy Ferbey experience.