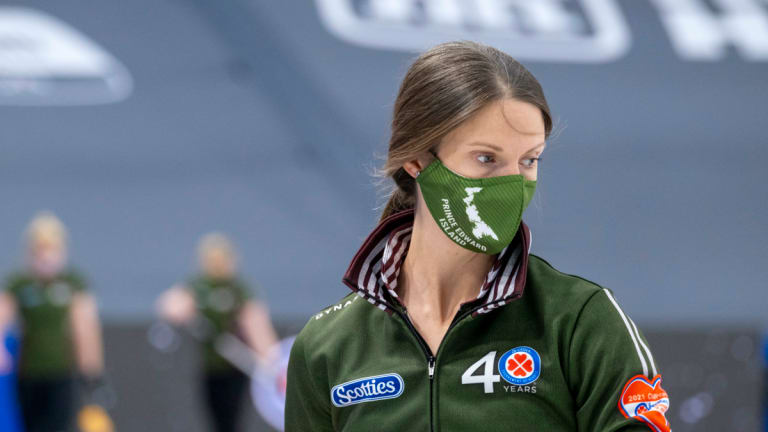 Curling—The Return
Fans and stakeholders are on pins and needles.
Eleven months after the 2020 world women's championship was cancelled—just before it was scheduled to start—Curling Canada is back hosting a major event, the women's nationals aka the 2021 Scotties Tournament of Hearts.
After months of planning and preparation, with more than a few concerns aired, the first stones are scheduled to be thrown Friday night in Calgary. Play continues through the championship final on Feb. 28.
The enormous field of 18 teams—72 competitors plus another 30-or-so alternate players and coaches—has been tested, quarantined, tested again, herded onto the ice for practice, tested yet again, and are finally ready to rock.
Some last-minute sewing has taken place in the athlete hotel bubble, courtesy of a Territories player.
There are indeed some red (and blue) hearts on sleeves, but some are missing as per certain competitor categories (i.e. Wild Card).
The TV crews are ready. The on-ice officials are ready. Covid protocol monitors—we're assuming such creatures exist—are no doubt ready. The physiotherapists are hopefully ready for an onslaught of aches and pains coming their way, and we wonder if the athletes are truly ready for that. It's been a long and brutal pandemic, with many false starts and retreats and idle periods and disappointments, and we'd be surprised if #STOH2021 failed to set records on the injury front.
There are even cardboard fans in the stands, and they're as ready as they can be.
No one knows how this is going to go. The first "major" curling bubble is set to begin and while previous smaller bubbles have succeeded—such as in Switzerland and Japan—one particularly small one did fail, somewhat spectacularly, in Denmark.
Through it all, the men's Brier competitors will be watching on television and social; their bubble event starts Mar. 5. The mixed doubles competitors will be following along, too, before they hit the ice on Mar. 18. Then it's the men's world teams, underway Apr. 2. And then not one but two Grand Slam men's and women's events, both in April, to wrap it all up.
There's a lot of fingers being crossed. Ours too.
Canadian fans can watch on TSN, while U.S. followers can watch live on ESPN 3. International viewers might get to see some matches online after the fact—think a day or two later—via Curling Canada's YouTube page.