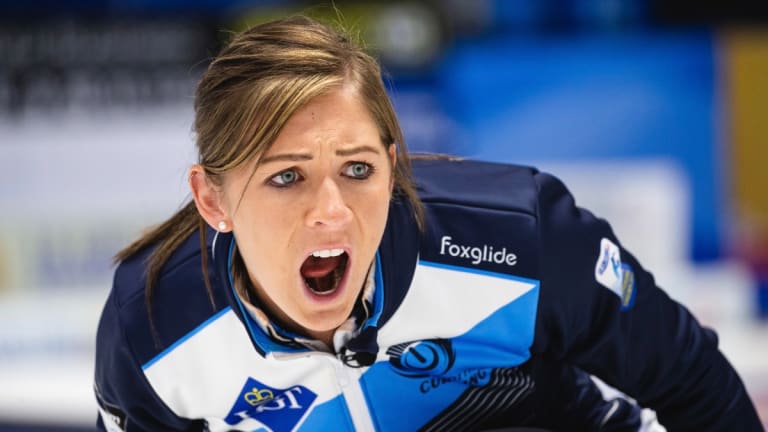 "I am nervous. I am anxious."
Eve Muirhead finally hits the ice after a year of uncertainty.
Would it not be crushingly disappointing if Eve Muirhead had come all that way, once again, only to have a shot at playing in another world championship taken away by a last-moment event cancellation?

"Stop that," she says with mock admonishment, cutting the question off at the pass. "Stop it."

Muirhead spoke from Calgary hotel room, in quarantine. An avid golf fan, she had recently watched The Masters, kind of hoping that Englishman Justin Rose could hang on to the lead he'd built after two rounds (he could not). She also watched her Scottish compatriot Bruce Mouat lead his men to silver at the men's worlds, and worked on some paint-by-numbers to help pass the time.
And as Muirhead shared in some exclusive video for The Curling News, there were COVID-19 tests and hotel room workouts. Lots of both.

In recent days there had been an awful lot up in the air. Positive COVID-19 tests for four men's players had placed the completion of their world championship in peril—until it was finally proved otherwise.
Also in jeopardy, it seemed at the time, were two upcoming Grand Slam events, and maybe the women's worlds, slated for April 30 through May 9, at the same venue.

"It felt very much like deja vu, from last year," says Muirhead, referring to the cancelled world women's championship of 2020.

Covid was relatively new, then, and Muirhead's team, along with all the others— so many of them travelling great distances in an uncertain time—had already gathered in Prince George, British Columbia. They'd hoped that their tournament would not meet with the same fate that had befallen so many other sports competitions.

"You're so excited to be part of an event," says Muirhead, the 2013 world champion and 2014 Olympic bronze medalist. "You're here and you're set to go. Then, you wake up and you have messages and the curling world's news is going mad."

She might well have been talking about waking up to that news a year ago but, instead, Muirhead was commenting on the news she'd heard recently from Calgary. Hence the deja vu.

It wouldn't be until the next morning that the green light was given to finish the men's playoffs, so Muirhead's feeling of gloomy familiarity was understandable.

Because at that particular moment, Eve Muirhead was wondering if she was going to be able to lead her team into action at the Grand Slam of Curling's Champions Cup, the first of two competitions prior to a rescheduled World Women's Championship— originally slated to be played in Switzerland last month—being held inside the Calgary bubble. The bubble that had performed so very well through three full events and—as eventually proved—a fourth.

"I still couldn't see the worlds being cancelled," Muirhead said, recalling the events unfolding in real time. "Especially with them really needing to get the Olympic spots sorted."

Like the men's, the world women's curling championship will serve as a qualification event for the 2022 Beijing Olympic Winter Games, with the top six finishers securing berths. Sink below that, and a country would need to qualify through a last chance event, later this year.

"It's tough when you have a lot at stake at this world championship," says Muirhead of the uncertainty. "But you've gotta kind of put these things to the back of your head and focus on the here and now."

Muirhead and her team were to step onto the ice Thursday to play Anna Hasselborg's Swedish champions at 12 noon eastern time. Their remaining pool games were slated for Friday at 8:00 a.m. ET (Switzerland's defending world champions skipped by Silvana Tirinzoni) and 8:00 p.m. ET (Canada's Jennifer Jones) before wrapping up Saturday at 12 noon against another Winnipeg team, skipped by Tracy Fleury.
Tiebreakers and playoff games are set for Sunday, with the men's and women's championship finals scheduled for Monday.

Muirhead was completing her first full season with a reconfigured lineup when last year's worlds was cancelled. Longtime teammates Anna Sloan and Vicki Chalmers had departed the team within a year of each other; Sloan in 2018, Chalmers in 2019. Last season, with Lauren Gray at third, Jennifer Dodds at second and Vicky Wright at lead, things were coming together nicely. Included in the team's successes was a silver medal at the European Championships, beaten in the title game, Muirhead says, "with Anna Hasselborg making a fantastic shot to win the gold."

"We were really in a good position going into the world championships," says Muirhead. "That's what made it pretty tough when that was put off."

In the wake of the continual Covid waves that crashed planet Earth over the past year, Muirhead's team—like most curling teams and, indeed, most everybody in most every walk of life—has been faced with challenges. Practice ice? There's been plenty of that, Muirhead says, and her team has been able to get in lots of slides since the beginning of last August, when the ice first went in for the season.

"The thing that we have been lacking is competition," notes Muirhead, though she does say that British Curling has done a good job with arranging challenge games between some of the top rinks in the country.

"But, it's not the same when you don't pack up your suitcase, drive to the airport and fly somewhere and play these international and North American teams," laments Muirhead. "It's just not the same."
Muirhead has lent her name to advocacy causes this season. She helped a lobby group confirm much-needed Scottish government funding for pandemic-wracked curling facilities, and also appeared in her third curling calendar to raise money for charity.
She was the cover model for two previous Women of Curling Calendar projects, and made a third appearance for 2021—as Miss January—in the newly-branded Curling Cares Fundraising Calendar.
Like her previous appearances, the image she chose for 2021 is gloriously Scottish. The latest appearance raises funds for the Scotland-based Disasters Emergency Committee.
Otherwise, this has been a season stuffed with the monotonous grind of practice after practice after practice, and Muirhead is itching for a bit of the real thing.

Now, that chance has finally arrived, more than a year after her team's last major international competition. A lot of Muirhead's upcoming opponents are in the same boat, though, and to get two top-flight events under their belts (the Players' Championship is scheduled to be played next week) prior to the worlds can be nothing but beneficial.

"To have the two Slam events first is definitely great," agrees Muirhead, mindful that the rocks and the way the ice surface is prepared will differ between the Slams and the worlds. "To get the chance to be here and to gauge what the arena's like, and even to play teams that we're gonna be playing at the world championship is great preparation. Not only for us but for the other teams as well."

"I am slightly nervous and anxious to know, like, where we are, if that makes sense," says Muirhead, mindful that a second season of full-on action would have given her a much better sense of how she and her mates have been coming together. She is optimistic, though, even without the benefit of game action providing a measuring stick.

"As a team we feel really good, like we're in a very prepared, great position," she says. "We're in a decent kind of groove, I would like to think. But, I am nervous. I am anxious."

Not just about the state of her team, you'd have to assume. With the upsetting Covid questions that surfaced over the final weekend of the men's worlds, you couldn't at all blame Eve Muirhead if she's concerned about the deja vu she felt on Saturday morning, and the shame it would be should a second consecutive worlds need to be shuttered.

"Fingers crossed," she says.