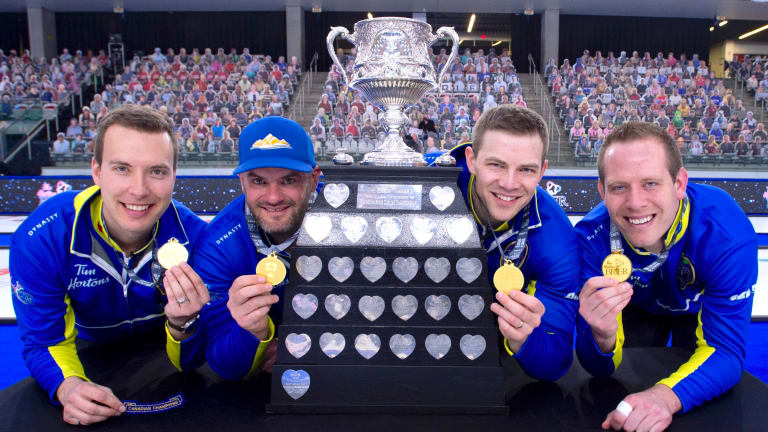 Mad Curling Brier Geniuses
That was quite a show. Where to start?
This wacky, wonderful pandemic Brier had lots of everything.
It showcased brief runs of glory for New Brunswick's James Grattan (4-1 at one point) and Quebec's Mike Fournier (3-1 early on) before they were dragged back into the ether.
It threw a spotlight on Manitoba's Jason "Gunner" Gunnlaugson, who roared to an early 5-0 record before losing 3-nil to Northern Ontario's Brad Jacobs, tying the Brier record for lowest-scoring match. After that, his 'Tobans won just one of their last six, and were outscored 51-27.
It displayed the mad curling genius of Hall of Famer Wayne Middaugh, who parachuted into his first Brier in five years—also his first tournament in five years—with a metallic leg and a new team and this weird atmosphere … and barged loudly into the championship round before collapsing. He even managed to steal some of the Brier's final-day headlines by hinting at another retirement.
The event appeared Grand Slam-esque at times, as the sensor handles were missing (as they were for the women's Scotties) for the first time since 2004. If a tiebreaker had been required, it would have been played Saturday night starting at 11:00 p.m. local time—using the Slam's eight-end game format.
Everyone seemed to make a great shot or two. Or five. When excitable Newfoundland & Labrador skip Greg Smith made a dynamic blast in a losing effort, fans voted for it in TSN's "1 v 1" all-sport challenge. Smith's shot even surpassed a wondergoal from Barcelona soccer star Lionel Messi.
One of the sport's nicest guys—Saskatoon's Steve Laycock, who plays with another of the sport's nicest guys, British Columbia's Jim Cotter—mistakenly bashed the ice surface with the wrong side of his brush, creating a large divot in the sliding path and causing a 45-minute game delay. Oddly, that seemed to inspire opponent Brendan Bottcher of Alberta to take charge of this seesaw Brier … or was it the socks?
Through it all, fans debated the Brier legacies of various combatants, then watched as the two Brads—defending champ Gushue and 2013 champ Jacobs—failed to make the playoffs. 
Both squads found themselves mired at 2-2 early on and while they both made it to the championship round, the writing may have been on the wall.
That same Kevin Palmer story wondered if someone new, like Bottcher or Saskatchewan's Matt Dunstone, would manage to elbow his way onto the podium's top spot and into the legacy conversation. Bottcher was the one coming in with three straight Brier final losses, while the men in green tried to ignore Saskatchewan's 41-year title drought.
Meanwhile, steady Kevin Koe was leading his revamped foursome—chock full of purple hearts plus three Olympic gold medals—to the top of the standings, and enjoyed the Brier's first bye to the final since the Page Playoff system debuted in 1995. That was one year after Koe lost the national junior final, by the way. 
Will the page system return in 2022—and what of the expanded field—or will curling mandarins decide they like the old ways again?
They might. Everything could and should be up for debate, post-pandemic. What works best moving forward? In the outside world, we know masks will be a factor in life. Businesses will continue to offer work from home. School administrators would be smart to keep some of the protocols that have reduced chaos, such as assigned building entry times. Curling can change, yet again, if it's desired.
That semifinal finish was something, wasn't it?
The revamped Team Dunstone finished third for the second year in a row, and the devastation those athletes felt was palpable. One can't help but feel this team is ready to explode and win the big one.
But that would be Brendan Bottcher's 2021 destiny. Three consecutive Brier finals, in 2018, 2019 and 2020, and three losses for the youthful Edmonton skip and his crew. Three straight silver medals. There couldn't possibly be a fourth … could there?
The Bottcher train stuck to its defensive game plan and waited for an opportunity. The similarly driven Koe squad, which had lost 8-7 to Bottcher in the championship pool, are equally expert at poised, patient play. But it all came crashing down when they suffered a painful pick on Koe's first stone of the seventh end, and when the skipper missed the double takeout on his last throw, Bottcher nosed ahead 3-1.
It proved to be the difference, as the Bottchers won the taut final 4-2 and dumped the monkey off their backs. 
Bottcher is the first Brier champion skip not named Koe or Gushue in six years. Moreover, Bottcher, Darren Moulding, Brad Thiessen and Karrick Martin are also the first to hail from the same province—i.e. a team without any imported players—since Ontario's Howard/Middaugh combo in 2012.
Koe, winner of four Briers, has now lost three finals—to Gushue in 2017, and 2012's Howard/Middaugh.
Meanwhile, just hours after the final, the ice is already looking different as the ice crew prepares for the Canadian Mixed Doubles Championship. It starts on Thursday, and features some of the players seen at the Brier and Scotties.
The pandemic Brier is over. And the (bubble) beat goes on.