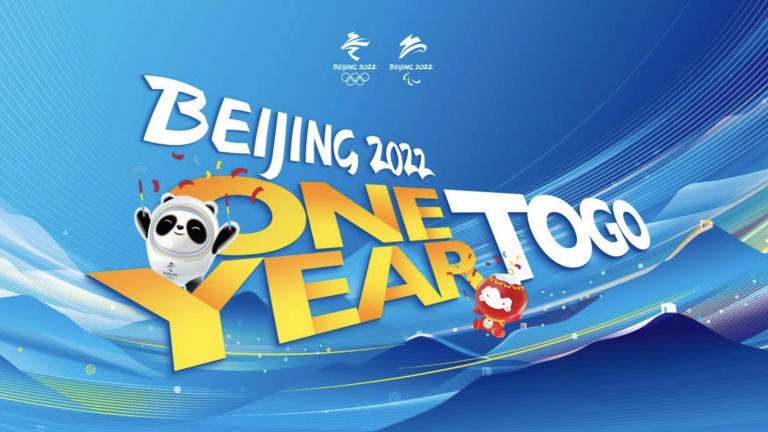 One Year Out: Beijing 2022
The real curling milestone was back on Feb. 2.
We're officially one year out from the Beijing 2022 Olympic Winter Games.
The organizing committee just unveiled the design of the Olympic Torch, named "飞翔" or "flying ribbon" … and here it is:
Yesterday they released a cute image of the super-cute Olympic and Paralympic mascots–a panda and a "Glowing Lantern"–on the curling ice.
Nice form, Bing Dwen Dwen and Shuey Ron Ron!
Of course, sharp curling fans are aware the real year-out celebrations began on February 2. That's because we were the first to reveal the four-player curling competition starts on that day, a full 48 hours before the opening ceremony.
Back in November we reported on the status of the "Ice Cube" curling venue, the first to be declared ready for the Games.
Curling fans are getting extra antsy as we are now just a couple of weeks away from the start of Canada's hub competition experiment. The women's and men's nationals kick things off from Feb. 19 through Mar. 14, the mixed doubles start on Mar. 18, the men's worlds on Apr. 2, and two Grand Slams will also be hosted later in April.
Through it all, the threat of the pandemic persists. 
While the most recent episode of the 2 Girls And A Game podcast reveals STOH and Brier athlete confidence following a Curling Canada orientation call, North America's National Women's Hockey League (NWHL) just announced the suspension of their season due to a rise in positive COVID-19 tests.
The NHL's Buffalo Sabres have paused their season until at least Feb. 8., while the New Jersey Devils also won't play until at least Feb. 6.   
Meanwhile, some high-performance curling has been taking place outside of North America.
The Swiss recently hosted their 2021 mixed doubles nationals, and young guns Briar Hürlimann and Yannick Schwaller won the title. They'll now head into a best-of series against top-ranked Jenny Perret and Martin Rios, the 2018 Olympic finalists, for Switzerland's berth at the worlds.
Next up are the Swiss four-player men's and women's nationals, running Feb. 6-13 in Arlesheim.
Japan is also proceeding with national championships, slated to start Feb. 7 and wrap up on the 14th.