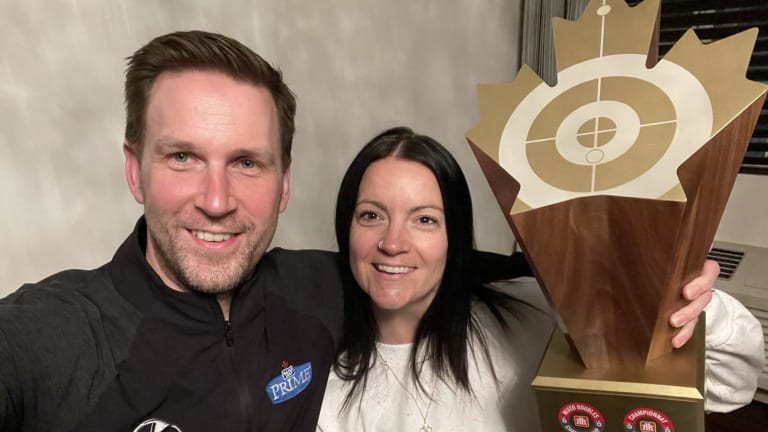 Shift in Mixed Doubles Acceptance?
And it could have been Brad and his daughter competing.
Thirty-five mixed doubles pairs began in the bubble and when the smoke cleared, Canada's two 2020 four-player champion skips—who both missed competing at the four-player worlds due to the pandemic—had won the title.
Manitoba's Kerri Einarson and Newfoundland & Labrador's Brad Gushue defeated Manitoba's Kadriana Sahaidak and Colton Lott 9-6 in the Canadian Mixed Doubles championship finale, after building hefty leads of 7-1 and 9-2. The champs will travel to Aberdeen, Scotland in May for the recently announced world championship.
Sahaidak and Lott now have two silvers and a bronze in their last three nationals. They had earned their spot in the final with a 7-6 win over Danielle Schmiemann (sparing for Rachel Homan) and John Morris in the page 1 vs 2 game. Einarson/Gushue had to beat former champions Laura Walker and Kirk Muyres 8-6 in the other page match, then Schmiemann/Morris 7-6 in the semifinal to advance.
Sahaidak/Lott had eliminated the powerful Jocelyn Peterman/Brett Gallant pairing 8-7 in a previous game, before beating Einarson/Gushue 8-5 in a page "seeding" matchup. Sahaidak's last throw to defeat Peterman/Gallant was really something.
The usual (Canadian) fan split is that half love the mixed doubles format, and the other half hates it. But Calgary marked the first time national television (TSN) exposed Canada's highest mixed doubles tier to the highest number of curling fans. Previous championships offered only sporadic playoff coverage, with a handful of games on CBC and a few more on the CBC Sports streaming service.
This was eight days of coverage, some 20 of 34 draws televised in total. Over the last week on social, it would appear more traditional curling fans have been converted than lost. That's an inexact science, of course, and social media itself is about as reliably consistent as, well, Canadian curling fans.
So is a latent shift in attitudes finally underway? Or is the thinking around mixed doubles just as muddy as it was a week ago?
Even our own 2 Girls have healthy debates on the format; we look forward to their next podcast episode, which should drop in the next couple of days.
Most of the players say they love it—and have said so for years—but not all of them actively choose to compete.
Some curling clubs have embraced it and offer mixed doubles leagues that succeed. Some tried to offer it, and it the clientele balked. Other facilities have turned their nose up from the beginning.
There's also a bit of a high-performance schism, real or perceived, between those that specialize in the discipline—like Sahaidak/Lott—and those who sign up with a new teammate and have a go at it—like Einarson/Gushue.
This has been debated to death so we won't bother going there. And as mixed doubles continue to spread its tentacles across the world's biggest curling nation, any assumed ground rules for said schism get further muddied.
For example … who is to say that Gushue is not an MD specialist? Many forget that he almost made the 2018 Canadian Olympic team; he lost the MD Trials final with pickup partner Val Sweeting, going 9-4, and defeated eventual champs Kaitlyn Lawes and Morris in the 1 vs 2 game. 
Even fresher is the memory of his impressive run at the 2020 NL provincial championship with young daughter Hayley, in which they went 7-2 and earned a bye to the final before losing the championship match.
In fact, it was that 7-5 final-game loss to Mackenzie Mitchell and Greg Smith which allowed Gushue to grab Einarson and claim one of the seven 2021 berths given to "teams unable to compete in 2020-21 due to the COVID-19 pandemic." If the Gushues had won that provincial final, they would have competed together in Calgary.
So that's three mixed doubles events for Brad Gushue, with three different partners, and three medals won—two silver and a gold. That sounds special(ist). Clearly, someone has the adaptability aspect of this sport mastered.
The MD debates should slow for a while, as bubble event no. 4—the men's world championship—kicks off one week from today. Some of the athletes, and their coaches, are already quarantining at the bubble hotel in Calgary.
But there's a good chance Canada's cable curling network will pick up some games from May's world mixed doubles championship, now scheduled as the last major shootout of this weird pandemic-wracked season. Hopefully the USA's Olympic channel and/or NBCSN will offer coverage too. 
Will there be more converts, or a resurgence of naysayers?