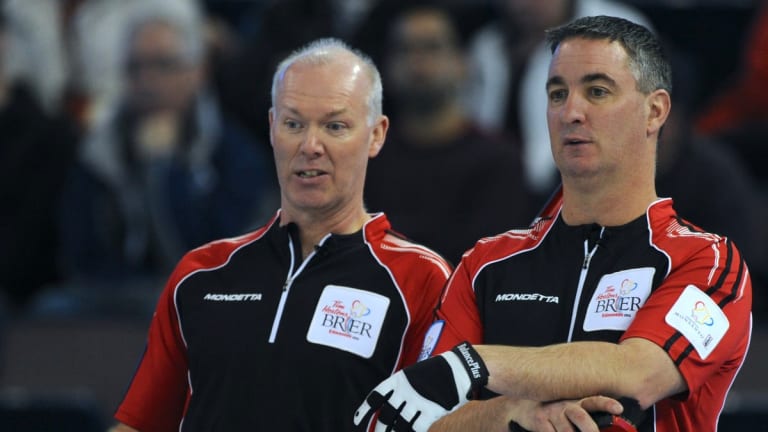 Wayne Middaugh is Back in The Brier
To hell with the 15-inch metal rod in his leg.
With a renewed passion for the game and a 15-inch metal rod in his left leg, Wayne Middaugh is going back to the Brier, even though he wasn't supposed to.
A number of things have conspired to get Middaugh to his 10th Brier as a player. A bad break for his good friend, Glenn Howard, opened the door. Faith in Middaugh, shown by Howard and his teammates, loosened the grip of self-doubt. And the relationship that he has with Anna Hasselborg's Swedish championship team provided the spiritual electricity that helped the hall-of-famer reconnect with the game.
Yes, Wayne Middaugh is going back to the Brier and that's not something he thought he'd ever do again. And he is pretty damn giddy about it.
"It's like being invited to the Masters when you haven't played golf in five years," he says, laughing.
It's Friday night, a week before the Brier begins in the Calgary bubble, and Middaugh is on the phone, chatting away in his usual frank and friendly fashion, after having just watched a little Scotties action in the company of a caesar. His wife, Sherry, is absent from their home at the moment because she is at that Scotties, coaching Team Fleury.
He's not alone, though, and I'm not talking about the caesar. One of Middaugh's new Howard teammates, David Mathers, has moved in so they "can meet all the requirements of the soft bubble and also get some practice in."
Almost every answer Middaugh gives in connection to the extraordinary circumstances leading up to his captaining of Team Glenn Howard is marked by a good chuckle, and a delighted tone, as if to say 'can you believe this?'
"I never, never thought I was gonna play in a big competition again," explains Middaugh, a sense of wonder clearly evident in his voice. "Now suddenly, you know, a freak accident happens, like an absolute unfortunate freak accident, and the next thing I know I'm skipping in the Brier. And I'm like, how does this happen?"
Team Glenn Howard, a qualified wild card team, can't have Glenn Howard skipping for them at the Brier because Glenn Howard, you see, broke some ribs in a snowmobile mishap a few weeks ago.
Howard is throwing, again, but Middaugh reports that he's really only up to hack-weight take-outs at present. The expectation is that Middaugh will be Team Howard's skip from coast to coast at this Brier.
"That's currently the plan," Middaugh says.
The bolt came out of the blue after Howard's accident. The call came swiftly, asking Middaugh to pinch hit as the skipper. His initial reply was just as swift. "My first reaction was that there's gotta be someone out there that's better than me. Somebody younger," he laughs.
Other candidates were discussed, suitable replacements all, and all with acceptable pedigrees.
However Howard and the other members of the team—Mathers, Scott Howard and Tim March—were of the mind that Middaugh is still a game-winning shooter, a guy you'd love to have throwing the brick with the game on the line.
As a bonus—a rather important one—they already knew him well.
"To bring in a new person that doesn't know the team and doesn't know the players, would be very difficult," says Middaugh, sizing up the situation. "It's kinda the devil you know, the devil you don't. This way, they're taking the devil they know."
2013 marked the last time the three-time Brier and world champion competed in a Brier. Back then, Kevin Martin represented Alberta and Jeff Stoughton was there for Manitoba. Middaugh, playing third for Howard, helped Ontario to a 10-1 round robin record—whereupon the wheels fell off. They lost the Page 1 vs 2 match to Stoughton 7-6 after dropping a three-count in the 10th end, then lost the semifinal 9-7 to Northern Ontario's Brad Jacobs before losing the bronze-medal match 7-6 to Brad Gushue. 
You probably recall that Middaugh was set to play with Howard in the 2016 Brier, but was then relegated to a coach's role after suffering devastating injuries to his left leg, in a serious skiing accident.
There was surgery and there was rehab. Three big screws were installed in Middaugh's left knee, two more in his left ankle. Those were eventually removed, but a long metal rod remains between that ankle and that knee.
"I have a 15-inch titanium tibia," Middaugh says, matter-of-factly. Then, a punchline: "The bar never comes out 'cause that's what holds me together," he says, laughing again.
Though he and the rod have been companions for five years, now, It's not something Middaugh would say he's ever gotten used to. "It's uncomfortable," he says. "It's different. You know it's not the same. But it is what it is."
It won't be a problematic factor, it doesn't seem, as Middaugh has been testing that leg with plenty of practice over the last few weeks. "Once they asked me to play I figured I'd better start throwing rocks," he quips.
"I still think I can throw it pretty hard," he says, "but the difference now is everybody can."
In remembering the aftermath of the skiing accident and the long road to recovery that followed, the wise-cracking Middaugh changes tone, kind of like following up a few peel shots with a naked draw to the lid. That accident and its fallout, had him in a place of resignation.
"I basically said 'if I can walk again and I can play golf again, if I can hang out and do stuff with my kids again, that's great.' I honestly never expected to curl again."
"For two years, I wasn't involved in the game at all," Middaugh continues, and there is no laughter to follow. "Like zero. I didn't go into a club, didn't do anything. I stayed pretty far away."
It would take some divine intervention from across the Atlantic to help stoke the curling fires once more.
A call from Sweden, and Team Anna Hasselborg, would pull Middaugh back to the top of the curling pyramid and, surprisingly for him, ignite his passion to play all over again.
Team Hasselborg asked Middaugh to coach, and he agreed to give it a try. "I got into it," he says, his tone brightening. "I really started to enjoy it."
One day, Hasselborg and her teammates—Sara McManus, Agnes Knochenhauer and Sofia Mabergs—urged Middaugh to throw with them during a practice session.
"They said 'coach you gotta come out and throw some rocks with us, you know you can't just tell us what to do all the time.' So I started to throw rocks with them."
Now into his third season as Team Hasselborg's coach, Middaugh is thankful for the relationship. "They're a big part in rejuvenating my love of the game," he says. "They're great ladies and a great team."
Not that he's been playing a lot, however. Middaugh settled into contentedly playing with Sherry and Glenn and Howard's wife, Judy, in the Penetang Super League. This season, he figures they got in five games before the schedule was cancelled due to the pandemic. Since then, nothing. Until the Brier call came and practice sessions beckoned.
"On the ice five days this week," says Middaugh, with what seems like a mixture of equal parts pride and astonishment. Asked how that feels, he replies "It feels like a 53-year-old guy trying to go out and curl 14 games at the Brier."
That kind of lighthearted honesty, that kind of self-deprecating humour, has often accessorized any conversation with Wayne Middaugh over the years. And under these circumstances—drawn back into top-level competition at the last-second after having no intention of ever doing that again—you might easily make the mistake of concluding that he'd see this trip to the Brier as a long last look at a lingering sunset, sitting on the dock with a drink in hand.
He may have, as he puts it, "won the lottery" in gaining this berth to his 10th national championship, but that doesn't mean he intends to just squander his winnings. Enjoy it? Sure, as always.
But don't kid yourself. This isn't just some kind of carnival ride. Middaugh's taking this as seriously as ever. And that's pretty darn seriously. Ask anyone who's ever played against him, he says.
"They will tell you there's nobody that's trying to win harder than I am," Middaugh insists. "Nobody. I'm just an ultra-competitive person at whatever I do."
And that, he says, is an attitude that is present right now. If anyone's expectations for Middaugh's performance are low, he surely is not counted in that number. He feels the pressure. Not less because this has been tossed in his lap the way it has. But more, because Middaugh is determined to compete at a high level, even if everyone on the ice and at home watching on television has questions.
"They're going to think 'Wayne Middaugh, 10 years ago, was pretty good,'" he says. "Nobody knows what Wayne Middaugh, today, is gonna be like. Even myself. I know what I can do in practice but it's another thing to perform under the lights."
Middaugh, by the way, is laughing as he says that even he doesn't know how he'll measure up in competition. He welcomes the pressure, he says. It's good. He seems perfectly aware of the gift that has come his way and all that it entails, and so a little pressure just seems like part of the package.
Wayne Middaugh is going back to the Brier with a renewed passion for the game and a 15-inch metal rod in his leg.
It's enough to make a guy a little bit giddy.