Last night Dwight Howard played his first game in Orlando since his acrimonious departure from the Magic during the offseason. Amid lusty boos and harshly worded signs, the Lakers center poured in a season-high 39 points to go with 16 rebounds and three blocked shots in a 106-97 victory.
Howard isn't the first athlete to leave a city and get a chilly reception from a spurned fanbase. Here's a look at 12 more of the most hostile homecomings in sports history.
---
Carmelo Anthony
The former Nuggets star was strongly booed in his first return to Denver in the more than two years since he demanded a trade to New York. It didn't go well for the prodigal son: the Knicks were blown out, 117-94, and Melo left with a knee injury after scoring nine points on 3-for-12 from the floor.
AP
---
LeBron James to Cleveland
King James withstood vicious treatment from the Cleveland fans upon his first game back as a member with the Heat on Dec. 2, 2010, but it was nothing compared to the 118-90 beating Miami put on the Cavaliers. LeBron led the way with a season-high 38 points, five rebounds and eight assists.
blog.cakepoker.eu
---
Brett Favre to Green Bay
The longtime Packers quarterback retired. Then unretired. Then signed with division rival Minnesota and nearly led them to a Super Bowl. Favre was booed mercilessly upon emerging from the tunnel, but it didn't stop him from carving the Green Bay defense to the tune of 244 yards passing, four touchdowns and zero interceptions in a 38-26 victory.
nytimes.com
---
Luis Figo to Barcelona
When the Portuguese striker left Barcelona to join the archrival (and free-spending) Real Madrid, the Catalonian fans saved a special surprise for his return to the Camp Nou on Nov. 24, 2002, throwing a pig's head at him while he was setting up to take a corner kick. The match ended in a 0-0 draw.
[youtube="www.youtube.com/watch?v=Mg_DmXnoFJI"]
---
Terrell Owens to Philadelphia
T.O., fresh off a brief but electrifying two-year stint with the Eagles, went from one of the most beloved athletes in Philadelphia history to one of the most reviled with a holdout that divided the locker room and effectively wrecked a Super Bowl contender. When he returned on Oct. 8, 2006, as a member of the hated Cowboys amid news of a recent attempted suicide attempt, the vultures swarmed. He didn't make a catch until Dallas' 41st play and finished with just three receptions for 45 yards.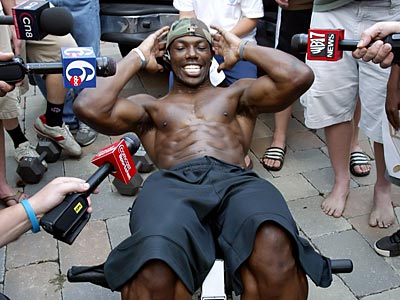 philly.com
---
Johnny Damon to Boston
The Idiot King commited the mortal sin of leaving the Red Sox for the Yankees and was given brutal treatment when he returned on May 1, 2006. Damon went 0-for-4 and the Red Sox won 7-3.
---
Nick Saban to LSU
When Saban left LSU for the Miami Dolphins, the fans in Baton Rouge could live with it. When he returned after just two years to coach the hated Alabama Crimson Tide? Not so much. His first game back on Nov. 8, 2008, drew the largest crowd in Tiger Stadium history. Hundreds of fans booed the coach upon the arrival of the Alabama team bus, with Saban later taking the field while flanked by four state troopers. In the end, Saban's top-ranked Tide needed overtime to escape with a 27-21 win.
decaturdaily.com
---
Alex Rodriguez to Seattle
Mariners fans littered Safeco Field with Monopoly money on Apr. 16, 2001, when Rodriguez returned with the Rangers after signing a then-record $252 million contract in the offseason. The shortstop went 1-for-5 with a strikeout as Seattle won, 9-7.
---
Ashley Cole to Arsenal
The left back had come up through the youth ranks at Arsenal before making his first-team debut with the London club in 1999. But after he left for crosstown rivals Chelsea, Gunners fans littered the pitch upon with custom-designed bank notes with Cole's face on them upon his Dec. 10, 2006 return.
flickr.com
---
Marian Hossa to Pittsburgh
After Penguins lost to the Red Wings in the 2008 Stanley Cup Finals, Hossa turned down a massive contract offer from Pittsburgh to sign with Detroit. He absorbed a onslaught of taunting and heckling in his first game back on Feb. 8, 2009, but scored a goal in a 3-0 victory, saying afterward: "Boo in Slovak means 'Go Marian Go.'" Yet it was the Penguins who got the last laugh, beating Detroit when they met again for the title that spring.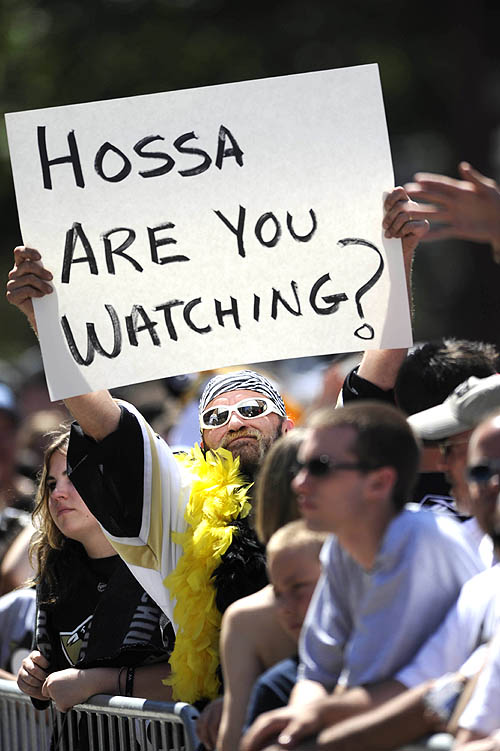 post-gazette.com
---
Vince Carter to Toronto
When Vinsanity returned to Toronto for the first time on Apr. 15, 2005, he aas booed every time he touched the ball. Fans burned No. 15 jerseys, wore "FUVC" shirts and defaced old Carter memorabilia to read "Wince" as a nod to his propensity for injury. Carter finished with a game-high 39 points on 15-for-26 shooting to go with nine rebounds and four assists as the Nets won 101-90 over the Raptors.
[youtube="www.youtube.com/watch?v=34v5t3PJbA8"]
---
Sol Campbell to Tottenham
When the English veteran returned to White Hart Lane on Nov. 17, 2001, after leaving Spurs for hated rival Arsenal over the summer, Tottenham fans released 4,000 balloons with "Judas" printed on them.
[youtube="http://www.youtube.com/watch?v=TF3uTAp2TNE"]