New Braves Stadium Renderings Show Multi-Use Plaza, People in Braves Jerseys
New Braves Stadium Renderings Show Multi-Use Plaza, People in Braves Jerseys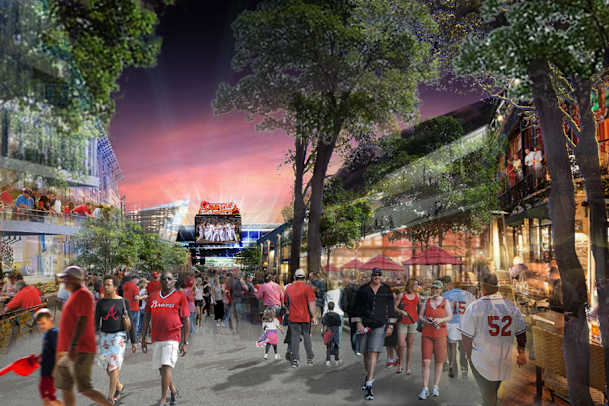 Hey, look, the new Atlanta Braves stadium in Cobb County will get all lit up at night and a cool as heck place to hang out. In three new renderings posted on the stadium's website, we get a taste of how the stadium will encourage surrounding development on the 60-acre site.
While the Braves will spend $372 million and Cobb County $300 million on the stadium, the Braves will privately fund 100% of the $400 million mixed-use development that will surround the 42,000-seat park.
From what we can see in the new renderings, we can expect some sort of entertainment plaza that connects the home plate gate to shopping and dining. From there, we will have a pedestrian path lined with trees and another lane lined with mixed-use development. And it will all be bright and fun.
If the rendering is completely accurate, almost every fan near the stadium will wear either red or some sort of Atlanta paraphernalia -- something to keep in mind if you plan on visiting.
Tim Newcomb covers stadiums, design and technology for Sports Illustrated. Follow him on Twitter at @tdnewcomb.