Thursday's A.M. Hot Clicks
A-Rod vs. Selig
Thursday's A.M. Hot Clicks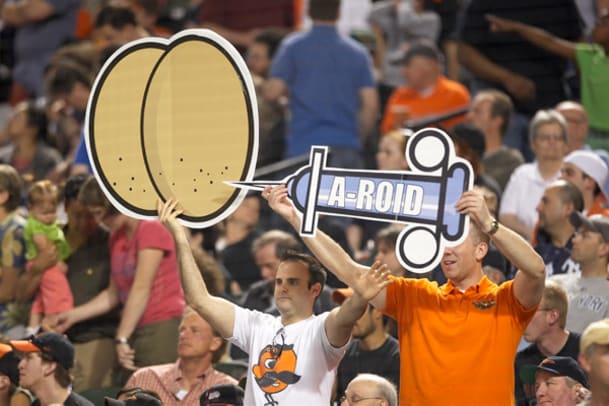 "I'm so pissed off right now I can't even think straight." That quote was among the many highlights of Alex Rodriguez's chat with New York sports radio host Mike Francesa yesterday. The Yankees third baseman spoke with the WFAN talker after storming out of his arbitration hearing upon learning that Bud Selig was excused from testifying. Some feel it was a brilliant PR move while others found it transparent and ineffective. Toys R Us clearly had enough and took 93 percent off an A-Rod action figure. Wherever you stand, it's hard to argue the hatred A-Rod feels for Selig. I couldn't even find a photo of the two together. I did, however, find a bunch of great anti A-Rod signs, which I put into the gallery above.
The Evolution of Tom Brady and Peyton Manning's Hair
SI tackled this important subject in this week's magazine.
Channing Crowder's Peeing Problem
Retired Dolphins linebacker Channing Crowder admitted that he peed his pants in every NFL game he played (and seemed rather proud about it, I may add), which, in retrospect, makes the quote at the end of this story even funnier.
Lovely Lady Of The Day
Thursday's A.M. Hot Clicks
Margot Robbie, who will star alongside Leonardo DiCaprio in The Wolf of Wall Street, gets today's LLOD honors.
Jose Canseco Pulled Over By Cops With Goat-Wearing Diaper In His Car
Hot Clicks Giveaway
The good people at Man Crates sent me some of their products to give away, so check out their website and buy something. I will send crates to the first four people who email me (andy_gray@simail.com with the subject line "Crates") the answer to this question. In Hot Clicks earlier this week, I showed a photo of Ted Turner and Tom McMillen before a 1982 Hawks game. What type of beverage (that no longer exists) was in the jugs behind the players bench?
(Update, 11:07 a.m.: Contest is now closed. Winners will be notified this afternoon. More giveaways to come.)
SI Vault Photo of the Day
Tom and Galynn Brady :: Courtesy of the Brady family
Tom Brady offered some final thoughts on Monday night's controversial no-call in Carolina's victory over New England. "My mom thought it was a penalty -- does that count?" Unfortunately for the Patriots quarterback, Galynn Brady's opinion has no bearing on the game's outcome. However, it does allow me an excuse to dig deep into the SI archives for today's photo of a young, rather pudgy Brady hanging out with his mom. For more classic athlete photos, follow the SI Vault on Twitter. While you're at it, follow me on Twitter as well as SI's Extra Mustard.
Odds and Ends
Finally, bowling lane furniture has arrived ... Ahmad Rashad is dating Valerie Jarrett, one of Barack Obama's top advisers ... This is an interesting story on how the plan for the NFL's first openly gay player to come out fell apart ... A website is now selling Steve Smith "Ice up, son" t-shirts ... Gilbert Arenaswore these custom sneakers to his high school alumni game ... The same Arenasmade over $140 million during his NBA career ... Derek Jeter has a new fragrance out ... As of Dec. 20, Winamp will be no more.
Predicting the Future
The Tigers traded Prince Fielder to the Rangers yesterday in exchange for Ian Kinsler, making this 2010 commercial the two appeared in together rather remarkable. Especially since they discuss trading themselves (though just in fantasy baseball).
Coming to America, Part 2?
Eddie Murphy stopped by The Arsenio Hall Show last night and explained why there was never a Coming to America sequel.
Impression of the Day
Gregg Popovich is famously curt with sideline reporters. Mavs coach Rick Carlisle paid tribute to the Spurs coach during last night's game against the Rockets.