Signs of the Week
Each Monday in P.M. Hot Clicks, we look at the best fan signs of the past week.
Monday's P.M. Hot Clicks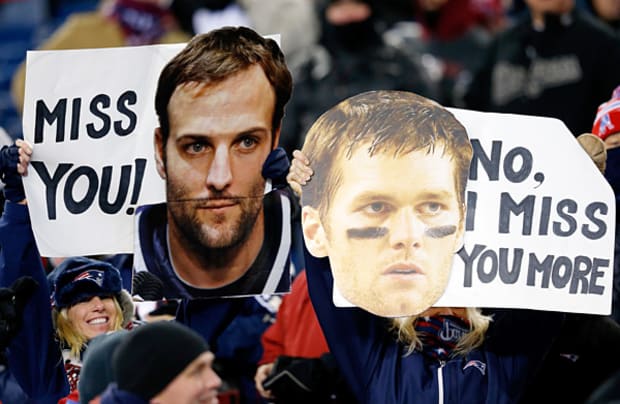 Peyton Manning's Bad Weekend
The frigid New England weather isn't the only thing Peyton Manning has trouble managing. According to a TMZ report, workers at a Manning-owned Papa John's in Denver were told to ignore police advice and continue making pizzas after the store was robbed at gunpoint earlier this month.
This Is What a $48 Million Contract Looks Like
Kobe Bryant tweeted out a photo of his John Hancock on a new two-year, $48.5 million contract extension with the Lakers.
Lovely Lady Of The Day
Monday's P.M. Hot Clicks
Miss California Mabelynn Capeluj was spotted with Padres hurler Casey Kelly, which is a good reason for me to showcase her ... Cameron Russell is one reason to shop at H&M ... Candice Swanepoeltraveled to St. Bart's for a Victoria's Secret fashion shoot.
Best Helmet Ever?
Yes this is completely subjective but the helmets Navy will wear for its Dec. 14 game against Army may be my favorite of all time. Here's a look at both teams' uniforms for the annual rivalry game.
Tuck Rule
The Cowboys may have beaten the Giants on Sunday but defensive lineman Justin Tuck got the last laugh at trash-talking Cowboys fans when he tweeted this photo of his two Super Bowl rings.
Curse of the Well-Performing Punter
Earlier this season, Colts punter Pat McAfee was tested for steroids after he laid out Broncos receiver Trindon Holliday with a huge hit on the sideline. Steve Weatherford also caught the eye of the NFL after two punts over 65 yards during yesterday's Giants-Cowboys game. Though in fairness to Weatherford, he does have a better body than 98 percent of the NFL.
Odds and Ends
Jets defensive back Ed Reed has played in nine game this season. He has lost every one of them ... Drew Brees hasn't made the best financial investments and wants an ex-teammate to pay for it ... Jerry Glanville, 72, has thrown his hat into the ring for the head coaching job at Eastern Michigan ... Chargers QB Philip Rivers is bringing back the bolo tie ... Packers QB Aaron Rodgersmay have the NFL's top mustache.
Gettysburg Address Video Of The Day, Part 1
The Ohio State marching band pays tribute to Abraham Lincoln's classic speech on its 150th anniversary.
TD Celebration Of The Day
Tom Brady celebrates a touchdown by yelling in Rob Gronkowski's face.
[si-nfl-player id="d786461d86c040aeadf5d4a81679c93e"]
Gettysburg Address Video Of The Day, Part 2
The U.S. Men's National Soccer team becomes the latest to join Ken Burns' project to have everyone in America to record themselves reading or reciting the speech.