Tuesday's A.M. Hot Clicks
Good morning. Brett Smiley of Weekend Hot Clicks with you today. Follow me on Twitter and send tips to basmiley@gmail.com.
Not Unusual, But Awkward
NBC via Getty Images / Getty Images
The Miami Heat's resident goofball Chris Bosh struck again Monday night, this time at Shane Battier's charity karaoke party with a hilariously awkward rendition of Carlton of the Fresh Prince's "It's Not Unusual" dance. Get ready:
Other Heat players performed at "Battioke," benefiting the Battier Take Charge Foundation for under-served youth education ... but ... Bosh. There's another Bosh '90s throwback, too: Beyond the Buzzer has a thorough rundown of the entire Battioke setlist, which includes the big man's "Humpty Dance."
Marshawn Lynch Finally Gets Skittles Endorsement Deal
Took a while to come to fruit-ition (sorry). In other Lynch branding news, a Seattle marijuana grower has produced a Beast Mode strain that performs like its namesake. "Marshawn has gears when he's running and it's kind of like that," said Nate "Diggity" Johnson of the Queen Anne Cannabis Club. "It has a little bit of a slow start and then kicks in." Seattle (and Denver, really) Super Bowl parties pretty much plan themselves.
Unforgettable, Regrettable Moments In Media Day History
Will we add another one later today?
Lovely Ladies Of The Day
Tuesday's A.M. Hot Clicks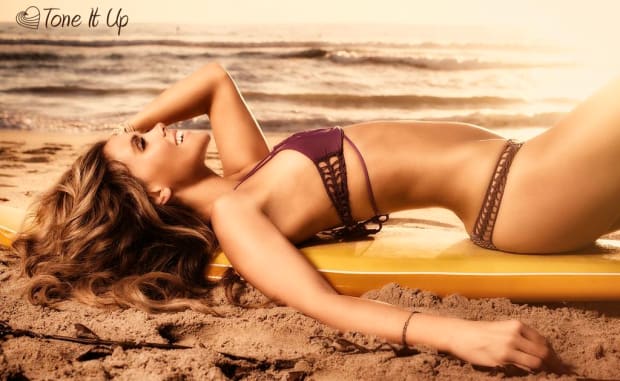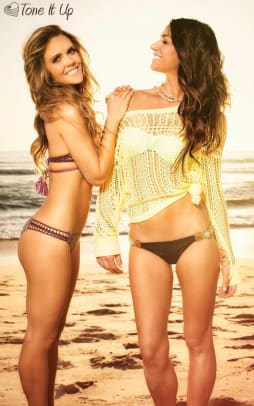 Two lovely ladies of the day, fitness gurus/coaches Katrina Hodgson (at left) and Karena Dawn, stars of Bravo's reality show Toned Up. They met five years ago when Katrina became enamored of Karena's toned arms at the gym (really). Yesterday they told me about their partnership and cat language:
Mustard: You guys spend a whole lot of time together, how to do avoid getting sick of each other?
Karena: I'm sick of her right now.
Katrina: Yeah, she's pissed at me. We banter like sisters. Karena just put me in my place in a coffee shop. After working 80-100 hours a week together, we cant wait to go out and enjoy each other as friends, not business partners.
Mustard: For a lot of our readers this may be the first they're hearing about your show. Tell me a little about it.
Karena: It's behind the scenes of our business, home with us, our relationship. It's a fun, lighthearted show. A lot of our female members watch our show and boyfriends are tuning in, too. We call that "manning up."
Mustard: Which body part are you most proud of?
Karena: My arms. That's what first attracted Katrina to me. For Katrina, I'll say -- her booty.
Katrina: Thanks, girl. It's about 38" around, so the hip-to-booty ratio is quite different. I've totally embraced it after growing up playing tennis, being kind of insecure about my curves.
Mustard: You guys seem to have a habit of turning into cats when you're stressed -- what's that about?
Karena: It's kind of a reflex. Sometime someone says something nasty and it'll prompt a cat noise. It's a way just letting it out without yelling at someone.
Katrina: It's a language. Sometimes it doesn't happen on purpose. Yesterday we were working on the website and I mentioned HTML which became HTMeow! It's if you're happy, if you're upset [CAT NOISES]. And if you're feeling a little frisky -- [RAWWR].
You can check them out on Bravo at 10:00 p.m. ET onThursday. They're also on Twitter, Instagram and Facebook.
Atlanta Hawks Lament the Slim Reaper
Capping off his 11th consecutive 30-plus point performance, Kevin Durant nailed the game winner last night over a double team with under two ticks remaining. After the game, the Hawks official Twitter account chimed in on the unfairness of it all.
Kate Upton Does Cruz's Salsa in Metlife End Zone
Only in heels, not cleats, and she spikes her purse.
Andy Roddick's Truly Horrible Jay-Z Impression
It's really that bad, yet ... Brooklyn Decker posted it, so apparently he's doing something right.
The Oakland Raiders' Guide to Being a Housewife, Err, Cheerleader
The organization has paid its ladies obnoxiously low wages and issued an antiquated handbook that reads like propaganda.
Odds & Ends
Rams punter Johnny Hekker miked up at the Pro Bowl is hysterical ... Ryan Miller's Olympics mask is a thing of beauty ... Animal Planet is putting on a "Puppy Bowl Experience" in New York ... Robert Flores and Adnan Virk have self-aware moment of tele-strator abuse ... Denver International Airport gets in on the Omaha fun ... 100 eccentric couches, with a clear winner at #77 with the Nicolas Cage tribute ... KHL goalie nails a fake-looking backflip in full gear ... The Roger Clemens-Mike PiazzaSubway Series broken bat is up for auction.
Spanish Soccer Player Crushes Teammate with Kick to Junk
No comment. [Holdout Sports]
This Man is NOT Happy About Royal Rumble
That's an understatement: He has a full-blown meltdown and may need therapy. [Deadspin via Complex]
Carlton
It's linked above but I couldn't in good conscience not offer an embed too.
And Some Skittles
In honor of Beast Mode. (NSFW language)