The Grinch Who Ruined Steve Smith
Smith with his good friend, Gizmo. (MCT via Getty Images)
Many fans in Carolina are upset that the Panthers released the heart of its franchise and longtime captain Steve Smith, but no one is suffering more than one young supporter. It didn't help that the boy's father added some horrible flourishes about the circumstances of Smith's departure:
[youtube https://www.youtube.com/watch?v=cNjtepBuOlM]
Meanwhile his sister is unfazed, either because she's blessed with an understanding of NFL capology, or because she simply hadn't formed the same bond with Smith as her brother. From what I've gathered, Smith (now a Raven!) has always been gracious toward his fans. I hope someone shows him this video so the kid can get an autograph or something as he attempts to recover from his father's emotional brutality.
Great Dane vs. Seawolf
Happy Selection Sunday. Things got a bit testy at the American East Championship between Albany and Stony Brook, where an automatic tourney bid was on the line. Not so much between the players, but rather the mascots, which got into a shoving match. I'll give the edge to the seawolf, who delivered a hard initial shove then evaded a charge from the great dane with a nice sidestep.
Tonight, While You Sleep, Pal
Sticking with the mascot theme, the New York Times has a collection of early iterations of Wichita State mascot Wushock. My takeaway: WuShock is one of the most horrifying Wichita State products ever. (The top spot would seemingly have to go to Dennis Rader, aka the BTK killer.)
Cheerleader of the Week
Weekend Hot Clicks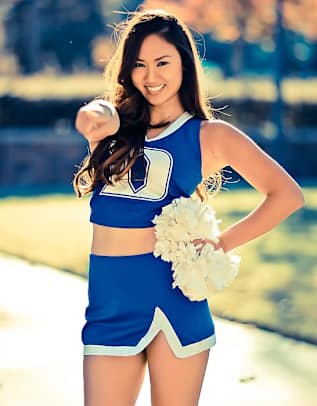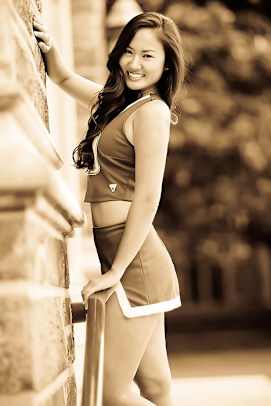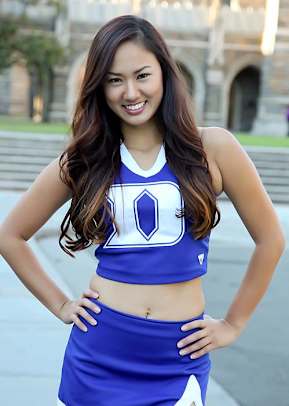 Meet Duke University junior neuroscience major Jasmine, a California girl living in Krzyzewskiville.
Friends would be surprised to know: "I was born in Korea and lived there until when I was 14. Also, I have a sister who played basketball professionally for years and went on to play for the Korea women's national basketball team."
Worst habit: "I randomly sleep text people."
Three people, living or dead, I'd like to have dinner with, and why: "(1) Audrey Hepburn: She is so beautiful inside and out. I think she shone brightly not only because of her appearance, but also because of her compassionate heart. (2) Dwight Shrute: "Bears, Beets, Battlestar Galactica." (3) Kate Upton: I need to learn how to Cat Daddy from her. Maybe then I'll make the cover of Sports Illustrated."
Favorite pro sports team: "Indiana Fever. I love Tamika Catchings, who came to play for the WKBL several times. Women's sports are so underrated in America and they are AMAZING!"
Ideal last meal: "Rice Krispies Treats—lots of them. I'm still a kid at heart."
Click here for Jasmine's full gallery.
Sports Report Gets Real Awkward On Air
"I GAVE YOU THE THUMB'S UP!!!!"
Another NBA Shoe Explosion
Come for the poorly-crafted footwear, stay for the Dad joke.
The Time a Gal Got Her Tail Cracked With a Golf Club
It happened to Liz Dickson at a Playboy golf event in 2012 when she let a comedian (not a golfer!) user her buttocks as a golf tee. It looks pretty bad, but I can't help thinking she's lucky the comic wasn't using a 3-iron.
Odds & Ends
Alliteration aside, here's your NFL free agency tongue twister ... Poor Spokane Schock (AFL) mascot gets trucked ... Sick jam by future Sixer Jabari Parker ... Providence will go dancing, celebrate with this dance ... Aaron Craft's buzzer beater attempt went poorly ... Related -- Nik Stauskas' girlfriend posts photo of him eating Aaron "Craft" Mac & Cheese ... Can someone please start a dedicated Rob Ryan blog? If it exists, please advise ... 7 things you don't really need to know about the best Premier League season in ages ... Insane goal from Jordanian soccer league ... Failed prediction forces MSG analyst to chomp on his maple-syrup-coated hat ... Four Marlins combined to no-hit the Yankees ... Deron Williams got rejected by the rim.
Brian: The Story of White Mamba
It's a fake "30 for 30" trailer for this generation's greatest benchwarmer, Brian Scalabrine. [Reddit]
[youtube https://www.youtube.com/watch?v=8kRq7K-xHDM]
Go Wildcats!
Filed under "goofy reporter stunts," stick with this one until the end. Payoff is worth it. [Awful Announcing]
[youtube https://www.youtube.com/watch?v=M3tscXDqKdg]
Syracuse's Final Possession in NC State Loss Gets Yakety Sax Treatment
You know, the sequence where Cuse fired off about half a dozen wild shots and even hit the rim a few times. [Reddit]
[youtube https://www.youtube.com/watch?v=yXh3t_MCWF4]