Mustardite Brett Smiley in today for Andy. Send tips to basmiley@gmail.com or hit me up and/or follow me on Twitter @brettsmiley.
Superlative Hockey Action
(Photo: Twitter via @Avalanche)
The NHL playoffs saw two overtime games last night and some incredible action across the board that deserves some superlatives. Let's begin with the Best At-the-Glass Fan/Player Celebration, starring the dude on the left, who's making the same exact face as Avalanche center Paul Stastny after he scored the game winner over the Wild in overtime.
Most entertaining coaching rage: Chicago's Joel Quenneville for this gesticulation combining disco and a crotch grab ... Most Likely to Decapitate an Opposing Player: Flyers center Claude Giroux, who nearly wasted the Rangers' Dominic Moore's head with this swipe ... Save of the Night: Chicago's Corey Crawfordfor his diving snare to rob Blues forward Vladimir Tarasenko ... Best Unintentional Save of the Night by a Non-Goaltender: Blues forward Max Lapierre, who bailed out Ryan Miller after getting shoved in front of the net ... Best Baby: this little tot ... Most Inert: Ryan Miller, who got completely frozen by Patrick Kane on a breakaway ... Most Unfortunate Bystander: Jonathan Quick, who got leveled when Mike Brown drilled Slava Voynov into the goalie ... Finally, Most Disturbing Fan Face Paint: This guy.
Spurs Fan Had "Mount Spursmore" Shaved Onto Head
This combination of Tim Duncan, Tony Parker, Manu Ginobili and Kawhi Leonard completely blows the creepy, childlike Rich Nash hairdo out of the water in scale and especially artistry. That said, if you're going to use the "Rushmore" moniker, I think Popovich has more than earned the right to be on there over Leonard. Some reporter should ask Pop that and see if the coach even looks him in the eye.
Mike Tyson Throws Out First Pitch, Still Joking About Biting Ears
I can't tell if Pirates catcher Tony Sanchez even knew Iron Mike was going to make the gesture but now he has a great story. As far as Tyson's pitch: After the jerky delivery and release I was sure it was going to sail 10 yards wide but somehow the ball may have actually come back down to Earth and kissed the strike zone. Impressive.
Lovely Lady Of The Day
Friday's A.M. Hot Clicks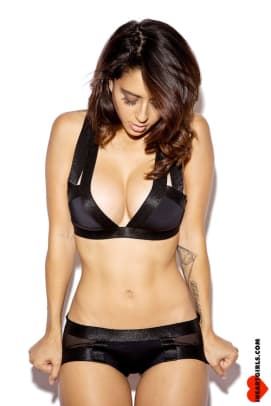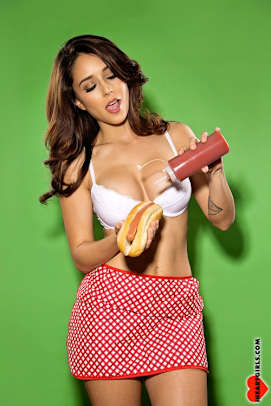 Today's Lovely Lady is Los Angeles-based model Tianna Gregory, who appears in the gallery above with various foods (if a Bomb Pop counts as a food) as well as in an all-black getup. You can get more of Tianna at the website iheartgirls. She's also on Twitter and Instagram.
Someone May Have Trolled Derrick Rose Hard With Action Figure
My instinct is that it was not an intentional troll job because at least one other figure in the line also requires leg assembly. Regardless, some young Bulls fan is going to get this as a gift, and his father will weep quietly during assembly.
Matters of the Heart
A study found that Premier League fans' hearts accelerate more than players during key moments in the game. Partly because EPL players are superior physical beings, but partly because EPL fans are insane -- in the best way possible.
Walk on the Wild Side
This may hold up as the most absurd half-innings of the MLB season: Blue Jays pitchers walked eight Twins in the bottom of the eighth -- plus Sergio Santos threw a wild pitch to three consecutive batters, allowing a run to score each time. The damage: five runs on only one hit -- a single to right field. Incredible.
Odds & Ends
Best wishes for a speedy recovery to Craig Sager, whose son revealed that Sager will begin treatment today for leukemia ... The time the Secret Service threatened to kill Mr. Met if he approached Bill Clinton ... Benny the Bull waved the team's flag atop the Willis (Sears) Tower and the video is not safe for those afraid of heights (0:25 mark) ... DeSean Jackson, DeAngelo Hall and a giant bottle of Moet ... Single best still image from the 30 for 30 "Bad Boys" doc ... Another questionable haircut decision, this time by a player ... SI model Irina Shaykswimming with pigs ... Yankees pulled off a 5-4-3 triple play against the Rays ... Man named Edward Cocainebusted for possession of --wait for it -- Xanax (in Florida, obviously) ... Would you rather?: Pizza cake or pizza slicer powered by a 4-stroke gasoline engine*.
Return of the World's Greatest Utility Infielder
The Jays recently recalled Munenori Kawasaki from its AAA affiliate in Buffalo and the resulting interview was as phenomenal as you would expect. [TBL]
[youtube https://www.youtube.com/watch?v=Jm9bEizIGBE]
Need more Kawasaki? Of course you do: Check out our "16 Reasons to Treasure Kawasaki" post from last May.
Jim Rome Still Gets Checks For His Tiny Role in Space Jam
It isn't much, but enough for a WaWa sandwich, good enough for me. [Bleacher Report]
[youtube https://www.youtube.com/watch?v=TUtjKwtSahg]
When a GoPro Camera Meets an Archery Target
The anticipation is the worst. [Gamedayr]
[youtube https://www.youtube.com/watch?v=ro4P8mpIEfQ]
Watch Gorillas Hunting for Easter Eggs at the Cincinnati Zoo
The star of the show is the gorilla who decided to wear a basket as a hat.
[youtube https://www.youtube.com/watch?v=kGdRSoUMtR0]
*Tough call but it has to be the pizza cake.