Road Warriors & Hawks & Nets
Photo: Getty Images
The NBA playoffs kicked off on Saturday in very non-chalky fashion as three lower-seeded teams won road games (Brooklyn, Atlanta, Golden State) and the fourth, Memphis, nearly erased Oklahoma City's 22-point halftime lead.
The Thunder eventually got its groove back and snuffed the Grizz rally thanks to plays like Serge Ibaka's huge block on Mike Miller that led to a Kevin Durant jam. Caron Butler was not quite as smooth with one of his dunks in which he put the ball through then smacked himself in the face with it before falling down.
The big fireworks exploded in the Raptors-Nets series where the Toronto Sun trolled Brooklyn with a headline calling them dinosaurs, plus GM Masai Ujiri yelled "F*** Brooklyn" during a pre-game rally. Paul Pierce had a response for that with this dagger and some entertaining commentary. Then the New York Daily Newstossed a grenade back at The Sun with this very New York response. Overall a bad day for Toronto as even its shot clock malfunctioned, resulting in the PA announcer having to call out the time and sound a horn with his own pipes.
Blake Griffin added another dunk to his repertoire in the Clippers disappointing loss. After fouling out, he grabbed a cup of water and looked up at a replay, then threw the water over his shoulder that happened to land on a lone Warriors fan sitting courtside. I'd say that's an intentional foul. After all, Griffin is a decent actor.
And just how bad a start was it for the Pacers postseason? Kyle Korver blocked Roy Hibbert not once but twice.
Nathan MacKinnon Destroys Ankles
The speedy 18-year-old Avs phenom didn't just break Jared Spurgeon's ankles, he humiliated them. It looks like Spurgeon stepped on a mine or a tripwire. The Avs as a whole put on a clinic in its Game 2 win over the Wild.
Squirrel Just Chilling at Coors Field Has No Regard For Pace of Game
Streakers and drunkards thinking of interrupting a game should take notes from this sly critter who lasted a solid five minutes zig zagging across the field.
Cheerleader of the Week
Weekend Hot Clicks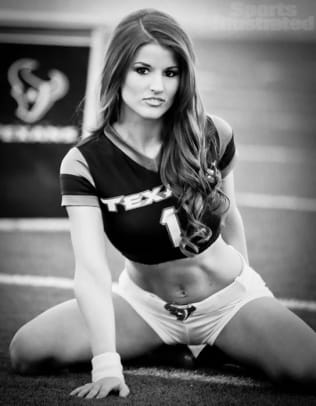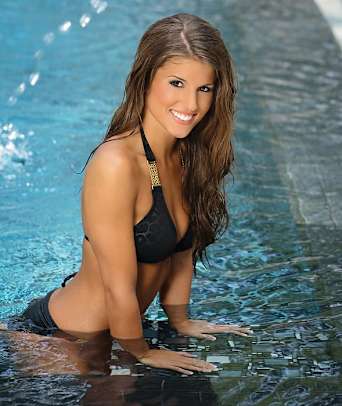 The Houston Texans disappointed big time last year but Delaney and the rest of the Texans cheerleaders did not. Get to know Delaney, a college sophomore in Texas.
My favorite Website: "I love Google -- he knows everything!"
Three people I'd like to have dinner with: "Denzel Washington, Selena, and Oprah. I would love to hear all about their childhood and learn more about how they accomplished so many things."
The most embarrassing thing that's ever happened to me during a game is: "Walking out of the tunnel cheering and waving then realizing I was the only one out there because it was not time yet, so I had to run back in."
If you could change one thing in this world, it would be: "Gas Prices!"
Click here for Delaney's full gallery.
Bartolo Colon Makes a Delightful Case for DHs in National League
The big fella made the most of his cuts, nearly losing his jersey in addition to the helmet. Terry Collins, please don't ever ask him to lay down a bunt.
MLS Reporter Unfazed By Soccer Ball to Dome
Cameraman Loses Footing, Eats Dirt While Filming Home Run Trot
Some quality schadenfreude right here. My favorite part is how the camera, still rolling, captures the guy's tumble.
Odds & Ends
Ketchup on the spiciest Mustard from the week that was ... Celebrate Easter with Chelsea Skye in a bunny outfit and with 51 more ladies in bunny attire ... This is what happens when a 90 mph fastball hits a guy's cheek ... Bryce Harper benched for total lack of hustle ... Could a 15-inch cup save golf? ... Flasher at a Blues game ... Yankees rookie infielder got the call to the mound during a 16-1 blowout by the Rays ... Follow me on Twitter @brettsmiley.
Paul Pierce Tosses Headband Into Crowd, Raptors Fans Toss It Back
Taking a page from baseball. [ThatNBALotteryPick]
[youtube https://www.youtube.com/watch?v=BWh5rDU88jM]
Synchronized Cycling Is a Thing
And it's breathtaking. [The Big Lead]
Happy 4/20
What do you guys want? (NSFW language.)