Fashion Watch: NBA Playoffs
Thursday P.M. Hot Clicks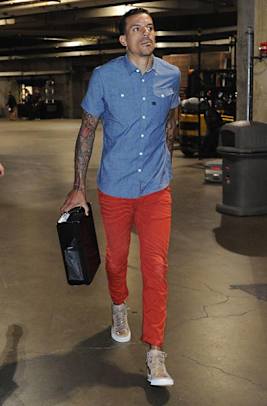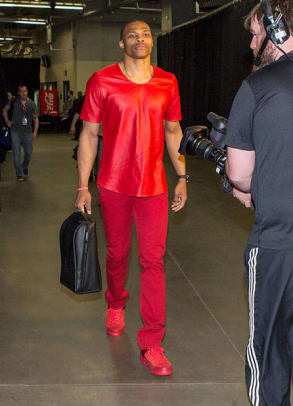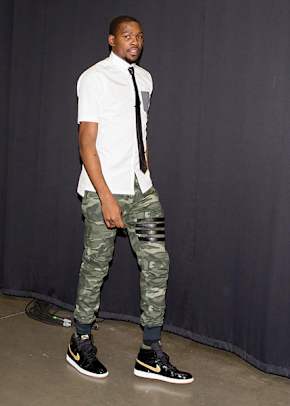 Remember kids, it's not whether you win or lose, it's how you look doing it.
Speaking of Fashion
Dick Butkus wore a Canadian tuxedo to Wrigley Field on Wednesday to sing Take Me Out to the Ballgame for the ballpark's 100-year anniversary.
Irony
Jose Canseco has been tabbed to speak at this year's Character Combine, described as a "a one-day event that assesses, develops, and celebrates character in college, high school, and youth sports." Even better, his speech will address "conditioning and training the natural way."
(Throwback) Lovely Ladies Of The Day
Thursday P.M. Hot Clicks
Not sure what took me so long to make The Spice Girls Throwback Lovely Ladies of the Day, but that oversight has now been rectified.
LOL Cubs
Business Week posted a really cool feature looking at the smartest spending teams in the four major sports. The ranking "rates teams based on how much they spent in player payroll for every win during the last five seasons. Each team is compared against the average price per win in its league to produce a score we call the efficiency index." Got all that? I'll break it down for you: The Blackhawks are the smartest spending team in sports and the Cubs are the dumbest.
LOL Cubs (Part 2)
Remember that 400-pound replica cake of Wrigley Field the Cubs brought out yesterday to mark the 100th anniversary of their beloved ballpark? The one that took four workers six full days to complete? It ended up in a dumpster, instead of on display at the Cubs' annual charity event as planned.
The Hoodie Cleans Up Well
Odds and Ends
The worst first pitches in baseball history ... This video of Matt Leinart howling with a German Shepherd is tremendous ... Jason Collins, Richard Sherman, Serena Williams, Cristiano Ronaldo and Lydia Kowere the five athletes included in this year's TIME 100 ... Gilbert Arenas confirmed in a radio interview that he's attempting a NBA comeback ... Jonny Gomes visited the MLB Fan Cave and met a fan with an identical World Series tattoo ... A photo gallery of pitchers doctoring baseballs ... The new Arkansas logo looks like Pumbaa from The Lion King.
This Kid is Awesome
Jordin Tootoo's biggest fan reacts in glee after his hero gives him a hockey stick.
Pierre McGuire Knows Hockey
Fantastic work by Awful Announcing for creating this supercut of every time Pierre McGuire references high school, college or junior hockey.
UNC is Happy
Tar Heels coaches dance up a storm in this Pharrell-inspired video. And yes, Roy Williams busts a move.