Monday's P.M. Hot Clicks: Anna Nystrom: College Superfans of the Week
Monday's P.M. Hot Clicks feature the lovely Anna Nystrom and a look at the week's best-dressed college football fans
College Superfans
​
College Football Superfans, Week 6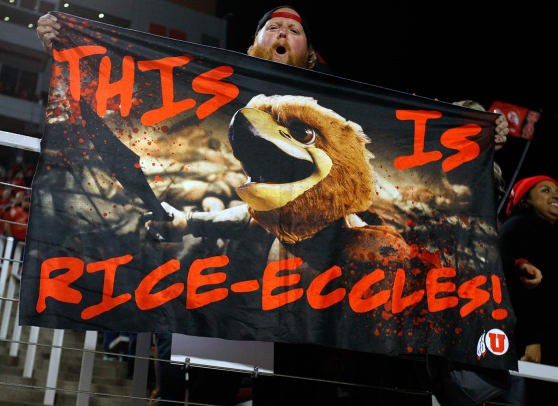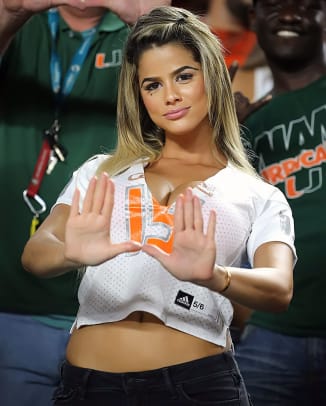 Another college football weekend is in the books and Andy Staples' Punt, Pass and Pork column has all the latest news and notes. Personally, I'm more into the fans, especially when Miami and Florida State square off. Check out our favorites in this week's Superfans column.
Two Old-School Wrestlers Who Really Dislike One Another
Bret Hart and Michael Hayes—both of whom are featured in SI's ranking of the Top 50 all-time tag teams—are in the middle of a war of words. I side with Hayes because Hart complains about everything and seems like a very bitter person.
D'Angelo Russell and His High Five Problems
No one plays off a high five diss with the panache of D'Angelo Russell.
Anna Nystrom: P.M. Lovely Lady of the Day
Lew from Milwaukee, a self-proclaimed Packer fan and Instagram enthusiast, wrote in and asked that I feature Anna Nystrom as LLOD. As a fellow Instagram enthusiast, I am happy to oblige Lew's request (click for full-size gallery).
​
Hot Clicks Giveaway
October is National Vegetarian Awareness Month and our friends at Hard Rock Cafe are celebrating with a whole new vegetarian menu. Among the new items are Cauliflower Wings, Ratatouille Flatbread and a Fennel, Beet and Orange Salad. The menu is only available until Nov. 13 so if you like music, food (for both veggie and meat eaters) and great drinks, go to your local Hard Rock Cafe right now! As you may have guessed, I also have some $25 Hard Rock gift cards to give away. I'll send one to the 100th, 200th and 300th person to email me (andy_gray@simail.com) the name of the 113-year-old man who just got Bar Mitzvah'd. The answer was in A.M. Clicks. Please make the subject line "Hard Rock Cafe." Good luck!
College GameDay Signs of the Week
I did not realize Betsy Ross matched with Lee Corso on Tinder.
Scenes From New York's Comic Con
Comic Con touched down in New York City and cosplayers brought their A-game to the event. I think I have a little crush on Scarlet Witch.
For the Ladies
Justin Bieber now has a shirtless wax figure at Madame Toussands in Vegas.
Odds & Ends
Ben Zobrist got the okay from Elton John for his new walkup song ... Phil Mushnick is fired up about the 2016 NL batting title ... The most exciting play-by-play of the week took place in Gaelic football ... Agree with this piece about MLB in-game interviews ... The funniest things ever written on money ... An Arkansas professor was arrested for cursing out Bret Bielema ... The 37 funniest movies currently streaming on Netflix.
Game 1 of WNBA Finals Ends On Buzzer Beater
Buffalo Fans Aren't The Only Ones To Go Through Tables
#https://instagram.com/p/BLWUxqchH96/
When Studio Hosts Get Bored
Happy Birthday, Brett Favre
Email andy_gray@simail.com with any feedback or ping me on Twitter. Click here for previous editions of Hot Clicks. Visit our Extra Mustard Page throughout each day for more offbeat sports stories and the latest Cheerleader of the Week gallery. Also check out the SwimDaily Page for the latest updates and Instagram pictures of models who have appeared in our issues.