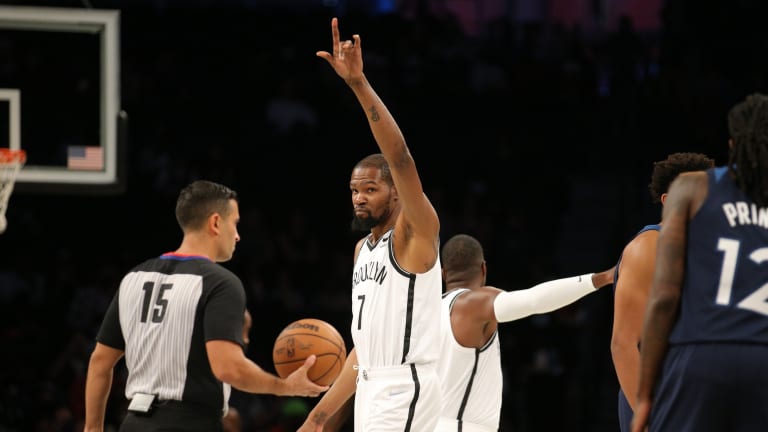 Check Out What Brooklyn Nets' Kevin Durant Tweeted On Sunday
2014 NBA MVP and current Brooklyn Nets star Kevin Durant sent out a Tweet on Sunday.
Kevin Durant of the Brooklyn Nets sent out a Tweet on Sunday, and his post can be seen embedded below from his Twitter account. 
Durant and the Nets finished the preseason on Thursday evening at Barclays Center in Brooklyn, New York. 
They beat the Minnesota Timberwolves 107-101, and finished the preseason with a 3-1 record. 
Durant had 19 points, seven rebounds and one assist in the game. 
However, the Nets were led by Joe Harris and his 23 points, and James Harden who dished out 14 assists. 
The Nets head into the regular season (which begins on October 19), with the best odds to win the NBA Title, according to SISportsbook.com and FanDuel. 
However, they are indefinitely without their All-Star guard Kyrie Irving. 
Irving, who is not vaccinated, cannot play home games in Brooklyn, New York, due to the city mandate. 
He's technically allowed to play in road games, but the Nets came out and said that they will now allow him to be a part-time player (see Tweet below from Brian Lewis of the New York Post). 
Related stories on NBA basketball
Harden Doesn't Get Foul Call: The NBA changed their rules on drawing fouls this season, and the preseason is already showing how it will influence superstars and the calls they got in past seasons. CLICK HERE
Grizzlies Lose Brooks For At Least A Few Weeks: Dillon Brooks averaged over 17 points per game for the Memphis Grizzlies, who made the Western Conference Playoffs last season. He will miss at least the next few weeks of action. CLICK HERE.